Because of the amount of skin products that I make, I get a lot of questions about acne, whether for teens or adult acne. Through study, as well as trial and error, I've discovered the herbs and essential oils that really help deal with various skin concerns. This homemade toner for acne prone skin is also great for those who need to shrink pores, reduce redness, and reduce inflammation.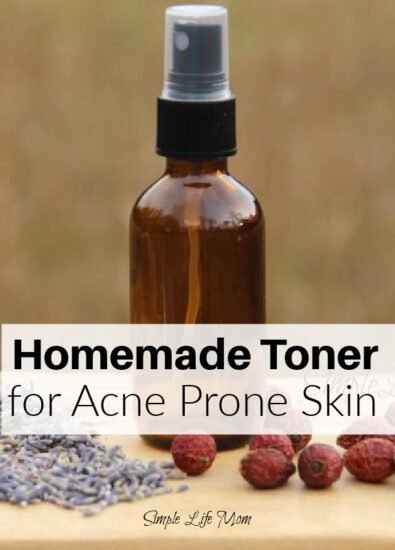 I love to combine herbs and essential oils. There are many people who see essential oils as a fad, but their power has been studied and shown to be very strong and effective. They aren't perfect for every situation though. Knowing herbs helps to build up the body and your different internal systems. Combining both studies creates a powerful product, one that you can make in your home that's all natural and healthy, without any compromising ingredients.
The Herbs
Witch hazel is a bush or a small tree that actually grows around where I live. The leaves and bark are dried and then used to make a distilled liquid that has so many uses! It's my number one go to for shrinking pores. It naturally reduces swelling and calms the skin as well.
Rose water is another ingredient that is amazing for the skin. Rose buds are added to water where the decoction is used as an antimicrobial and bactericide. It also reduces inflammation. You can learn how to make your own rose water here.
The Essential Oils
Tea tree essential oil is another one of my favorites when it comes to blemishes. It kills germs, making it great for those dealing with acne prone skin.
Frankincense is another MUST for anything for the face. It reduces redness and inflammation and is just great for the skin.
Lavender is calming. Anyone dealing with skin irritations can utilize lavender essential oil.
Homemade Toner for Acne Prone Skin
This recipe makes 4 ounces.
Homemade Toner for Acne Prone Skin
A natural, herbal facial toner.
Instructions
Combine all ingredients in a 4 ounce container (spray, dropper, or pour).
To Use:
Wash your face with a natural cleanser and pat dry. Shake the toner well. Spray toner over your face and let it air dry.
Looking for more natural skin recipes?