I put this invigorating massage oil recipe together as an anytime use…well, unless you're wanting to fall asleep right away. It has essential oils in it that will wake you up and get you going. It's great for when you jump out of the shower and want to kick start your day, when you're in the bath and want to focus, clarify, and be rejuvenated, and when you would like a massage that wakes up your senses.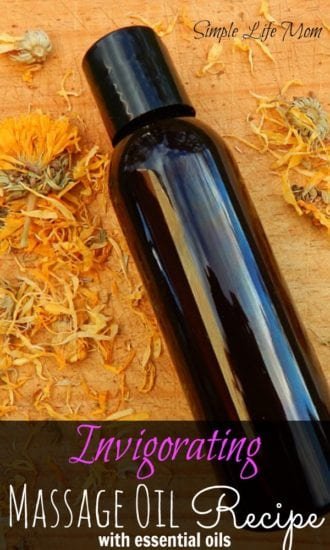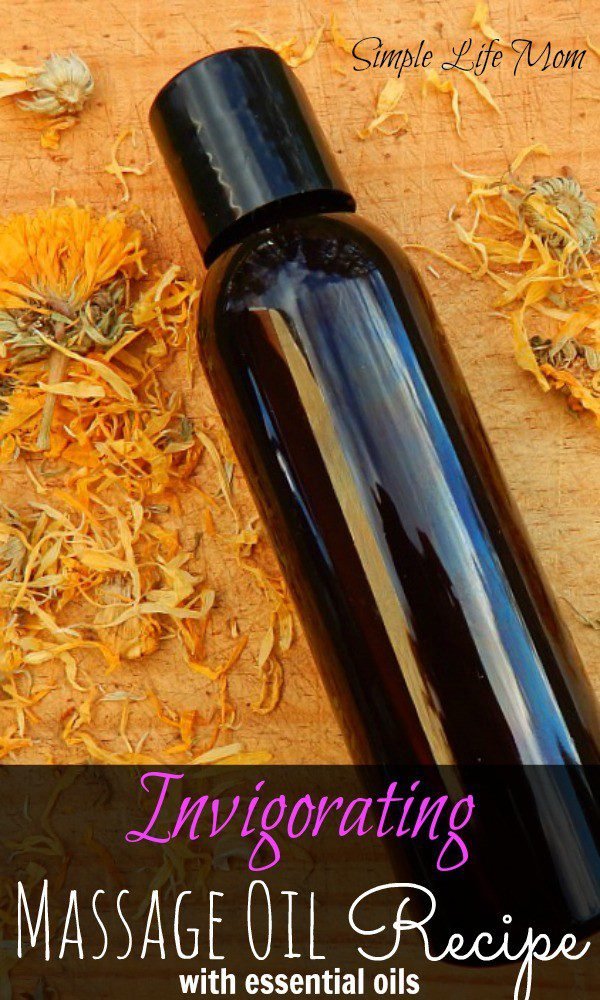 A lot of massage oils out there are a deceptive mixture of good ingredients in with the bad. You can beautiful ingredients like aloe vera, sweet almond oil, and essential oils mixed in with horrible ingredients like TBHQ, Fragrances, and polyparabens.
You can make your own so that you know you only have great ingredients only, and be frugal at the same time.
The fun part about making your own is that you can put in exactly what suits you. I absolutely love certain scents. But everyone is different. If you have the opportunity to make your own, then you can add the essential oils that you and your loved one prefer.
For the Base:
Use your favorite essential carrier oils like: jojoba oil, sweet almond oil, apricot kernel oil, avocado oil, olive oil, grapeseed oil, or any combination of those oils.
Essential Oils:
For an invigorating and sensual scent, I recommend choosing from the following oils:
citrus oils like bergamot, orange, grapefruit, lemon, and lime
tropical oils such as neroli and ylang ylang;
and other stimulating scents like vanilla, peppermint, geranium, clary sage, jasmine, sandalwood, or frankincense.
The recipe below makes a light scented oil that is not overpowering, but enough to set a mood or wake up your senses.
Invigorating Massage Oil Recipe
If you want to try it first you can find it in my Shop.
To make this recipe, fill a 4 ounce amber glass bottle with 2 parts sweet almond oil, 1 part avocado oil, 1 part fractionated coconut oil. The combination of oils adds a smoothness, and a combination of absorption and enough oil that will remain to make sure you can massage well without feeling like you're drowning in the oil.
The essential oils are an uplifting scent using essential oils that are traditionally known to uplift and invigorate. I like to use these oils before working out as they are bright, light, and seem to increase oxygen intake.
Feel free to change the combination to suit your tastes.
Invigorating Massage Oil Recipe
A massage oil with essential oils the stimulate and wake up the sense.
Instructions
Combine all ingredients in a 4 ounce bottle.

2 oz Sweet almond oil,

1 oz Avocado oil,

1 oz Fractionated coconut oil,

10 drops Orange essential oil,

8 drops Ylang ylang essential oil,

5 drops Geranium essential oil,

5 drops Cedarwood essential oil

To Use for Massage: no warming necessary, just pour out some into your hand, rub hands together, and massage.

To Use as Moisturizer: after your shower, rub on as you would lotion until absorbed.
Also see my recipe for a Muscle Relaxing and Pain Relieving Massage Oil.