Homemade Natural Lip gloss is always a fun thing to wear. It is shiny, silky smooth, healthy for your lips, and it's so easy to make!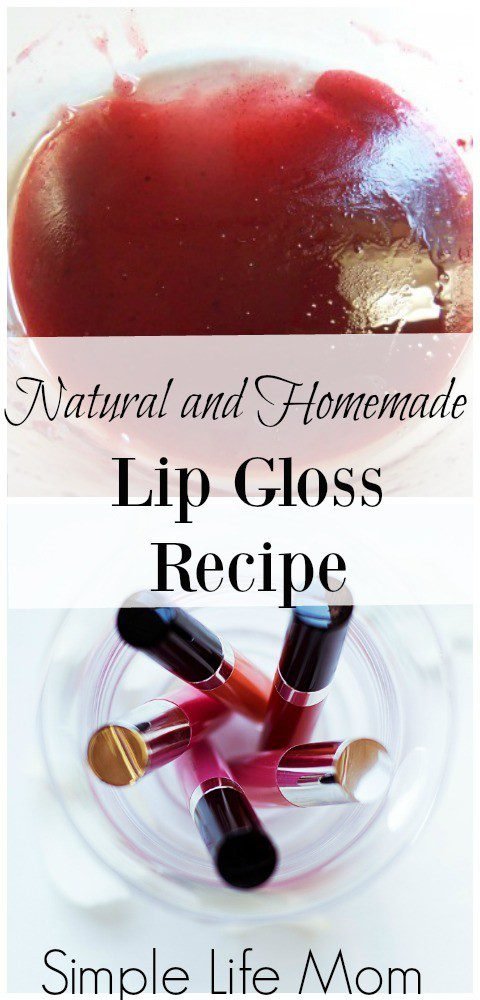 Plus, it tastes really good!  I now that sounds odd, but take a look at the ingredients below. I told you it is a healthy recipe. You know it is if you can eat it off your lips.
These recipes can be altered to preference as well.  If you like it thicker, add more beeswax; if you like your lip gloss thin, then add more sweet almond oil. I love a versatile recipe. Play around with it and enjoy this fun DIY.
Additions:
Cocoa Color: Add Cocoa Powder! Add as much cocoa as you like to darken and bring the color more toward a brown hue.
Pink and Red Colors: Add beet root powder (red/pink), alkanet root powder (purple), and hibiscus powder (pink)
Sparkle: For health purposes, choose a healthy source of mica that hasn't added any fake neon coloring

Homemade Natural Lip Gloss Recipe

This makes an almost paste-like consistency, which can be great if it works with the lip brush that you have.  If you'd like it thinner, only use 1/2 tsp beeswax.  Add another 1/2 tsp beet root powder for more pink color.
Rosemary is added to slow oxidation of oils.
Homemade Natural Lip Gloss
Author:
Prep time:
Cook time:
Total time:
Ingredients
1/2 tsp [url href="http://amzn.to/2ku9JP8″ target="_blank"]beeswax[/url]
1/2 tsp of [url href="http://amzn.to/2laviTO" target="_blank"]raw honey[/url]
3 tsp [url href="http://amzn.to/2lapbPB" target="_blank"]sweet almond oil[/url]
1/2 tsp [url href="http://amzn.to/2laA4AM" target="_blank"]beet root powder[/url]
1 drop [url href="http://www.shareasale.com/r.cfm?u=1050606&b=140557&m=19017&afftrack=&urllink=www%2Estarwest%2Dbotanicals%2Ecom%2Fcategory%2F2%2Dorganic%2Dessential%2Doils%2F" target="_blank"]rosemary essential oil[/url]
Instructions
Mix bees wax, honey, and sweet almond oil in small saucepan.
Heat on low for a few minutes until wax melts.
Cool the gel and add essential oil (you can add a drop or two of peppermint essential oil for a zing)
Put into a clean container.
Use a small brush or finger to apply.
Keeps for 4-6 weeks, depending on how sterile that you keep it.
Don't be afraid to check out other natural powders and clays to alter the color to your choice. There's a great variety at Starwest Botanicals.
Save