In all my homemade and natural adventures that I've shared with you, I have yet to tackle toothpaste.  I have been using a natural store bought tooth paste for years. At least I know what the ingredients are.  But it is more expensive. Is that expense worth it?  Is it really a big deal?  What are the alternatives?  These are the questions we started asking months ago, so I started my investigation into toothpaste ingredients.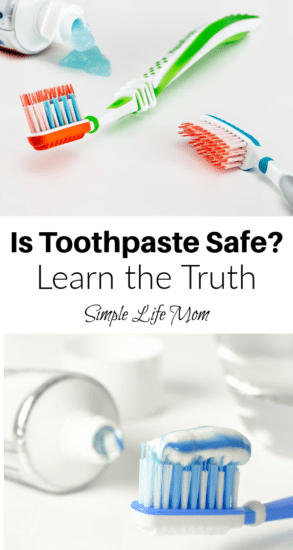 Is Toothpaste Safe?
First, What's are the Average Toothpaste Ingredients?
These ingredients were taken off of a Colgate Total Toothpaste tube, yet are common to most toothpastes.
Sodium Fluoride
Sodium Fluoride is the active ingredient used in almost all toothpastes. It is advertised as an anticaries agent that prevents the formation of cavities in teeth, yet there has been a lot of research that actually shows that there is more harm done than good.
Carboxymethylcellulose Sodium
A disintegrator and thickener. In other words, it helps the toothpaste in texture and creaminess.  It is "virtually" unabsorbable, being basically a plastic, and almost all of it is passed through the system.  No known study has been done on long term usage or ingestion of this "plastic" through our system.

Carrageenan and Hydrated Silica
Both are thickeners often used in toothpastes. Carrageenan is only getting more research because of a few specific groups bringing attention to it. Because of this new research, it is said that "Carrageenan predictably causes inflammation, which can lead to ulcerations and bleeding." (3) Basically, anything that your body doesn't like can cause inflammation, which leads to tons of problems. Sugar does this! Its long term damage is becoming evident all around us.
Sodium Hydroxide
Added to regulate the pH levels of the formula.  This surprised me.  It turns out, it is added because an alkaline toothpaste helps to neutralize cavity causing acids in your mouth.  I know they only add a minute amount, but how the heck does it not burn your mouth off?  It's very caustic.  Sodium hydroxide is used to clean drains and…make soap!  There is a wonderful chemical reaction between oil and lye (called saponification) neutralizing the lye and making great soap (a fun science if you ever want to look into it), but there is no saponification happening in toothpaste.  It's just straight up lye in your mouth!
Propylene Glycol
A stabilizer, but can also de-foam a compound and help maintain its moisture levels.  This is the ingredient that makes those freaky Popsicles not melt!!  Have you seen them?  The first time my little kid was handed one I was so weirded out! And for good reason.  Propylene glycol makes your skin absorb things easier.  In other words, all those products that you are hoping to rinse out of your mouth are being absorbed at a rapid rate thanks to this ingredient (4).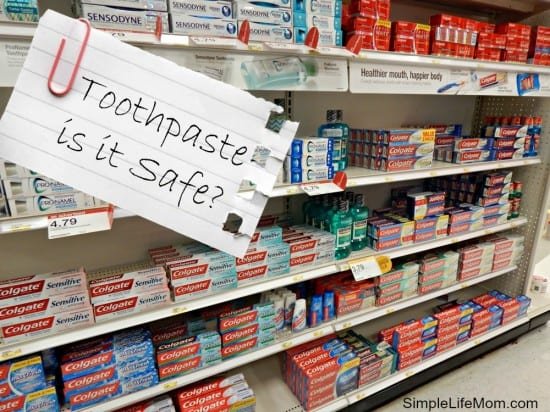 Sodium Saccharin and Sorbitol
Sweeteners added for flavor. It's pretty common knowledge these days that saccharin and sorbitol are unhealthy. The many many studies that have shown that saccharin is healthy, not healthy, healthy, not healthy are getting tiring. Lets just err on the safe side and avoid them. Sorbitol is a sugar alcohol made from, you guessed it, gmo corn and should also be avoided.
PVM/MA copolymer
A binder so that the product doesn't separate in the tube.  Problem is, it helps the ingredients to "stick" in your mouth longer too, causing all the more time for the absorption of the toxic chemicals in the toothpaste.

Glycerin
Often added for a smooth consistency. Glycerin can be made from great animal fat sources, or from chemical filled animal fat or gmo vegetable oil, so knowing your source is important. Also, for those who have learned about re-mineralization, there is much discussion on whether glycerin prevents your teeth from re-mineralizing or not (5).
Titanium Dioxide
Titanium Dioxide in its nano form (super tiny particles) is often used to whiten up the product and make it opaque. This is a known carcinogen often used in sunscreens, though people who use it in sunscreens say the particles won't be absorbed into the skin (not true of nano particles). Here it is used on the most absorbent part of your body, your mouth tissue and will be absorbed.
Triclosan
A preservative. Highly dangerous! Promotes abnormalities with the endocrine system, particularly with thyroid hormone signaling, leading to weakening of the immune system, birth defects, and uncontrolled cell growth (6).
Sodium Lauryl Sulfate
A foaming agent.  It helps enhance the bubbles in your cocoa cola or toothpaste. It has been reported to be often contaminated with the highly toxic diaxane (a processing chemical). It also has been found in the heart, liver, and lungs from entering through the skin (7).
So, some ingredients are not so good, others are horrific! Some are even worse in combination with the others. There's so much contradictory information out there that it's difficult to get a clear cut answer at first, but getting past the "It is ok in small doses" studies, you should consider the points below.
Consider:
Most studies are not done long term. They are done in ways to insure that a short bout of dealing with a chemical won't be harmful. There are a few MAJOR problems with this:
What are the long term effects of using these chemicals? Are we seeing the effects all around us with the major spikes in cancer cases?
These studies don't take into consideration that the average person chooses to put on 126 different chemicals per day (8).  This does not take into account the harmful chemicals that are given to our children in shots, in what we eat, breathe, in our drinks, or picked up from our electrical devices and furniture.  What are the compounding effects of such exposure?
What Next?
We can either be highly upset at the marketing and abuse of scientific knowledge that leads to our health downfall, or we can move on and learn more about natural toothpastes, oil pulling, and re-mineralizing…all things I would have said you were whacko to do a few years ago. Now I have started to see the health benefits; the benefits of avoiding harmful chemicals, and the benefits I've seen from using better things.
Try natural recipes like these:
Oil Pulling

Save