We recently had some wonderful breakthroughs with our health. One person in my family was having a lot of skin issues, including something that looked a lot like psoriasis. Dermatologists were in disagreement so we tried one remedy after another, including every natural remedy that I could think of or discover over six months. Nothing changed.
Finally, I started looking into concerns with the gut. After all, a few of us also have some severe allergies, some life threatening. The more research that I did, the more I was convinced that I needed to step up my efforts to heal and build up our gut lining.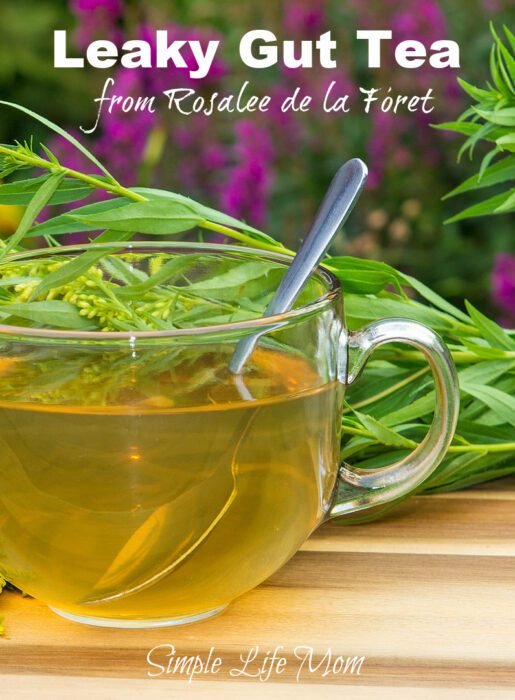 What is Leaky Gut?
We have a mucus lining in our intestines that helps keep bad things from entering our blood stream, while allowing broken down nutrients into our system. The enzymes in our stomach and intestines break down food so it can go through that lining and be utilized by our bodies.
If we don't produce the proper enzymes, we don't break down food properly.
If we eat foods that destroy our good bacteria, don't feed our good bacteria and break down our mucus lining, then we develop something called leaky gut. It's called leaky gut because proteins that aren't broken down enough are let through the broken mucus layer and cause all kinds of problems throughout the body. This can result in an autoimmune response like allergies and skin rashes, as well as stomach problems and all kinds of other issues.
What Can You Do?
There are a lot of things you can do to improve your gut situation. I am not a doctor, so make sure to do your research and talk to your family doctor and nutritionist about how to improve your diet and do what's best for your particular situation.
I'll tell you what I have done with great results (All skin conditions are 100% gone and allergies have improved!).
1. Learn About Herbs
LearningHerbs has an amazing course called Taste of Herbs that is taught be Rosalee de la Forêt. She believes we learn about herbs through our senses: sight, touch, smell, feel and taste. This means lots of hands on, lots of recipes, lots of tasting. PLUS, she's all about learning what your body needs according to your body type and needs. It's an amazing resource.
2. Break Down Food
Are you producing enzymes to break down your food properly? The herbs in the tea below developed by Rosalee de la Forêt aid in digestion.
3. Good Bacteria
Give your body what it needs. You need good bacteria (probiotics) and you need food to feed those good bacteria (prebiotics). You can drink kombucha (learn to make your own) for probiotics and eat fermented foods (like sauerkraut or homemade pickles) for prebiotics.
4. Heal
Work on healing the mucus lining of the intestines. The herbs in the tea below help to soothe and heal the lining of the intestines.
Leaky Gut Tea
Recipe from Taste of Herbs by Rosalee de la Forêt
Yield: Roughly 3 cups
This tea blend combines the herbal actions of astringency, vulnerary (wound healing) and carminative. It heals the intestinal lining and promotes healthy digestion. It can be taken daily as needed.
If this blend is too cooling, a bit of ginger can be added to warm it up.
Ingredients:
Directions:
Combine the ingredients into a quart-sized mason jar.
Fill the jar with just-boiled water.
Steep for 30 minutes.
Strain and drink.
I've added a teaspoon comparison to grams to help those without a scale. You can also remove a tablespoon of the dried herbs to make one cup of tea and save the rest of the dried mixture until later. Add the fresh ginger if desired to each fresh cup.