Breakfast is literally that: Breaking the Fast. Your body shuts down a lot of it's processes while you sleep. Drinking a cleansing morning detox drink first thing when you wake up is a great way to get everything flowing again and rid yourself of waste and toxins.
Here is a Simple Easy Detox Drink Recipe that you can try. I like it because it doesn't involve blending and only takes a few seconds to fix.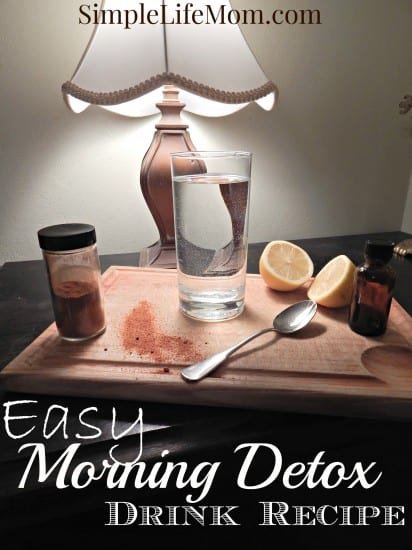 First, consult with your doctor before beginning any type of detox diet. I do not recommend a drink cleanse without solid food before doing your own research. Some ingredients are fabulous in daily small quantities, but can cause harm in larger quantities over time on a liquid diet (like too much cayenne, for example). Instead, this is meant to be a daily morning wake up drink before eating a regular breakfast.
Even drinking just a large normal glass of water in the morning will help your kidneys and liver to flush, cleanse, and kind of "lubricate" your whole system. Adding certain other ingredients will only enhance the cleansing process.
Lemon Juice is a citric acid. Citric acid is known to help your stomach digest, as well as stimulate digestive juice production. The acid also helps create an atmosphere where bacteria cannot survive. This means it will help to clear out your throat, stomach, and intestines as well. Please be aware that most lemon juice that you buy in a bottle has preservatives. Lemons last a while in your fridge so don't be afraid to buy real ones.
Cayenne Pepper gives your body a boost in digesting carbohydrates, warms your system, and helps stimulate your metabolism. Talk about getting your body going in the morning!
Mint is soothing to your stomach, tastes great, increases flow of digestive fluids, and serves to wake up your whole system.
Easy Morning Detox Drink Recipe
Easy Morning Detox Drink Recipe
A cleansing drink with lemon, cayenne, and peppermint
Instructions
Slice a lemon in half and squeeze juice into luke-warm water (cold water slows digestion). Use a spoon to scoop out any seeds that fell in.

1 juice half a lemon,

16 oz filtered water

Add a pinch of cayenne pepper (don't worry, it's such a small amount that you won't taste it) and 1-2 drops of peppermint essential oil.

1 pinch cayenne pepper,

1-2 drop peppermint essential oil

Stir and drink.
You can easily do this every morning.
Let me know how you like it and what other ingredients you've tried.
Other detox recipes:
Save