A lot of us have a man in our lives who has a beard, whether it be a husband, grandfather, boyfriend, or uncle. This natural handmade beard oil recipe makes a wonderful homemade, natural, organic gift. It's a wonderful idea for Father's Day, birthdays, and other holiday gifts, or even just an every day bath and body product that you make instead of buy.
If you would like to buy this Beard Oil, check out my shop: Simple Life Mom on Etsy.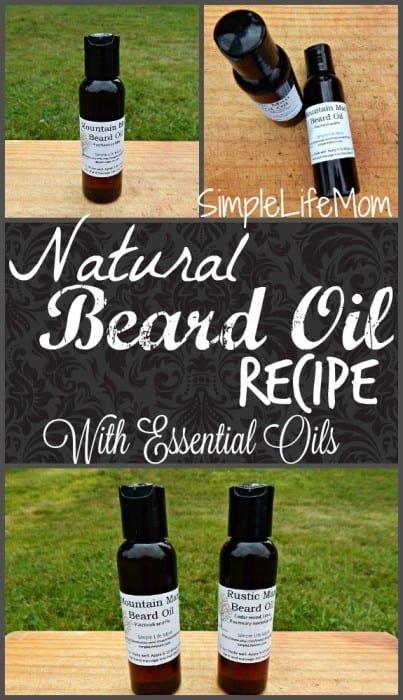 Something for the Men
This beard conditioning oil has ingredients perfect for a beard. It is highly moisturizing, but not heavy. It is a very absorbent, light oil to condition your hair so that it is soft with a subtle shine.
Jojoba oil has been shown to mimic your natural skin's oils. Research in Complementary Medicine in 2012, Journal of Ethnopharmacology in 2011, and Pharmacology Research in 2005 published their findings that jojoba helps reduce inflammation, as well as heals wounds and acne. It is technically classified as a wax and not an oil. It is not fully absorbed into hair follicles, so it needs to be used in balance with other oils.
Argan oil is also amazing on beards. It is a more expensive oil so I provide an option below. Avocado and coconut oils are a great addition because of their absorption rate and nourishing effect on skin and hair.
These base oils, combined with essential oils, work to not only condition the beard, but also skin. A number of men struggle with dry patches of skin beneath their beard. This homemade beard oil kills bacteria and nourishes skin so that those problems are not an issue again.
This beard oil recipe can be used on all hair types and lengths; from those with stubble, to long full beards. It can also be used on shaved or bald heads to keep the hair follicles and skin nourished properly.
Essential Oil Ideas:
You can try different essential oils than the ones in the recipe below. I use a few different companies that I have researched and respect. One of these is Starwest Botanical.
Many men prefer scents like:
These essential oils are great on their own, but even better when combined with each other. Try combining rosemary and lavender, tea tree and lemon, cedar and lime, peppermint and orange, or lavender and vanilla.
Handmade Beard Oil Recipe
This recipe will make 2 ounces. You can use a flip top bottle like the one pictures, or an amber glass dropper bottle. Feel free to switch the essential oils to ones that you prefer. Remember to only add a few drops, otherwise the scent will be overpowering to someone trying to wear the oil right beneath their nose.
Handmade Beard Oil Recipe
A natural beard oil made with nourishing oils and essential oils
Instructions
Combine all ingredients in a 2 ounce dropper bottle.

0.5 oz jojoba oil,

0.5 oz argon oil,

0.5 oz avocado oil,

1 drops cedarwood essential oil,

1 drops lime essential oil,

1 drop rosemary essential oil,

0.5 oz coconut oil

Start with 3-4 drops in the palm of your hand.

Gently massage into a dry beard. Use more depending on how long your facial hair is.
I hope you enjoy! Don't forget that you can buy this as a gift here.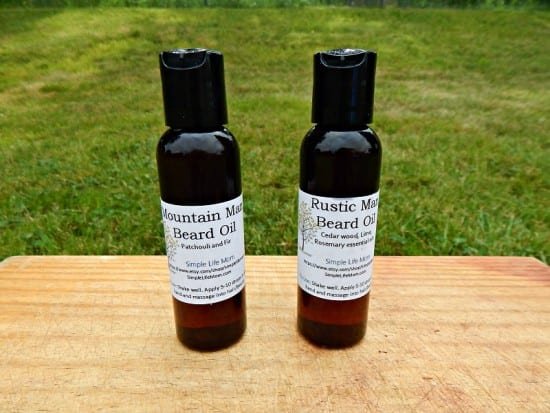 Save