Instead of using scented candles and sprays with questionable or down right toxic ingredients that you'll be breathing into your lungs and body, choose to make your own healthy and natural deodorizing room spray with essential oils.
A Natural Deodorizing Room Spray can be used in areas like:
pet beds
linens
closets
gym bags
laundry rooms
couches
bathrooms
spray around the room to freshen it before guests arrive.
The fun thing is that you can alter it to your own personal tastes and create a scent that is just your style.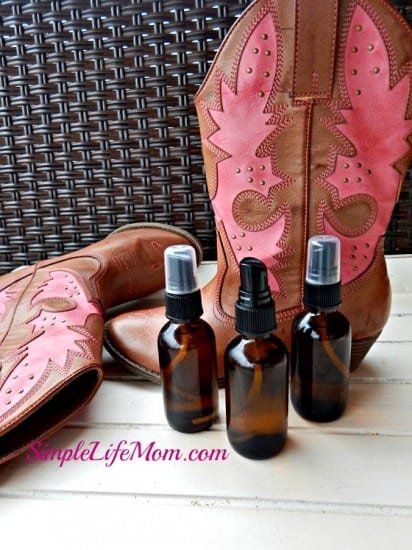 Uplifting Deodorizing Room Spray Oils
My particular Room spray is formulated to kill all odors naturally and organically with essential oils.
The essential oils chosen are those specifically with odor killing properties, yet this combination smells light and uplifting:
These essential oils are not only great at killing odors, they all share in common the property of being light and uplifting. The combination of top notes that kill odors makes this room spray one of my favorite sprays.
Does it work?
Yes! I have a lot of animals, as well as teenage boys at my house often and I've had to spray my carpets and couches. This spray is definitely more effective than other sprays.
Animal Safety
I have used this around dogs without any problems or irritation from them at all. My dog is very sensitive to smells. She knows I've used sprays on her for fleas and ticks before and is wary of my sprays. But she doesn't mind this room spray at all.
Cats are notoriously more sensitive. I never spray any essential oils when cats are around. After the spray has settled, I allow cats to return. This hasn't bothered them at all, but like I said, always use caution around cats.
Uplifting Deodorizing Room Spray
A odor killing room spray made with natural essential oils
Instructions
Combine all ingredients in a dark spray bottle (preferably glass).

2 ounce filtered water,

8 drops lemongrass essential oil,

10 drops lavender essential oil,

10 drops bergamot essential oil,

10 drops eucalyptus essential oil

Shake well before each use.

Do not spray directly on cloth without testing first (remember that you are using oils). Spray in the air or on couches, carpets, or in shoes as needed.
I hope you enjoy!! Let me know what your favorite essential oil scent it.