Here are a few sourdough recipes to get you eating this deliciously healthy bread.  For more information on how to get a starter going, see Sourdough Starter.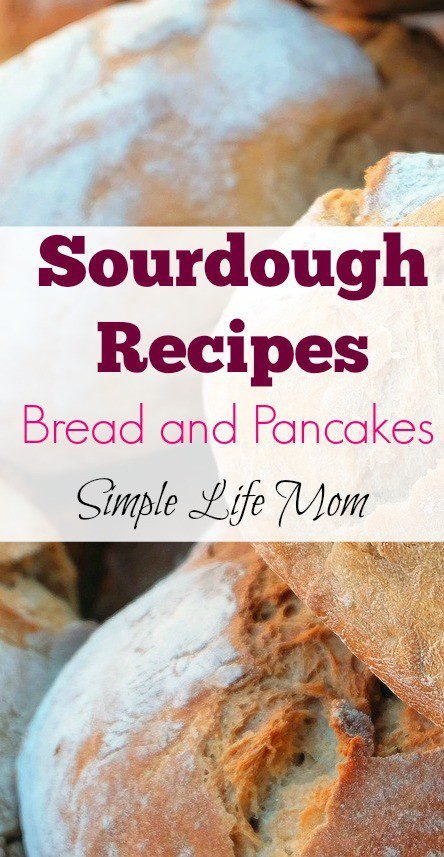 Before you make most sourdough recipes, you need to get your starter ready.
Take it out of the refrigerator and let it warm to room temperature for an hour or two
Feed by adding 1/2 cup flour, 1/4 cup water.  You need to have at least 1/4 cup of starter left over after using it today, so if you need to, add 1 cup flour and 1/2-2/3 cup water instead.
Wait 6-8 hours for starter to be at maximum activation.
Follow directions for recipes below and enjoy!
Both of the following recipes are taken or adapted form Cultures For Health.
Sourdough Bread Recipe
Author:
Prep time:
Cook time:
Total time:
Ingredients
2-1/3 cups activated sourdough starter
3-1/3 cup flour
1 to 1-1/2 cup water (approximate)
1 tablespoon salt
Instructions
Mix together. Dough should be very soft. If you need to, wet your hands as you knead instead of adding too much flour. Dough should hold shape, but still be soft. Knead for 10 minutes. It should be very stretchy when you are done.
Mold into 2 French rolls, 1 – 2 round loaves, or place in a 9 x 5 in loaf pan to rise. If you have a stone in your oven, let dough rise on well floured surface (I use organic cornmeal), peel, or basket, and then transfer with peel. If you do not have a baking stone, grease a cookie sheet and flour. Let your dough rise there and you can just put it directly in the oven when ready.
Cover and Let rise for 12-24 hours. I get my starter out in the morning, feed it, make the dough at night, and then put it in the oven the next morning. You just have to plan one day in advance and it turns out great. If you are not patient enough, your bread will be dense!!! It will spread out by morning. If I really want to I gently fold it, let it rise for an hour or two again, then put it in the oven.
Score with a sharp knife. Gently slice a few x's into the top of the loaf. This will prevent it from splitting on the sides.
Bake at 400 F for 20-30min. (depending on thickness of chosen loaf). You can use a spray bottle filled with water to spray the insides of the walls of your oven. The moisture will give your loaf a nice crust (I just get a little water in a cup and throw it in the bottom of the oven after I put the loaf in).

Sourdough Pancakes
Sourdough Pancakes
Author:
Prep time:
Cook time:
Total time:
Ingredients
2 cups activated sourdough starter
1 egg
3 tablespoons sugar (rapadura, Sucanat, honey, maple syrup, etc.)
2 tablespoons oil
3+ tablespoons milk, coconut milk, or water (see below)
1 teaspoon baking soda (optional, makes the pancakes fluffier)
Instructions
Mix together sourdough starter, egg, sugar, oil and baking soda. Use the milk, coconut milk, or water to thin the batter to a pancake batter consistency. (How much you will need depends on the consistency of your sourdough starter).
Heat a griddle to moderate heat. Melt a slice of butter or coconut oil on the griddle. Once the griddle is hot, use 1/4 cup of batter for each pancake. Cook until golden brown and flip. Cook until golden brown on both sides.
Save