Before I started learning about essential oils, I still couldn't stand those bug repellent sprays. I'm sure my parents sprayed straight DEET all over us as kids (just kidding), but after learning more about the contents in those spray bottles I am SO excited that it is easy to make my own organic bug spray alternative to those toxic sprays.
And it's not just for mosquitoes! This beauty works on all kinds of pesky insects. I actually use it in my garden on my plants, as well as to protect against ticks.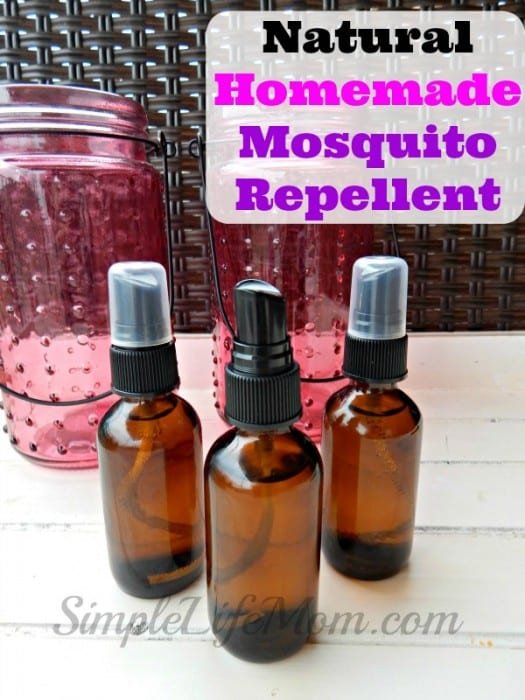 I've already written about how you can get rid of the bugs by:
planting some of these 20 Insect Repelling Plants in your garden or in a pot on your deck.
making homemade fly, gnat, and other bug traps for pennies.
Well now, when the other parents are spraying down their kids with toxins, you can quickly move up wind (my kids literally run) and spray some of this completely natural and effective essential oil spray! Note, my kids are not under the age of five. These are diluted and should be fine with children five and older, but always do your own research and testing first!
The Essential Oils:
These are all fantastic insect repelling essential oils. Put them together and you have a wonderful Natural Homemade Mosquito Repellent that really works!
Citronella Essential Oil – most people know citronella as a insect repellent because of certain companies using them to make candles, tiki lamps, and sprays. Well, it's also a fungicide, antiseptic, and kills odors. It's a great oil to have around. It is one that many say to avoid while pregnant (just FYI).
Cajeput Essential Oil – Cajeput is a lot less known.  It usually comes from Nepal, Australia, or Indonesia. Along with being an insecticide, it's also antibacterial and antiseptic.
Cinnamon Leaf Essential Oil – When you buy cinnamon, make sure it is cinnamon leaf, not bark.  Cinnamon bark with burn your skin off (yes, I'll admit it, I'm speaking from experience). Cinnamon leaf oil gives this blend a warm, earthy scent. Along with being an insecticide, antibacterial, and antiseptic, it is also anti-inflammatory. I make a great soap with cinnamon leaf and raw honey.
Peppermint Essential Oil – peppermint is well known and used. In fact, it's such a great insecticide as well that I know a number of people use it to drive away ants in their house too.
Lemon Grass Essential Oil – lemongrass has such a light lemony scent. It really mellows out the citronella.  I grew lemon grass in a pot in my back yard, because I knew it wouldn't survive my winters (it really does like it hot). Even over wintering in my kitchen (cut back of course) it died. Keep that in mind if you ever buy the plant. But it's such a delicious smell. Being an insecticide, this made another great Soap that I sell in my shop. A great one for the summer. And it smells like lemons and lavender!! Can't get a better insect repelling soap than that!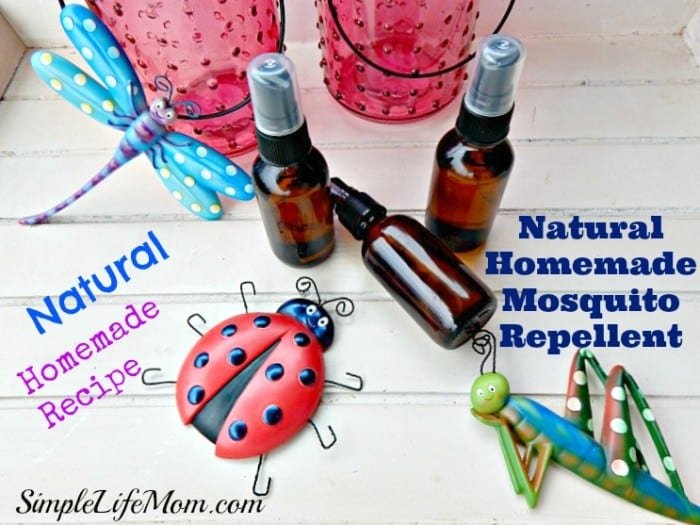 Organic Bug Spray Recipe
I placed this recipe in a 2 oz glass sprayer bottle that gives me over 480 misty spritzes (Yes, I counted). So a little bit goes a super long way. I love the frugal aspect of that.
Ingredients:
Organic Bug Spray
An organic alternative to toxic bug sprays that really works
Instructions
Combine all oils in a 2 oz glass spray bottle.

5 drops geranium essential oil,

5 drops lemongrass essential oil,

5 drops citronella essential oil,

5 drops peppermint essenital oil,

5 drops cajeput essential oil,

5 drops cinnamon leaf essential oil

Add enough filtered water to fill.

Shake well before each use.

Spray on and around areas to repel bugs (test on small area of plant or your skin before covering).
As noted above, all essential oils should be diluted when using with children. These are highly diluted, but you should still be careful to test on a wrist as you would yourself. With smaller children I have used these oils diluted on clothing where they may inhale them, but there is no direct skin contact. If there's a question, you can also just spray the area. If you're comfortable burning a citronella candle, then this is the same idea. Do not use on babies or if pregnant.
Don't forget that you can make this yourself OR you can buy it in my shop.
Thanks always for your support!!
Save