This List of 20 Insect Repelling Plants was a must have for our house. We love to be outside, and the bugs apparently love us.
Even though we live in a suburb, we have water nearby and tend to get eaten by bugs, especially around dusk, during the summer.
Because of having a small yard, we don't have a lot of space to plant gardens and plants around the home. I do have a garden, a yard for my kids to dig up and destroy in their various ways, flowers, herbs, and vegetables planted in every nook and cranny around the house and yard. I've had friends comment about the purple cabbage and tomato plants that I have growing up against the house. Again, you have to use the space you have.
Every plant really means something to me and has a purpose. I plant herbs that are beneficial for cooking or for medicinal reasons.
Insect repelling plants tend to be dual purpose plants. For example, lemon balm repels insects, and at the same time it's also great for cold sores. Thyme can be used in cooking and is great for boosting lung health, yet lemon thyme also works to push away those insects. A lot of versatility!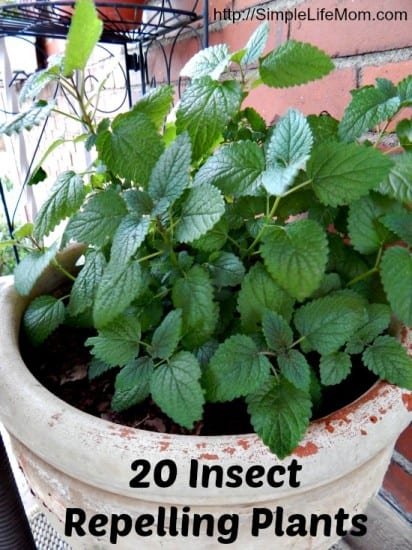 This is great knowledge because you can place these plants around where you sit outside, as well as plant them around your vegetables so that bugs will leave them alone too (bees, wasps, and other pollinating insects not included, of course).
I have pulled together a great list of insect repelling plants that you can use in and around your house to help keep mosquitoes and other insect pests away. They vary in strength, but all of them work great.
*Funny Note: they do not all work on slugs. I put Marigolds throughout my vegetable garden and they are the slugs' favorite meal. At least it keeps them from eating the other plants. *sigh*
Other Uses:
A lot of these can be used for: cooking, in soaps, in beauty products like facial cleansers, skin toners or deodorants, and for medicinal purposes.  I've made note of different uses with each plant below.
I've also added some affiliate links to plants or seeds that you can buy online and have delivered to your home, though double check where exactly they are coming from. You can also find them in your local green houses. They are harder to find in larger chain stores.
20 Insect Repelling Plants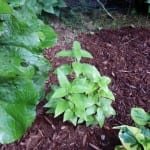 Citronella Grass – citronella grass is known for its insect repelling properties.  It is easy to grow, but likes it hot.  It will only over winter in zones 10-12, but of course you can try to bring it in for the winter.  The oils can be found online and are great in soaps, disinfectants, candles, etc.
Bee Balm – Bee Balm is a pretty easy plant to grow and hard to kill. It can grow to about 3 feet high and wide, has pretty flowers that butterflies love.  The reason these and other fragrant flowers repel mosquitoes is because they mask the smells that would normally draw the mosquitoes.  It is also used as an antiseptic and to treat colds.
African or French Marigolds – Marigolds are great companion plants, meaning that they are great in close proximity for keeping bugs away from people and other plants you want to protect.
Floss Flowers – annual, bees and butterflies love it. It emits a smell called coumarin that mosquitoes hate.
Catnip – Member of the mint family and a perennial.  Though it attracts cats, it is known for repelling mosquitoes and cockroaches in a major way.  this is one of the strongest mosquito repelling plants.
Catmint – Very similar to catnip. Prolific grower, just like its peppermint cousin.  Great at repelling mosquitoes and other bugs.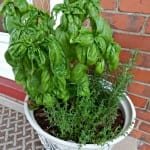 Fever Few – Fever Few is great for repelling insects, but it's also great for releaving headaches and bloating.
Chrysanthemum – Mums are beautiful and bugs don't like them. If you notice, moms never have bite marks. That's because they repel so many different types of bugs. They are great planted in your veggie garden.
PennyRoyal – great as a ground cover, but do not ingest. I do not have it because my kids are used to tasting our plants. It is also toxic for animals. People talk about crushing and rubbing the leaves over their skin and pet's fur. This is probably ok, and is effective, but your body has to deal with the poison. If you don't have kids or animals, have at it. But it is used as a poison, so be careful.
Lavender – Smells great. Wonderful in beauty products, soaps, air fresheners, therapeutic and medicinal purposes. Some people use it in cupboards or attics to repel moths instead of mothballs.
Rosemary – of course great in food and soaps as well as an insect repellant. It makes a great facial toner. It likes it hot, so it will not grow as a perennial except in zones 7 and higher.
Basil – Not a strong repellant unless you have a giant bush of it, but its other uses are great it makes it wonderful to have around. Try in cooking, as well as for medicinal purposes.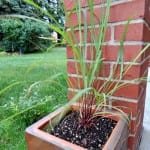 Lemon Grass – Perennial only in zones 11-8. The rest of us bring it indoors in the winter and hope it lives. It grows very fast and is great in cooking and soaps. It dries well. It is a mild astringent, so many people will use it in homemade deodorant so they sweat less (just make sure you aren't allergic to it first. You don't want a rash there-ouch)
Lemon Balm (Melissa Plant) – Easy to grow. Hardy through zones -20 (less if in a pot). Smells and tastes great. Great for cooking and medicinal purposes.
Peppermint – prolific grower. I put mine in a pot and it still went out into the yard through the bottom, so beware. Wonderful for teas, joint pain tinctures, in soaps and beauty products.
All types of Eucalyptus trees if you live in zones 8 and higher.
Wormwood – a bushy plant with fern like leaves. Highly effective against moths, gnats and flies. It's also known to drive black ants away.
Lemon Thyme – Known for being a great repellant. Grows great as an annual in most zones. I have brought it indoors during winter and it survived.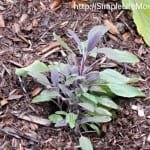 Sage – We've always used this to repel flies. Grows great in zones 4-8. Can be grown as a biennial.
Geranium – geranium is in the citronella family. Like Pennyroyal it can be poisonous if ingested, but it is commonly used in pots around America.
Don't forget that you can also make your own