There are better choices when it comes to sugar substitutes, but sugar (skipping all the technicality) is still sugar in your system.  There are so many reasons to cut down on sugar intake.  If you want to learn more about what sugar does to the body (brain, liver, memory, etc) see The Destruction of Sugar. What Next?
My goal was not to eliminate sugar completely….I'm not there yet.  But I DID want to make better choices and find better substitutes.  Here are some strategies that I have come up with over the years.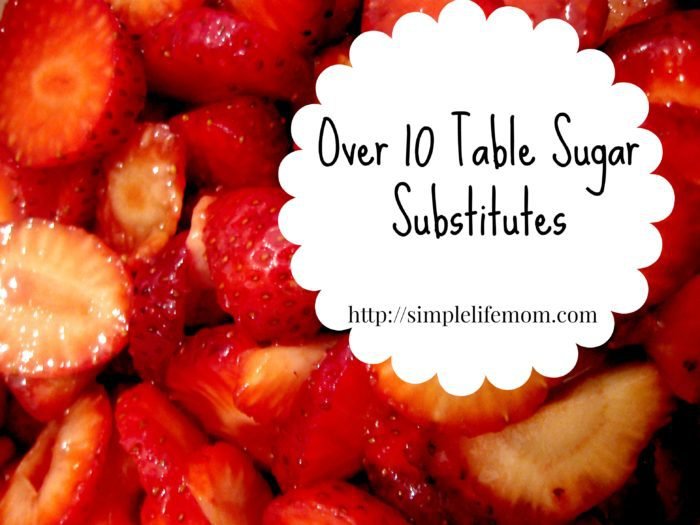 Over 10 Table Sugar Substitutes
All Sugars are not Created Equal:
If you would rather use a sugar like the cane sugar you've been used to, then there are substitute options for you.
Cane Sugar: Choose Cane sugar over Beet sugar.  The Beet sugar industry has become 100% GMO. Also, choose non-bleached sugar. (Referred from here on out as Table Sugar)
Sucanat: A Sucanat is better (

Su

gar,

Ca

ne,

Nat

ural), being a natural, minimally processed sugar. Equivalent: 1 cup sucanat for 1 cup Table Sugar
Demerara: Try something new like Demerara.  It is a cane sugar from South America, but is not processed as much as your normal table sugar.  It is also about 3 times sweeter, so though it costs more, you can use less. Equivalent: 1/2-2/3 cup demerara for 1 cup Table Sugar
Turbinado is probably one of the best in this category.  It is not heated like the other sugars, but the juices are spun and dehydrated, thus containing many minerals that would be lost in heating.  Equivalent: 1 cup Tubinado for 1 cup Table Sugar
Coconut Palm Sugar: This sugar is made from tapping a coconut palm, then dried. Equivalent: 1 cup Coconut Palm for 1 cup Table Sugar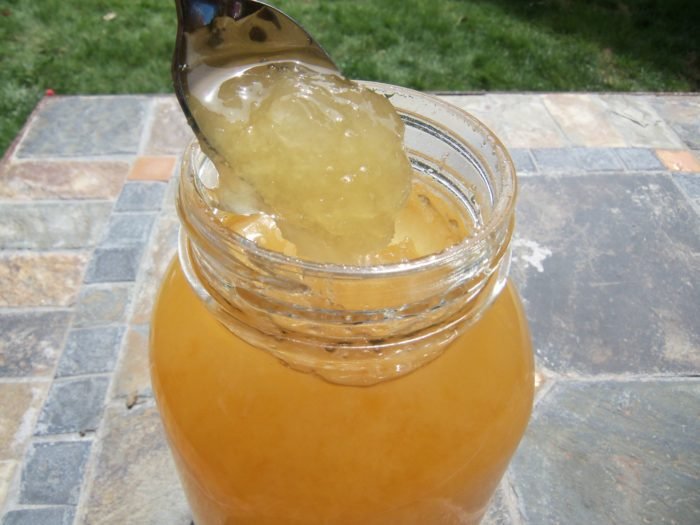 What about liquid sugars?  Some of them have great nutrients and health benefits (like honey), while others have been over processed or have added ingredients:
Raw Honey: Honey is one of my favorite substitutes, but not the cheapest (if you make sure you buy real local honey). It is full of great nutrients and is great for allergies (more on this to come). I would use this every time if I had enough of it.  Equivalent: 3/4 cup Honey for 1 cup Table Sugar.  Add 1/8 tsp of baking soda per cup to counteract the acidity. Reduce liquids by 1/4 cup. Reduce cooking time because honey causes foods to brown faster, or reduce oven temp. by 25 degrees F.

Molasses: I avoid molasses unless I know exactly where it came from (It should say it is made from cane sugar, pomegranates, etc., not beets because of the gmo issue).  It is the byproduct of making cane sugar – including the concentrated nutrients that were in the cane plant.  When the sugar is removed, what is left is the molasses.  The darker the molasses, the more the sugar has been removed.  It has a strong flavor, so use with care.  But it makes great ginger bread! I will sometimes substitute only a little of the cane sugar with molasses. Equivalent: 1-1/3 cup molasses for 1 cup Table Sugar. Add 1/2 tsp baking soda to counteract acidity.  Reduce liquids by 5 Tbsp. (No Brown sugar, add 2 Tbsp molasses to each 1 cup white sugar)
True Maple Syrup: Maple syrup, cooked down from the sap of a maple tree is also a lovely substitute. Equivalent: 3/4 cup maple syrup for 1 cup Table Sugar.  Add 1/4 tsp baking soda to counteract acidity.  Reduce liquid by 3-5 Tbsp. 
Agave Nectar: Agave is, sadly, a bad choice of sugar.  It is chemically processed and known as hydrolyzed high fructose inulin syrup.  If it didn't have quality control issues, be in danger of having been mixed with corn syrup (like most honey these days), it would be the equivalent of cane sugar – no better.

When All Else Fails, Use Fruit!
Don't forget that fruit is a great way to add more complex sugars to a dish.
Add berries and reduce the sugar in the recipe.
Add applesauce and reduce sugar by 1/4 to 1/2
Throw some dates in the food processor.  Substitute 2/3 cup blended dates for 1 cup Table Sugar
Other Methods
Try backing off on the sugar in your favorite recipes.  Try 1/4 cup less, then 1/2 cup less.  Find what works for you and your family.  I make chocolate chip oatmeal cookies with only half of the sugar required (the chocolate chips are so sweet) and call them "Breakfast Cookies".  Tell your kids they aren't supposed to be sweet, but are supposed to be like muffins and see if they buy it .
Remember, the less sugar you consume on a daily basis, the more sweet normal recipes will taste.  You can adjust your taste buds to be happy with much less sugar over time!
Save