I wish I had a nice food strainer/sauce maker.  I've used one once and they are great!  Alas, I do not, so this is what I do to make a tomato sauce or marinara sauce that is the easiest and the least time and energy consuming when I have a huge crop of tomatoes that need to be processed.

Homemade Tomato Sauce
1. Wash your tomatoes and put them into a giant pot (I did divide them into 2 pots after the picture).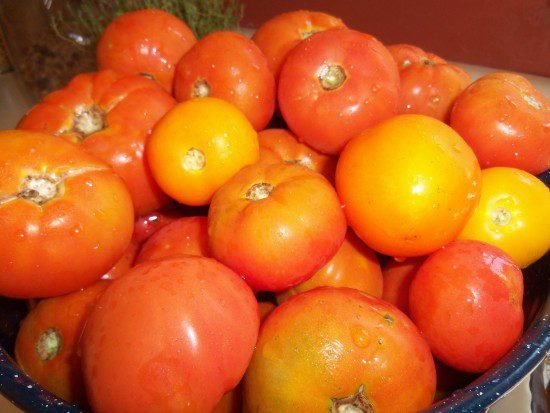 2.  Add water and boil until skins loosen.  Carefully pour into a colander and place in ice water, or run cold water over them and let them cool.
3.  Here is where it would be nice to have a sauce maker like this one.  Peel skins off tomatoes.   Once you have them skinless in your pot, crush them with your hands (I always like this part).
*Option* instead of peeling with your hands, place colander over your pot and crush tomatoes until all that is left in your colander is skins and some seeds. You can strain again through a wire mesh if you do not want seeds.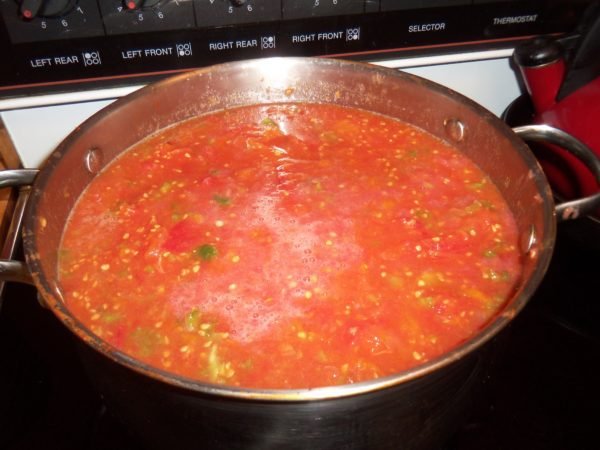 4.  Add to taste:
chopped green pepper
chopped onion
oregano
basil
garlic
salt
sugar (if desired) according to taste.
5. Bring sauce to a simmer to cook off a lot of the liquid.  Stir often. Use a Potato masher and smash any pieces that are still large.  Again, you can pour it through a mesh strainer like this one to quickly removes seeds if you desire.
6. When the sauce is to the consistency and taste that you want, it's time to can!
Kill all bacteria on jars by placing in boiling water for 5 minutes.  While sauce is still very hot, pour into jars leaving 1/2 inch of space at the top (if you do not fill enough, they will not seal properly).  Screw tops onto jars and let cool.  You will see (and hear) the tops pop down when they are almost cool.  Ta Da!  You've just canned sauce that will last a long time on your shelf!  Make sure you label so you remember what it is.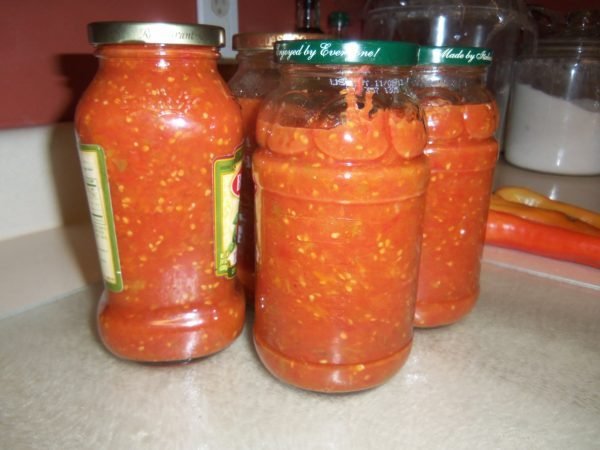 If you do not want to can, you can still put it into jars and freeze them.  Just make sure you leave more room at the top (at least 2 inches).  Frozen liquid expands and you don't want the jar to burst.  The jars pictured above are jars I'm reusing from store-bought sauce so I am freezing those I'm not using right away.
Save
Save
Save