Natural Flavoring is found in almost everything now, which is one reason why your finding this recipe for homemade ketchup and Parmesan fries.
My question is, if it is just a natural flavoring, then why not state what it is?  I used to think this was because it was the secret part of the special recipe.  There may be something to that, but I think it's more that the "natural" origins may not seem so appetizing or so natural to many consumers since they are so far removed from the source within a laboratory.
Castoreum, listed as "natural flavoring", got a lot of attention when Food Babe brought attention to how it is derived from the castor sac on the anal gland of a beaver, which contains a yellow secretion (also containing urine) . The sad thing is, even if you have no problem with eating something containing liquid from a beaver's castor sac, the term "natural flavoring" is used to refer to anything that has a remote natural origin; similar to how Real Stevia is Not White.   There are reports that discuss how contamination with various harsh chemicals are common, due to the processing that these "natural flavors" have to go through.  Here's a great link to more information.
When I started on this journey to eat Real Food, I began looking for products with less ingredients. Unfortunately, even when I found something with only 3 ingredients, the third ingredient would be "natural flavoring".
Ketchup, jam, yogurt, etc. etc. all with natural flavoring! So, since I can't afford buying products with better ingredients all the time, I decided I would try to make what we use.  I found a few ketchup recipes and altered my favorite one slightly and am so exited to share with you the final result.
Homemade Ketchup
Ingredients:
3-1/2-4 cups tomato puree
1 tsp marjoram
1 tsp basil
1 tsp ground cloves
1 pinch nutmeg
1 Tbsp paprika
1 tsp salt
4 Tbs honey
1 cup red wine vinegar
Instructions:
Combine all ingredients in a saucepan.
Cook over low heat for 30 minutes.
Prepare jars for canning (boil them for 10 minutes). Pour ketchup into jars while it is still hot. Seal immediately and allow to cool.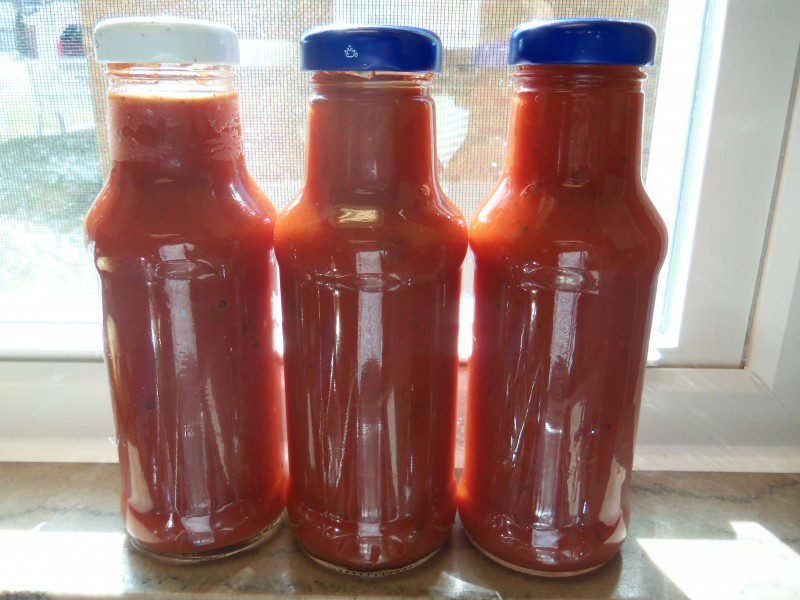 And what better to go with Ketchup, then Fries! Parmesan Fries!
Parmesan Fries
Ingredients:
Potatoes
Salt
Parmesan Cheese, shredded or crumbled
Olive Oil (or Coconut oil)
Instructions:
Slice potatoes lengthwise.
Drizzle with olive oil and toss.
Salt to taste and sprinkle with Parmesan cheese (shred your own, or find shredded Parmesan cheese without cellulose and extra ingredients) and toss.
Grease a large cookie sheet and lay potatoes in a single layer.
Bake at 400 Fahrenheit for 30 minutes, or until browned-turning once (After potatoes are soft, you can always turn the broiler on to brown quickly, but watch carefully!).
Save