You know you've finally found the right crust recipe when your kids are comparing great pizzas and they say, "They still don't beat your crust."  That took a lot of effort.  Making a whole wheat crust is difficult because it can be too tough, thick, chewy, etc.
I had to learn to spread the dough out thin so it wouldn't end up 2 inches thick.  Through trial, error, and some learned technique, I have a crust that's tasty enough and thin enough that everyone loves.  I hope you like it to.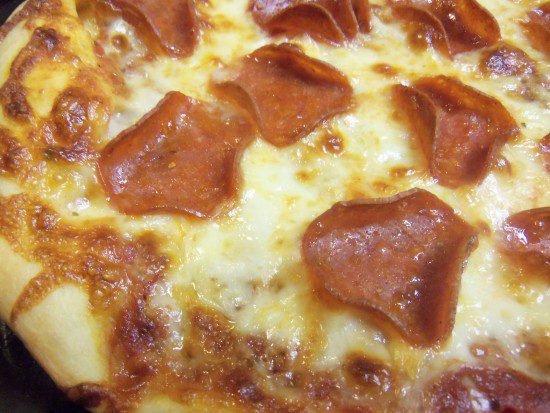 White flour works wonderfully for this recipe, but we prefer to use half whole wheat, half unbleached white flour.
Whole Wheat Pizza Crust and Bread Sticks
Author:
Prep time:
Cook time:
Total time:
Ingredients
2 ¼ tsp active dry yeast
2 cups warm water
3 Tbsp olive oil
1 Tbsp sugar (optional)
1 Tbsp salt
4-5 cups flour (I use half unbleached white, half whole wheat)
Instructions
Dissolve yeast in water and sugar for about 5 minutes.
Add 4 cups of flour and salt. Mix together.
Slowly add flour until you have a nice soft dough.
Knead for 5 minutes.
Spread onto a peal or other pizza dish, cover and let rise for 1 hour.
Baking time will vary depending on thickness, but plan on 15-20 minutes in a 400 oven.
Favorite Bread Sticks
And what goes best with pizza? Why, breadsticks of course. This is my favorite bread stick recipe that I've developed.
These are pizza hut style, made in a pan, then sliced apart. You can always roll them into sticks and place them on a greased cookie sheet and bake for 15 min or until they just start to brown (don't over bake).
Bread Sticks
Author:
Ingredients
1 ½ cup warm water
1 Tbsp yeast
2 Tbsp olive oil
3 ½ cup unbleached white flour
1 tsp salt
Garlic powder, oregano, and grated Parmesan cheese for sprinkling on top
Instructions
Dissolve yeast in warm water.
Add oil, flour and salt. Knead for 5 minutes.
Place dough in a greased 9x12in. glass dish.
Spread with fingers until flat.
Cut into 10 breadsticks (2 rows of 5) with a knife or pizza cutter.
Sprinkle with garlic powder, cheese, and oregano.
Cover and let rise for 30-45 minutes.
Bake at 375 F for 25-30 minutes.
Save
Save