This 4 cheese spinach dip recipe is a fun way to eat a healthier dip.  At least, you will get some protein from the many cheeses and great iron from the spinach.  It looks green, but my kids love it!  It is a fast, frugal, filling, and healthy snack.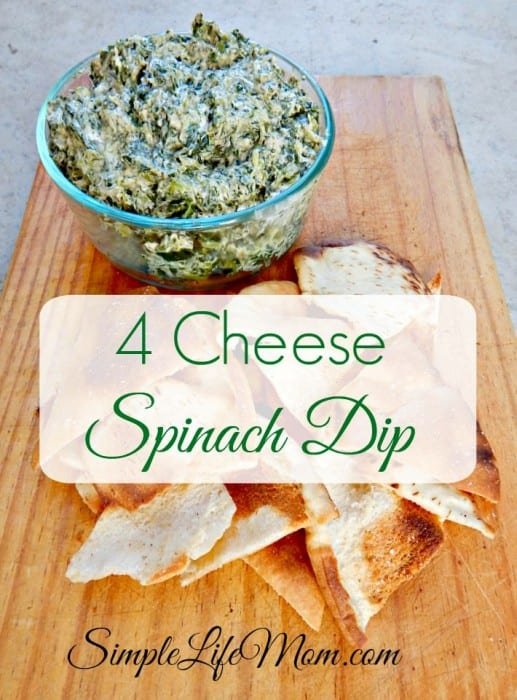 It's ultra cheesy and variations can be added for different flavors.  This particular recipe does not call for artichoke hearts, but feel free to add 1 cup chopped artichoke hearts if you so desire.  They make a great addition.
4 Cheese Spinach Dip
Recipe Type
:
Appetizer/Snack
Author:
Prep time:
Cook time:
Total time:
Ingredients
1/2 onion chopped fine
2 cloves garlic, minced
1 Tbls olive oil
1/4 tsp salt
pinch red pepper
1 lb frozen spinach or 2 lb fresh
8oz cream cheese
1/4 cup grated Parmesan cheese
1/4 cup cheddar cheese
1/2 cup mozzarella cheese
**Add 1 cup artichokes (optional)**
Instructions
Heat oil in a large skillet on medium heat. Add chopped onion, garlic, salt, and red pepper.
Cook onion and garlic until the onions begin to look clear. I don't add a lot of salt to this, because we often eat it with salty corn chips. But if you're going to be eating it with veggies, you may want to add a bit more salt.
Turn heat to low and add Spinach and cheeses. Mix together. Cheeses will melt as they heat. You can place a lid on the skillet to speed the process along, but watch that it doesn't burn. When cheeses are completely melted and mixed it is ready to serve.
Notes
For variation, add red pepper flakes or powder. This gives it a great kick. I add just a pinch of each, but obviously if you like it hot, keep going :-)[br][br]Serve with your favorite Organic Corn Chips, veggies, or crackers.
~~Serve with your favorite Organic Corn Chips, veggies, or toasted Pita Bread as pictured.~~
Check out my other dips like Homemade Creamy Onion Dip and Homemade Ranch Dip.
Save