Not only is this fun (because what could be better than smearing a mud like substance all over your face?), but it is also super healthy for your skin. And what could help you age like a Pro? Well, an anti aging clay mask of course!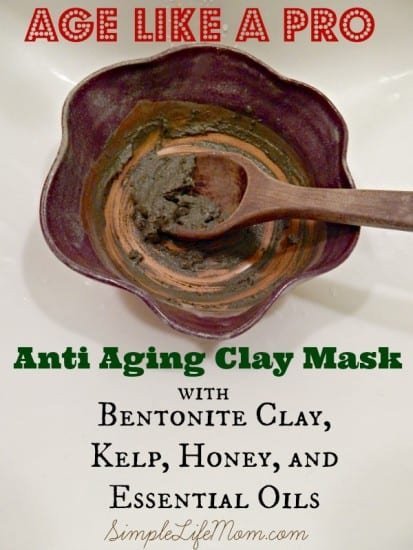 Our skin is under a constant battle. Stress, lack of sleep, dryness, dirt, the food we eat, and products we put on our faces are often working to make it tired and slack. IF we sleep great, don't get stressed, eat amazingly healthy, cleanse, and avoid all toxic makeups and lotions, then we're already off to a much better start. But…well, we aren't perfect and busy lives happen.
So, gather your friends, kids, husband, boyfriend, mother, or whoever you'd like to do this with, put on a nurturing anti-aging clay mask, and take lots of pictures for you to remember and laugh about later.
What is fabulous about this recipe (besides it being full of anti-aging, nourishing, fun mud ingredients), is that the ingredients are really easy (and cheaper) to buy by in bulk. This way you have enough for a party (I wasn't kidding. Throw that party!) and enough for you to use throughout the weeks to come.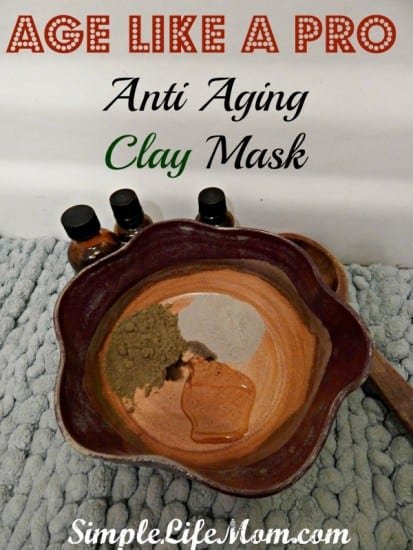 Apple Cider Vinegar will work as an astringent, balancing ph and shrinking pores.
Raw Honey is soothing and full of nutrients that your skin will absorb. Honey has antiseptic properties (making it great for those with acne) and will moisturize your skin as well.
Frankincense, Lemon,Essential Oil and Rose Hip Seed Oil are known for their amazing effects on skin.
Bentonite clay, as aged volcanic ash, is great at absorbing toxins and extracting heavy metals. It is also calming to irritated skin (great for those with acne and other skin irritations).
Kelp Powder is another detox, cleansing ingredient. It is also full of Omega-3s and polyphenols (great anti-aging powder for the skin). Down side – kelp stinks. It just does. But if you can ignore the seaweed scent, it will do awesome things for your skin. Anyway, you won't smell it after you wash it off.
Age Like a Pro – Anti Aging Clay Mask
This recipe makes one ounce. Alternatively, you can double or triple the recipe and add everything but the apple cider vinegar and honey and keep sealed until use. When ready to use, remove a tablespoon or two and add the honey and apple cider vinegar to make the right consistency for the mask, keeping the rest separate until ready to use.
Age Like a Pro – Anti Aging Clay Mask
A face mask with clays and essential oils
Instructions
Combine apple cider vinegar, raw honey, rose hip, and essential oils in a non-metal bowl (bentonite clay reacts with metal).

1 tsp Raw apple cider,

1 tsp Raw honey,

1 drop Frankincense essential oil,

1 drop Lemon essential oil,

5 drops Rosehip oil

Add clay and kelp and mix with a non-metal spoon. Add water (or aloe) to make the consistency how you like it.

2 tsp Bentonite clay,

2 tsp Kelp powder

Spread over a clean face with your fingers and allow to dry.

Rinse after mask dries. Don't leave on longer.
Notes
This does not keep for more than 2 days. Make when you are ready to use to ensure freshness.
Want more Anti Aging recipes?
Or Buy these in My Shop