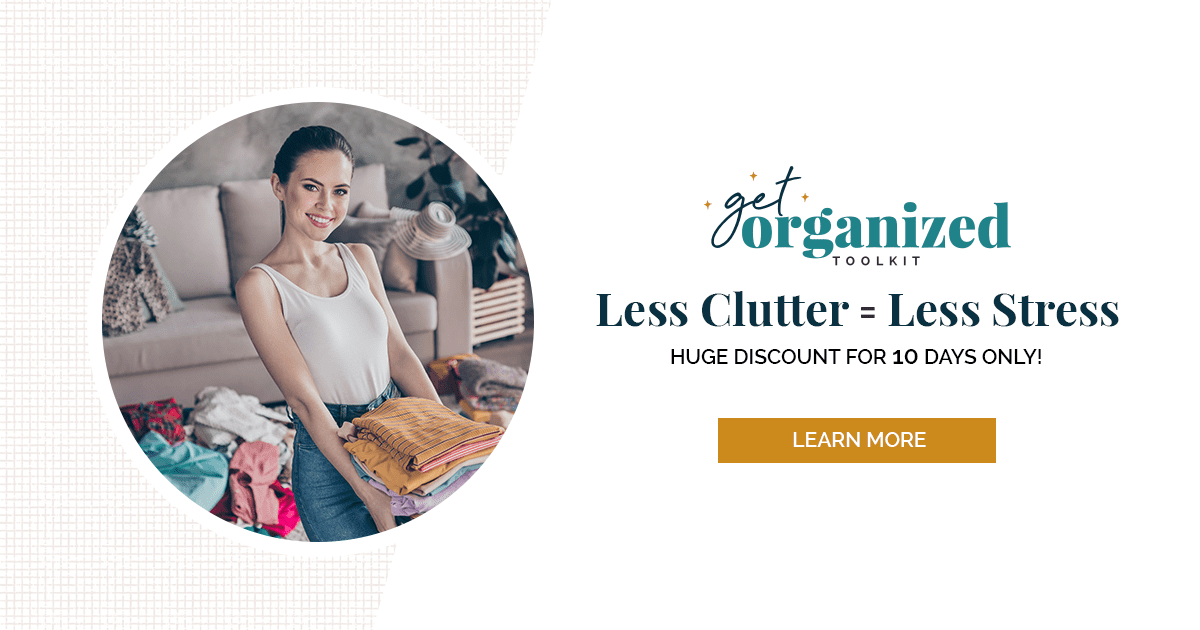 This Chipotle Burrito Copycat Recipe happened by accident.  It's one of those cooking accidents that makes you stop and grab the notepad quickly so you can write down what you did so you can hopefully do it again.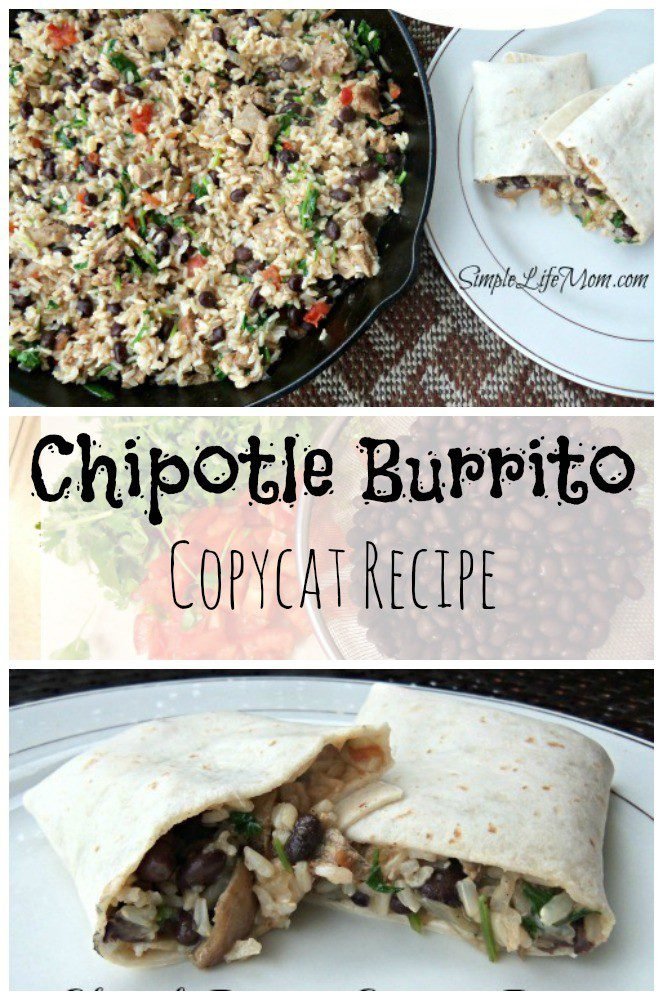 I was going to make a rice dish, but I didn't have a lot of chicken to feed the family and wanted to stretch it as far as possible.  Adding beans to rice also makes a meal stretch farther.  With that and the wonderful fresh flavor of cilantro, I was well on my way to a great dish.
When all was said and done, it all turned out great and everyone kept talking about how it tasted just like a Chipotle Burrito.
I gave my family the option of having it in a bowl or tortilla.  Instead of just putting the rice in a bowl, you can also put it over some lettuce to create a Chipotle salad bowl.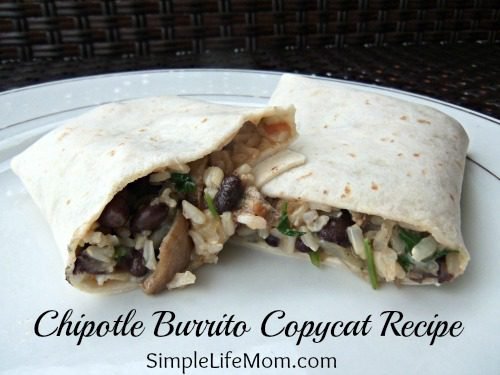 Chipotle Burrito Copycat Recipe
Author:
Prep time:
Cook time:
Total time:
A light and tasty burrito recipe with rice, black beans, chicken, and cilantro.
Ingredients
2 cups brown rice
4 cups water
1 Tbsp lemon juice
2 cups (or 16oz) black beans
1-2 tomatos, diced
2 cups cilantro, chopped
3 chicken thighs
Homemade Taco Seasoning
Tortillas
8oz shredded cheddar cheese
salsa (optional)
lettuce (optional)
Instructions
Combine rice and water and lemon juice in a saucepan or large skillet with lid.
Bring to a boil uncovered.
Cover with a lid and turn burner down to a simmer for 15-20 minutes, or until rice is done.
Meanwhile, cook chicken thighs in a skillet on medium heat, adding taco seasoning to taste.
Remove chicken from heat and dice.
Add cooked rice, diced tomatoes, chopped cilantro,and black beans.
Add a large spoonful of rice mixture to a tortilla, sprinkle with cheese, salsa, and lettuce (if desired), wrap up, and enjoy!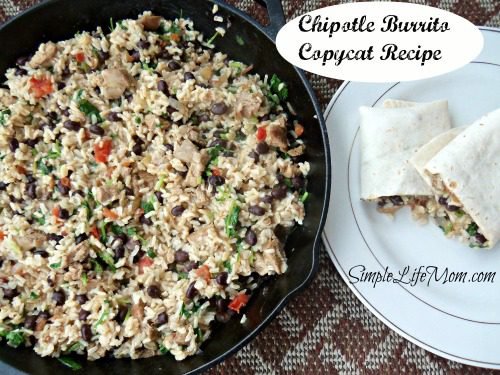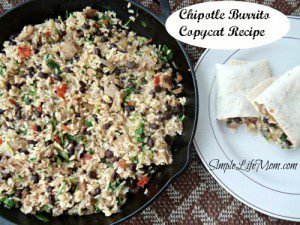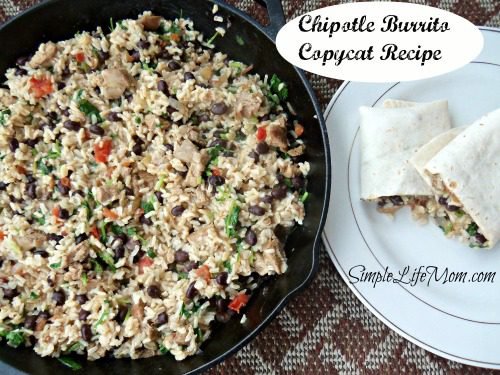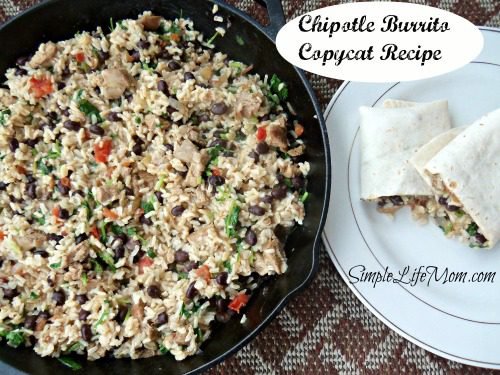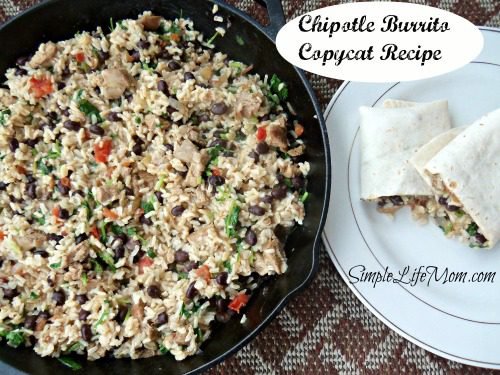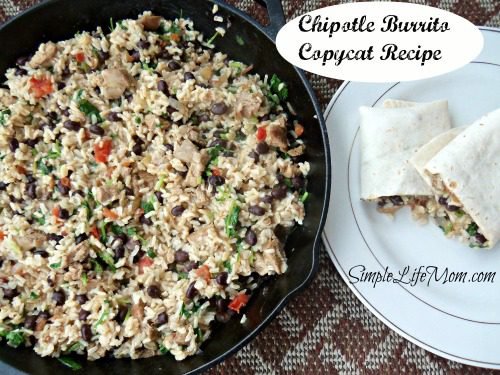 Save
Save
Save