I've put together a candy cane soap recipe with rose clay and peppermint essential oil.
There are a wide variety of clays to choose from to use in soap recipes: kaolin clay, bentonite clay, Moroccan clay, French clay, Rhassoul clay, rose clay. There's such variety! Even those clays mentioned have a number of variants, and each one brings something slightly different to the soap, from color, to cleansing enhancement, to changing texture. I love the smooth quality that a soap with clay has.
This candy cane recipe uses rose clay. It's a beautiful clay that can create pink to red colors. Not to mention it doubles as a pink blush for natural clay makeup.
This candy cane soap recipe is fun to make.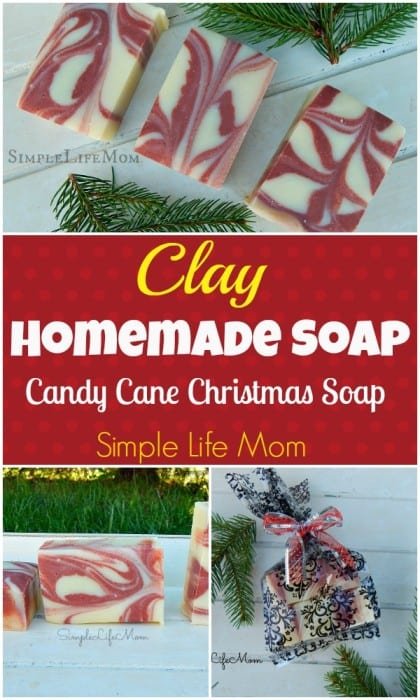 Rose Clay Benefits
Rose clay is very beneficial. It is:
great at equalizing imbalanced facial oil.
It is very soothing, making it great for those with eczema and other skin problems.
It can be seen as a mild exfoliate, also helping to purify the skin. This goes for most, if not all of the clays!
Bentonite clay can also be used as it is known as detoxifying since it bonds with toxins in the skin (Learn more Here).
Candy Cane Soap
I actually made this into a candy cane soap by accident. Well, it wasn't an accident, but it didn't start out as candy cane soap. I wanted to make a red swirl in a batch or soap and the more I thought about it I wanted to try adding peppermint essential oil and making a candy cane striped effect.
I call it my Candy Cane Soap since it is red striped with a peppermint scent. I think it turned out beautifully and was super easy to make.
I originally purchased rose clay and Moroccan clay, hoping both would be a beautiful red. After all, I had already tried using beet root powder when I first started making soap and knew it would turn brown.
Most Moroccan clays are a very pretty orange color. Some are tan. No red. See What I did with it!
Alkanet root powder makes a very pretty purple (which turns blue in soap before turning back to purple during the first 24 hours), and I've heard that acai powder (not the juice, but the powder) can create a red. I haven't tried it, because as a juice it seems like it would turn brown. So if you've tried it please let me know.
I wanted something truly pink or red. The rose kaolin clay starts out pink in soap, but if you add more it does become a deeper red. Exactly what I was looking for!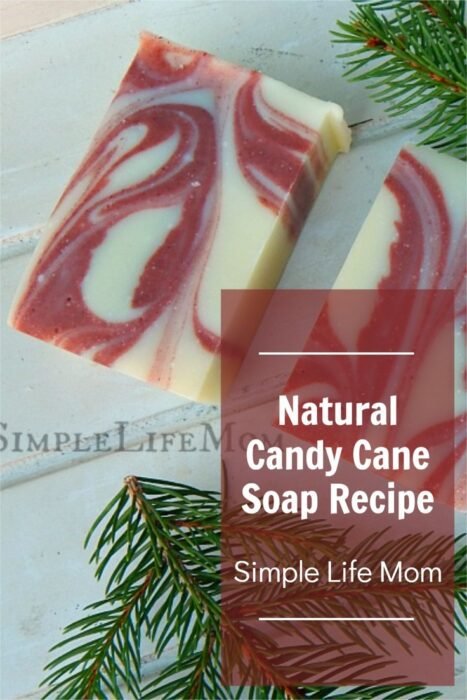 Making Swirls
The more you make soap, the more you know the thickness needed to make the kind of swirl that you want to create.
For example, when you want a blended, deeper color you will pour colors when the soap is at thin trace.
When you want distinct lines and brighter colors, you need to pour at medium trace. You don't want it to sink down into the soap, but you don't want it so thick that it's hard to get a thin line.
You also want to pour when the soap is closer to room temperature and maintain temps of 75-80 degrees Fahrenheit for the first 24 hours. This will give you brighter colors and make sure that you don't have ash on the top due to drastic temperature changes.
Ash is a white coloring on the top of your soap that is purely cosmetic and caused by temperature differentiations. It's no big deal, but you won't be able to see the bright colors until you start to wash with the soap and take that top layer off.
When soap is at medium trace, remove the soap you will be coloring and pour the main white batch into your soap mold. Color the soap that was set aside and whisk to make sure there are not any lumps.
Pour the red soap over the mold back and forth horizontally. If it's sinking because it's too thin then pour faster in more of a sweeping motion.
Insert a dowel rod or chopstick into one corner and pull the soap back and forth vertically down the mold. Don't over mix or it'll look more like swirls instead of stripes.
There are other ways to make stripes in soap, but this is by far the easiest, and it looks great!
Candy Cane Soap Recipe
Candy Cane Soap Recipe
Cold Process soap recipe with rose clay and peppermint essential oil
Equipment
Instructions
Combine tallow, olive oil, coconut oil, and sweet almond oil in a large pot and heat to melt all oils. Cool to 80-90 degrees Fahrenheit.

8 ounces tallow,

7 ounces olive oil,

6 ounces coconut oil,

2 ounces sweet almond oil

Wearing gloves, weigh lye in a zip close bag and set aside. Weigh water in a glass or plastic container and take both water and lye outside. Put on goggles and mask and gloves and pour lye into water and stir until dissolved. It will heat as you stir. Allow to cool to around 80-90 degrees Fahrenheit.

3.1 ounces lye,

8.2 ounces water

When temperatures of oils and lye water are between 80-90 degrees Fahrenheit, add lye water into pot of oils and use a stick blender on and off until soap reaches light trace.

Add essential oils and mix well.

0.35 ounce peppermint essential oil

Remove 1/4 cup's worth or more of soap and add rose clay. Whisk to make sure there are no lumps.

Pour main batch of soap into a prepared 2lb mold. Add the red soap by pouring over the white back and forth horizontally in stripes. Use a chopstick to pull soap back and forth vertically to create stripes and swirls.

Cover and insulate for 24 hours and then cut and cure for 3-6 weeks.
Let me know if you have any questions (and if you've tried acai powder in soap).