I believe that everything we do, whether it be helping someone in need or scrubbing toilets, should be done to the glory of God if you are a follower of Jesus. It all matters. How does cleaning glorify God? Well, why are you cleaning? When you detox your home, you keep an atmosphere that is healthy and help promote peace. After all, clutter and filth causes stress and breeds bacteria.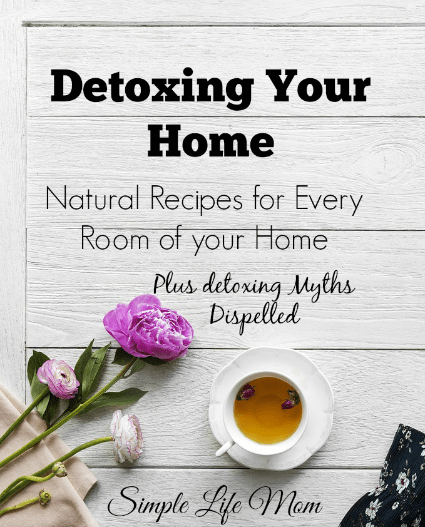 A toxic home is more than lack of cleaning though. In fact, in America these days there are a lot of toxins introduced to the home by cleaning products. The ideal choice is to clean your home…with healthy products!
First, Here are a Few Myths Dispelled
1.You don't have to have 20+ different products to clean your home.

Marketing has convinced most Americans that they need a different cleaning product for every surface of their home: stove top, floors, sinks, dishes, toilets, walls, tables, tiles, electronics, windows, upholstery. Some of those surfaces have multiple products used on them regularly.
While it's true that you may want a more sudsy product on some surfaces and a more abrasive product on others, you really don't need 20+ cleaning products for your home!
I use one multipurpose spray that cleans bathrooms, sinks, tables, countertops, and even windows.
I use baking soda on tiles, tubs, and toilets.
I, of course, also have laundry soap.
That's really it! I will make up a little wood polish for floors or tables when needed, but that's not often. And my home is very clean and we rarely get sick. My simple products do the trick and kill bacteria. It really is that simple.
2. You don't have to be a DIYer to detox your home.
There are so many great options out there these days (thank you supply and demand and intelligent people like you), that even if you are not a DIYer you can still purchase healthy products that really do kill bacteria and clean at the same time.
All Purpose Cleaner: Greenerways – Best all purpose cleaner I have found. Others have chemical fragrances, preservatives, and other unwanted or questionable ingredients.
Toilet Bowl Cleaner: Better Life – This is a great alternative to bleaches, sulfates, and ammonia.
Dish Soap: Good luck with that. I've yet to find one that doesn't have ingredients that I would never want near my skin, much less leave residue for me to consume. Just get Zum Clean laundry soap and use it on your dishes, no joke!
Laundry Soap: Zum Clean – Hands down best I've tried (besides my homemade) with great ingredients.
Air Freshener: Simple Life Mom – Well, yeah! I have a spray that absorbs odors and kills bacteria. Made with essential oils.
Natural and Healthy Body: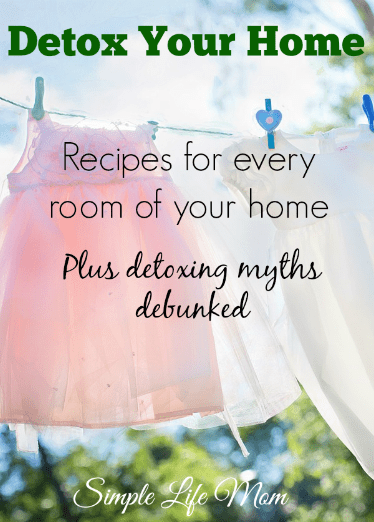 DIY Detox Your Home Recipes
Want to make your own healthy products to help detox your home? Go for it! It's really is so easy. You can always start with these recipes and then learn more and make your own to suit your family and needs.
Cleaners
Disinfectant Essential Oil Blends
Natural Grout and Tile Cleaner
Bath and Body
Makeup:
Fresh Air
Purify the air of your home with diffusers and essential oil air fresheners.
Diffuser Recipes: