I taught elementary (primary) school for many years. Before then I taught preschool. After that I taught some high school, and I've even been an adjunct professor at the University level. I love to teach! Because of this (and having my own children), I love the idea of making every purchase meaningful and choosing the best educational toys.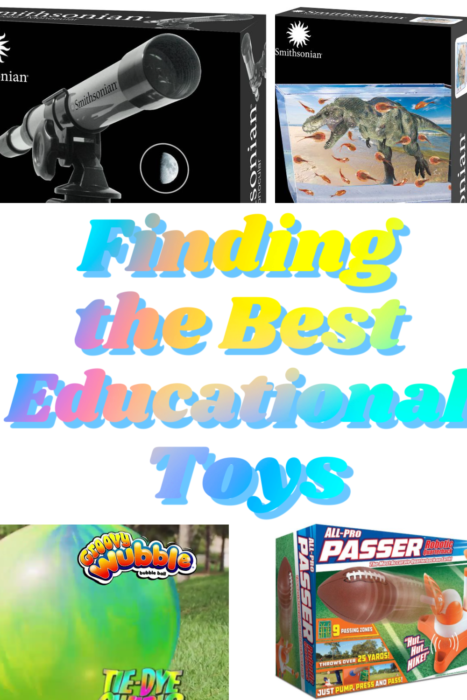 This doesn't mean everything has to be a history lesson. After all, hand and eye coordination is very important as well. But a good education that begins in the home, is controlled by the home and the values of the family is vital. Thus, every toy is meaningful.
Well, not every toy. Some are just plain fun. But when kids are trained to think, they'll use the little dollar store toy in a developmental way as well.
Finding the Best Educational Toys
Finding meaningful and the best educational toys is actually pretty simple. Don't follow the trends.
What I mean by this is, choose where you spend your money.
Kids are promoted to in a ridiculous way, with flashy commercials promising them the moon and stars if only they had the latest toy.
Instead of letting them influence you, you influence them. Choose toys that matter.
I was approached by an organization that wanted me to review some of their toys. It made me start thinking about this topic, and I was pleasantly encouraged by what they provided for me to review. They dive into the sciences of astronomy and biology, while some included a lot of silly, fun, and more specific hand and eye coordination. Even my teens were excited to tear into the boxes.
A lot of the time, a good review can give you a lot of information before you buy. Check out blogs by teachers and moms who are going to tell it like it is.
Hand and Eye Coordination
The first two items I was asked to review were an
Both are a lot of fun!
The All Pro Passer
I wasn't sure if the All Pro Passer was worth the money spent on it at first, but it has a lot of features available on it that may be extremely helpful for many families.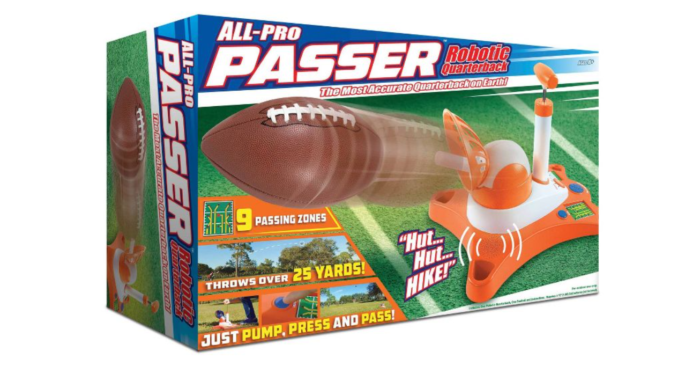 For starters, it is a throwing device that a child can set up and use on their own. With a lot of busy families, or people who don't always have time to throw the ball every time their child asks, it's a good asset. I'm not advocating turning over that ball throwing time to a device, but it's something that a boy or girl can use for hours on their own or make up games with friends.
You can adjust how far it throws for smaller or larger yards, or for multiple kids going for the same ball. You can also adjust the angle.
While it does let you practice running and catching various plays, it is a foam football and therefore is more suitable for younger children just starting out than those who need to practice handling a real football.
The Groovy Glow Bubble Wubble Ball
The Wubble ball is just fun!
It's large, soft, and super durable.
When we opened the box my daughter said, "I've always wanted one of these!" And when you have 18 and 20 year boys test it out and it actually survives, that's saying something.
This is a purchase I would definitely recommend.
It's big enough that it can knock over lamps and picture frames if bounced around the house, but it's durable not to break when used in the grass.
Kid (or teens) can sit on it, roll on it, and throw it around. It's light enough that older children can throw it in more organized games for a silly twist.
They can even sit on it to read a book or watch tv. It's pretty versatile, tactile friendly, and encourages movement. For those reasons I give it a thumbs up!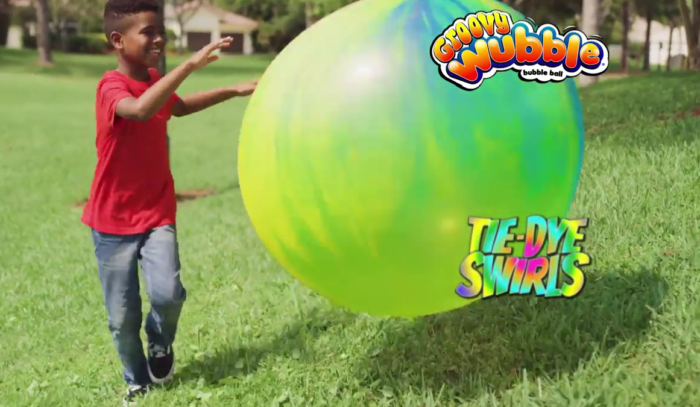 Educational Kits
The other two toys I was given to review were the:
The Telescope/Monocular Kit
The telescope/Monocular kit is a great option for little kids that you want to get interested in investigation and exploration. It's a simple and not very strong magnifying kit that you can detach from the stand and hold up to your eye.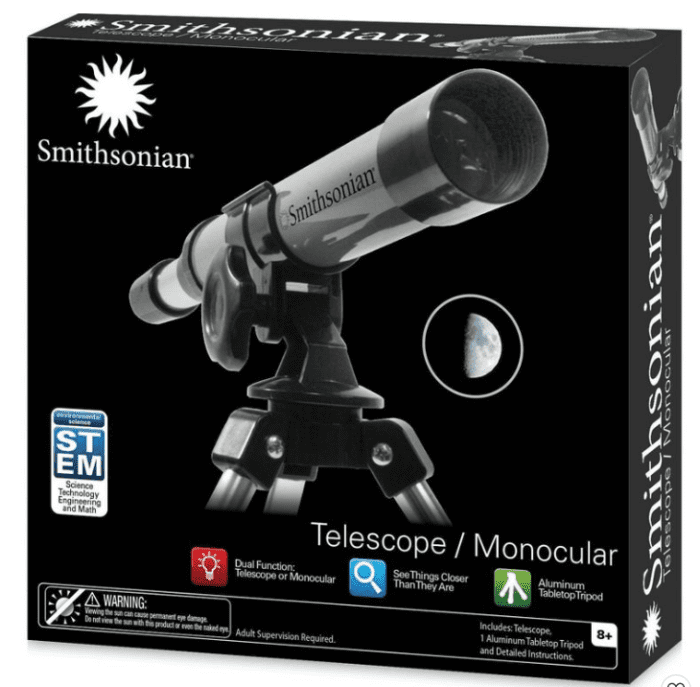 A 5 year old will find this extremely fun. You can give them things to find. Look at the stars with them. Or even pretend you are on a ship in the middle of the ocean and finding your way. It's a great kit for that age and a bit older.
I wouldn't recommend it for older kids like teenagers who are actually wanting to study the stars, but it is helpful at pinpointing and discussing different areas of the sky if it is the only device that you have.
The Smithsonian Prehistoric Sea Monster Kit
This kit is simple, cheap, and is a fun way to teach about the life cycle and dive into biology and prehistoric creatures. And what little kids doesn't love dinosaurs.
It features a tank, poster, sand for the bottom, and a bag with triops to watch hatch.
Some of the reviews showed that people had problems with the hatching. It does sound like you need to wait 10 days before they hatch. It hasn't been that long for me so I will definitely update here when they do. Waiting is not a bad thing (as long as they hatch eventually). Mark it on your calendar as the potential day and help your small kids keep track of the passage of time, the calendar, and keep a look out for any that hatch before then.
If I can keep the kit away from our kitten who wants to squeeze into every nook and knock over everything, then we should have some success.
Other Kits and Projects
This is a great kit to pair with butterfly and praying mantis kits. Choose insects that are beneficial and natural to your home environment. They are a lot of fun to watch hatch and then release.
On the other hand, if you're overloaded with unwanted insects like flies and mosquitos, have your children design their own bug catchers. Learn how here.
We've also made
Get crafty, be creative, and be hands on. Your kids need you.
But don't be afraid to keep things simple. You don't have to spend a ton of money. Use what you have around the house.
Do an internet search for project for kids using ______ (whatever item you have a lot of in the home).
Enjoy your time with those little bundles of energy, because when us who are older tell you it's over in a flash, we really mean it. Though I will say, I've enjoyed every stage with my kids and I'm enjoying them as young adults. Every stage brings on new challenges, but also new joys.