The title gluten free zucchini pizza and More seemed fitting since most people who grow zucchini have zucchini and more! I love growing zucchini with small children. It's a vegetable that the kids can pick from the garden every few days once it starts to get ready. To keep up with the bounty, you'll need to come up with some great zucchini recipes. Why not pizza?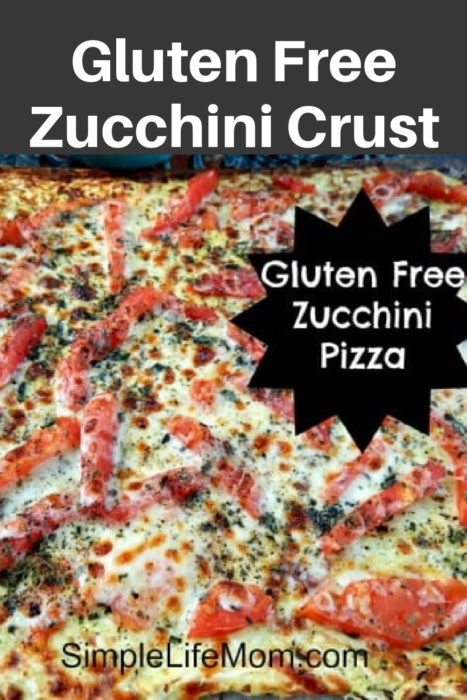 Actually, I'm the kind of person who has great luck with all kinds of plants that people have a hard time with, only to have the worst of luck with plants people don't even think twice about.
For example, I finally gave up trying to plant lettuce in my beds because it would never come up, no matter what I changed. I planted them in planters right outside my back door this year and they did great.
I start pretty much everything indoors these days. Pennsylvania summers aren't long enough for a lot of yield unless you give those plants a few extra weeks indoors.
Why Gluten Free Zucchini Pizza?
As we get old we're finding that eating less breads just makes us feel better. My teens still eat a lot of breads, but I love to find ways to incorporate more vitamins and nutrients into our food in a delicious way.
I had heard of using spaghetti squash as spaghetti, or cauliflower as pizza crust, so I thought, why not try zucchini?
Gluten Free Zucchini Pizza Recipe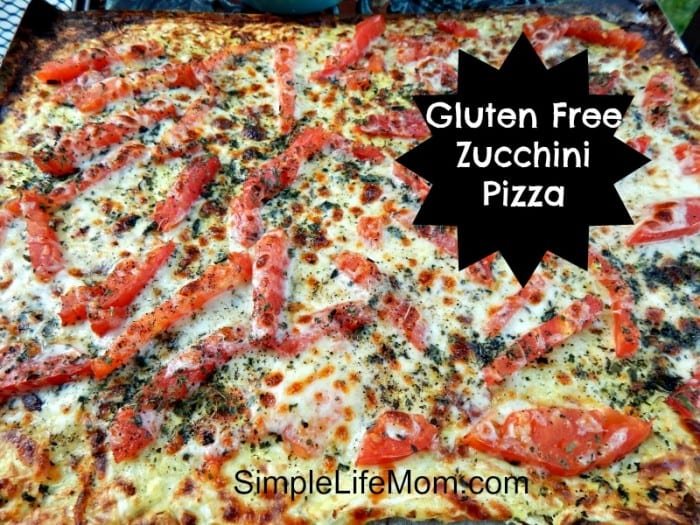 You'll need to combine the zucchini with eggs and cheese to create a grilled base for your pizza toppings. You can bake this in an over or on the grill. I've done both with great success, but that will be determined on the evenness of heat on your grill.  You don't want a soggy middle.
After The crust is finished baking, add toppings and place in the oven or in the grill until the toppings are done.
Ingredients for gluten free zucchini crust:
6 cups peeled and shredded zucchini
2 medium eggs
1 cup mozzarella
Directions:
Grease a large jelly roll pan and heat oven to 325.
Peel and then shred the zucchini with a grater and combine with the eggs and cheese.
Spread onto pan and bake at 325 degrees Fahrenheit for 30 minutes or until golden around the edges and cooked in the center.
Remove from the oven and turn up the oven temperature to 400 degrees F.
Add toppings of choice (tomato sliced, cheese, garlic) and return to the oven until toppings are cooked (usually around 10 minutes)
After The crust is finished baking, add toppings and place in the oven or in the grill until the toppings are done.
If you'd like to print or pin the recipe use the recipe below. Enjoy!
Gluten Free Zucchini Pizza
A gluten free zucchini pizza crust for a healthy gluten free alternative.
Ingredients
6

cups

zucchini

peeled and shredded

2

eggs

1

cup

mozzarella

shredded
Favorite Toppings:
½

cup

marinara sauce or sliced tomatoes

8

oz

shredded mozzarella

1

Tbsp

oregano
Instructions
Grease a large jelly roll pan and heat oven to 325.

Peel and then shred the zucchini with a grater and combine with the eggs and cheese.

Spread onto pan and bake at 325 degrees Fahrenheit for 30 minutes or until golden around the edges and cooked in the center. 

Remove from the oven and turn up the oven temperature to 400 degrees F.

Add toppings of choice (tomato sliced, cheese, garlic) and return to the oven until toppings are cooked (usually around 10 minutes) 
Save