It just came to my attention that my recipe for an essential oil blend for hormones that I carry in my shop is not up here on Simple Life Mom! I've had people ask me, "Why give all your recipes away? Don't you want to sell these items instead?" My answer is that I want to treat others as I want to be treated. There are people who will make and people who will buy. If I can inspire others to be more self reliant, to hold onto old knowledge and learn new skills, to be creative in a non-creative and non-deep thinking world, then I feel I have done my little part. Who knows how long I will be able to share my experience and knowledge in freedom?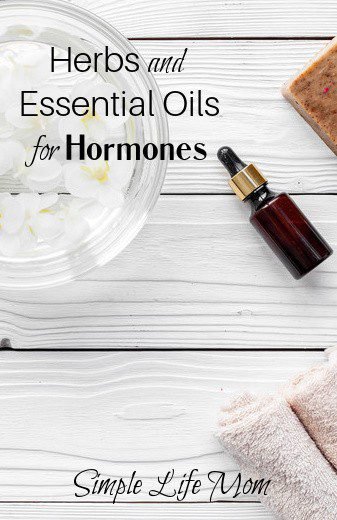 So, I have an essential oil blend I use when my hormones are out of whack that I love to use. Therefore, I will share it with YOU! Because you are that important!
I also want to point you toward a few other resources that are great to have on hand when hormones are unbalanaced. Whether you are a teenager, have teenagers, are pre-menopausal, menopausal, or post-menopausal, women (and men as they get older) benefit from herbal aids.
I'm not claiming that these herbs and essential oils will balance your hormones, but I, and others, have experienced calmness, cooling, better sleep, help with blemishes, de-stressing, and help with anxiety through these tried and true aids.
Get It All In One Spot
I've recently put an ebook together called, Herbs and Essential Oils for Hormones, Acne, and Better Sleep. You can get it and a FULL set of natural resources (recipes, tutorials, courses, charts) with the Ultimate Living Bundle: Mastering Menopause. Even if you don't fit that list yet, it's got some amazing resources for women. Check it out here.
Herbs For Headaches
Herbal teas are something people are familiar with. They don't require doing anything fancy. Just heat like you would tea you are used to buying. Some roots and mushrooms require longer heating in water to extract goodness, but most leaf teas are as simple as black or green tea.
Get a list of herbal teas for headaches here (and don't forget that you can use a lot of those in their essential oil form to diffuse.) Always test and pay attention to your body! If it doesn't sit well with how you're feeling and your personal needs, then stop drinking or diffusing.
Essential Oils for Blemishes
As I said before, toners, cleansers, spot treatments, and other recipes are in my ebook here. In the meantime, you can search for what you're looking for on Simple Life Mom.
I have an essential oil spot treatment recipe that is great to place on bad blemishes after cleansing.
Or try your hand at cold process soap making and make a charcoal tea tree soap bar for a deep cleanse.
Herbs and Essential Oils for Hormones
There are a lot of side effects of unbalanced hormones. Blemishes and headaches were listed above. But what about anxiety and not being able to sleep?
My go to for when my mind is running a mile a minute and I can't sleep is to diffuse vetiver essential oil.
I told others about my success, only to have them inform me that even their doubting husbands were won over and asked for the diffuser to be turned on at night because he just "seems to sleep better."
For herbs and herbal teas to help you relax and sleep better read this article.
Favorite Essential Oil Blend
This blend uses essential oils that are known to calm, relax, cool, and help balance moods. Like I said, this in and of itself will not cure all your problems, but it's a wonderful thing to have on hand when you are just trying to make it through the day and need a little boost.
I will often put a few drops on my wrists or behind my ears to smell throughout the day. You can also apply to the abdomen or other areas where you are having discomfort.
Ingredients:
Directions:
Combine oils and essential oils in a dropper glass bottle and seal.
Apply one to two drops on your wrist, behind ears, chest, or abdomen. Or simply hold and inhale when needed. Always test essential oil blends on your wrist first to make sure you don't have any sensitivities or allergies to the ingredients.
Let us know which oils give you the most relief and what you've incorporated into your routine.