Homemade Body Shimmer Lotion can be toxic free, healthy, and fun. I would much rather my daughter use something like this for fun, rather than some store bought shimmer lotion or sparkly nail polish.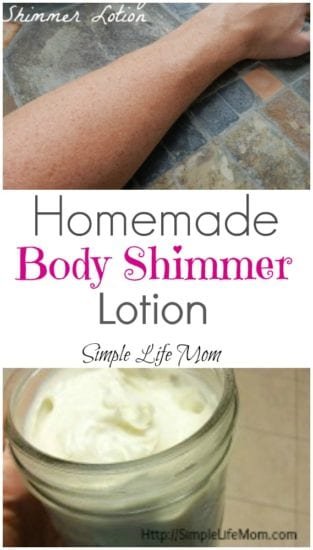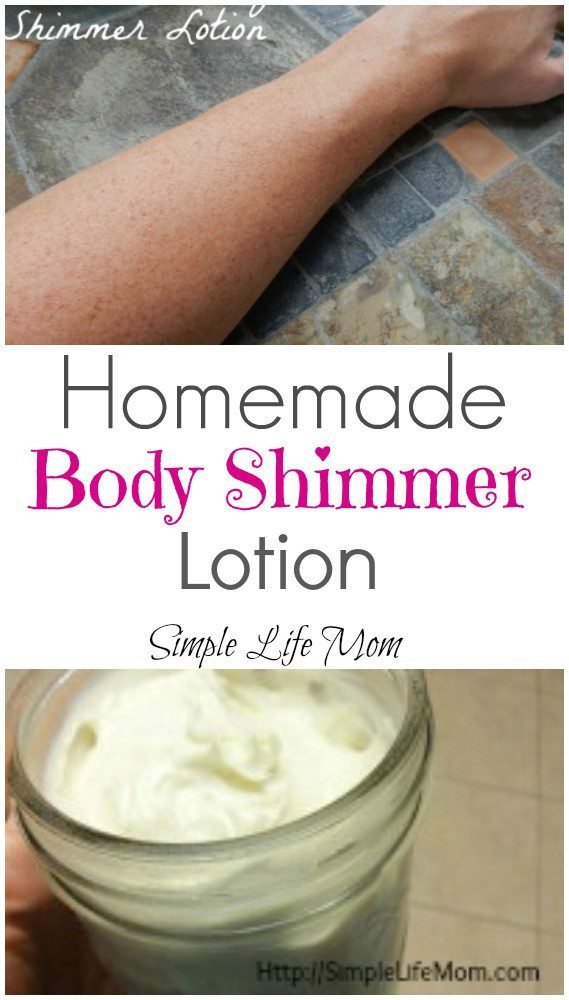 No toxins.  You're in charge of the ingredients.  AND you can make it whatever color you like!!  I've made some homemade body shimmer lotion with just that: shimmer or added sparkle.  And we've had fun making some with a pink or purple shimmer as well.
You are not limited to shimmering lotion. There are other things you can add shimmer to as well.
What to Add Shimmer To:
If you do not have the time or resources right now to make your own lotion, sunscreen, or makeup, feel free to experiment with a store bought brand. Try all natural shea lotion from My Shop.
What Adds Shimmer?
Mica is wonderful for adding a beautiful shimmer that can be as subtle  or bold as you like, without being bulky. The trick is finding a mica that does NOT have artificial dyes. Real mica has light shades from the entire rainbow, but not anything neon. When you see neon, you know that it is fake. They also include titanium dioxide (known carcinogen) and iron oxides. Some iron oxides are fine, but you need to know what type it is and how it is made.
A few natural brands that I have found are monave and earth pigments. Check them out.
Homemade Body Shimmer Lotion
I've included a lotion recipe. You do not have to make your own lotion. You can add mica to an oil, but if you want an organic lotion with minimal ingredients, then make the recipe below.
Homemade Body Shimmer Lotion
Instructions
Blend shea butter until soft.

Scrape the sides of the bowl and then add sweet almond oil and blend until fluffy. This will take a few minutes.
This gave a subtle and pretty sheen.  I loved it (and so did my daughter).
Save