Homemade Body Shimmer Lotion can be toxic free, healthy, and fun.  I would much rather my daughter use something like this for fun, rather than some store bought shimmer lotion or sparkly nail polish.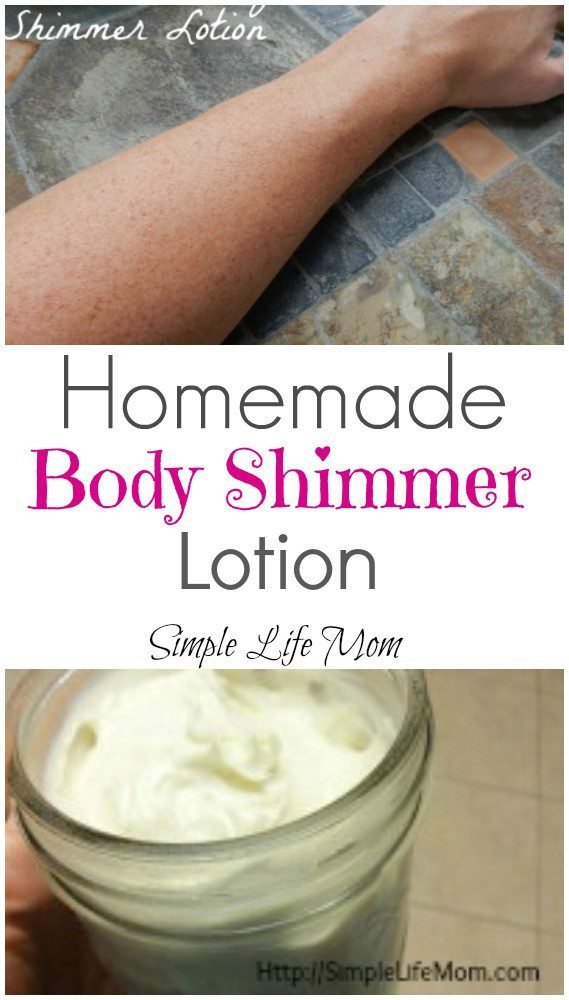 No toxins.  You're in charge of the ingredients.  AND you can make it whatever color you like!!  I've made some homemade body shimmer lotion with just that: shimmer or added sparkle.  And we've had fun making some with a pink or purple glitter to it as well.
You are not limited to shimmering lotion.  There are other things you can add shimmer to as well.
What to Add Shimmer To:
If you do not have the time or resources right now to make your own lotion, sunscreen, or makeup, feel free to experiment with a store bought brand. Try all natural shea lotion from My Shop.
What Adds Shimmer?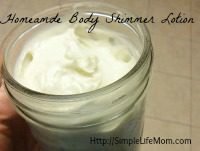 Mica is wonderful for adding a beautiful shimmer that can be as subtle  or bold as you like, without being bulky.
For a Golden Shimmer, add a gold mica like this one here.
For a more Bronze Shimmer, I've used this brand and really liked it.
For a Silver or Pearl Shimmer, try this one.
Homemade Body Shimmer Lotion
Homemade Body Shimmer Lotion
Author:
Prep time:
Total time:
Ingredients
1/2 cup lotion
1/8 tsp mica
Instructions
Gather your favorite lotion, sunscreen, or just coconut oil
Place 4 oz (1/2 cup) of the lotion or oil in a small container.
Add 1/8 tsp mica of choice.
Stir and add 1/8 tsp more mica if desired.
Ok, it's difficult to make it show up on a picture, especially with my artistic freckles 😉 unless I made it ridiculously bright.  It was subtle and had a pretty sheen.  I loved it (and so did my daughter).
Save