These recipes are for all of you who enjoy the smoothing effects of foundation, but want to be able to make your own homemade foundation in order to be frugal and/or for the peace of mind that comes with knowing exactly what you are putting on your body. 
Making homemade powder and liquid foundation involves adding ingredients a little at a time until you find that perfect color.  What's great is that it's not hard to do when you have all the ingredients at home.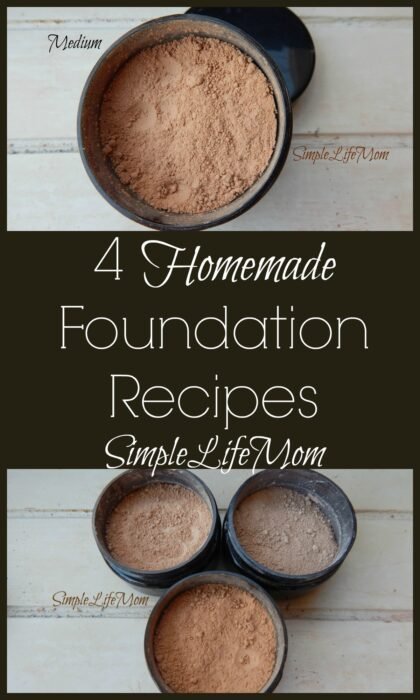 Homemade Foundation Powder #1
Ingredients:
Base Options:
Arrowroot powder – Very white so you can start light and add color from there.
Rice bran powder – a creamier color than the arrowroot powder, but does not absorb moisture as much (good if you have dry skin).
Orris root powder – This is also a very light cream color and makes a good base.
Color Options:
Cocoa powder – easy to find and yummy to smell.
Cinnamon – There is cinnamon cassia and ceylon (and their varieties).   Ceylon has more essential oil in it.  If you have a very good quality Ceylon cinnamon, the oils can irritate the skin.  For using cinnamon in these recipes, I would use a low grade cinnamon cassia and make sure you're not sensitive first.
Nutmeg – Nutmeg is the darkest of the three tones listed, but makes a beautiful color when mixed with the above.
Directions:
Measure 1/4 cup of base into a small container.
Slowly mix in the color options until you get the shade that fits you. Use 1/4 tsp. at a time. Play around until it fits your skin tone. To make future batches easier, try to keep in mind how much you end up using and write it down.
Homemade Foundation Powder #2
Ingredients:
Directions:
Mix the arrowroot powder and kaolin clay in a small container or bowl.
Add cocoa powder until color is right (1/4 tsp at a time).
Homemade Foundation Powder #3 – Mineral Foundation



For those of you who want a more complex recipe, here is a mineral recipe.
Mica is a silicate mineral. We used to have sheets of it through our yard if you only dug a few inches. Zinc oxide is found in most sunscreens and has been identified as a possible carcinogen in its nano form (most sunscreen use the nano form so it will absorb and not appear as white on the skin), so if you are buying titanium dioxide make sure it is non-nano. Iron Oxide seems to be…rust. Yet, I have read over and over that it is a synthetically prepared inorganic product when used in cosmetics, so you would have to know your source very well. All of these powders are very harmful if you breathe them in so be very careful when making this (I advise wearing a mask).
Ingredients:
Base: (Choose one or two

Color:
Directions:
Combine the Base ingredients.
Add the color ingredients and adjust according to complexion.

Homemade Foundation – Liquid

Find High Quality Essential Oils Here.
Ingredients:
Powder Recipe from above
a drop or two Essential Oil of choice (for scent)
Directions:
Make one of the powder recipes from above.
Add a few drops of one of the oils above. Start with one or two drops and add slowly as you mix. Remember, the darker the oil, the darker the foundation will be. For very light skin, use light oils like apricot kernel oil. If it is still too dark, start with a lighter powder base or even your favorite lotion.
You can keep this fairly dry and press it into a compact. Use a brush like you would normally. Or you can add more oil or lotion to create a liquid.