I am a definitely a morning person, but in an effort to simplify life, it's nice to be able to grab things out of the fridge or freezer for a quick and healthy meal. Waffles actually make a great make ahead meal.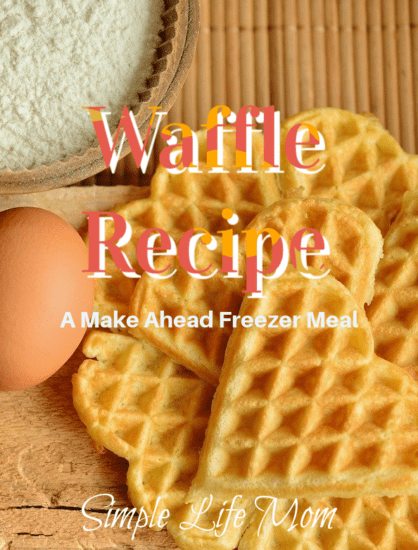 I'm glad that my kids are older now and can get themselves breakfast. They still don't take the initiative to cook much more than eggs though. I like to make muffins (we love these Perfect Blueberry Muffins, and I feel like I'm always making these delicious gluten free chocolate chip muffins), but that does take time. On busy mornings it's great to be able to grab something out of the freezer. 
Have you checked out the ingredients in toaster waffles though?
I have at times closed my eyes and just put them in my cart. But when you have a big family or don't want toxic additives in your house, making waffles ahead of time and freezing them is actually a great option.
These Waffles are a eat right away or a make ahead meal.
After all, if you already have the waffle iron out and batter made, then making a few more to put in the freezer is not that big of a deal.
Waffles are also great because you can add blueberries, raspberries, or even bananas for that extra fruit. Fruit can be added on top after they are heated, or within the batter.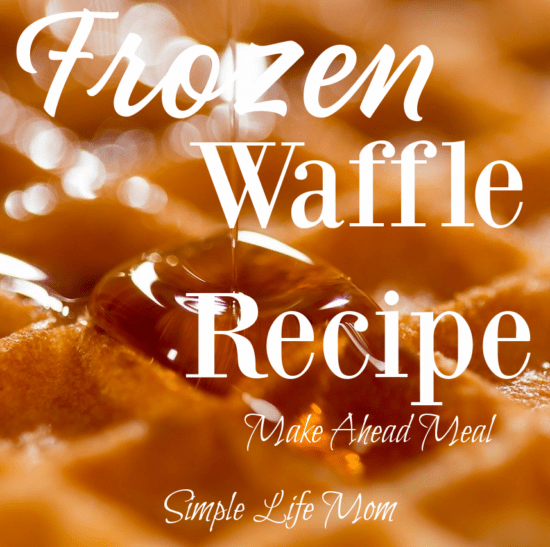 Homemade Frozen Waffles Recipe
I like to incorporate half whole wheat and half unbleached white flour to most of my baking recipes. Feel free to alter this recipe according to your tastes and needs. If your family does not eat whole grains as easily, this recipe makes great waffles with unbleached white flour.
First, get the recipe.
Second, learn how to freeze them (It's easy!).
Homemade Frozen Waffles – Makes 10
Instructions
Preheat waffle iron, spray or wipe with coconut oil or butter.

Combine flour, baking powder, sugar, and salt in a large bowl.

Whip eggs in a separate bowl. Add milk, butter, and vanilla extract.

Add wet ingredients to dry ingredients and stir just until combined.

Cool waffles in the fridge, separate them, and then freeze them

When ready to eat, take them out of the freezer and pop them in the toaster or toaster oven.

Makes 10 Waffles