These are one of my family's most favorite muffins. Actually, my mom, my sister, and other relatives are making these now as well, especially when there are a bunch of kids in the house and we want to make something that will be pretty good for them and fill them up at the same time. These gluten free chocolate chip peanut butter muffins go quick!
These muffins are gluten free. The base is made by using ground oats, peanut butter, and eggs (vegan option below).
Chia seeds are added for more protein.
This recipe also uses pure raw honey.  If you've read my posts on honey in the past (Honey for Allergies , The Destruction of Sugar), you know how beneficial honey can be and how important it is to find a source that is true honey (local if you have seasonal allergies).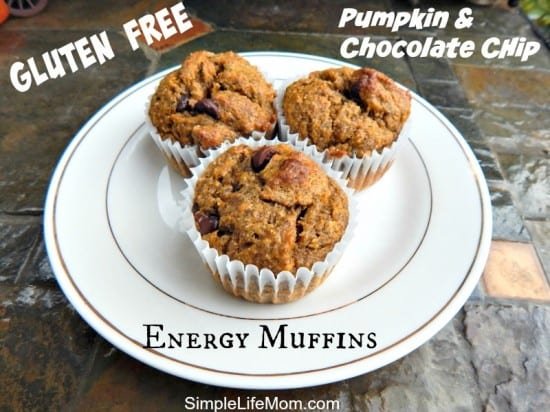 Some gluten free breads or muffins can be dense or too "earthy" for many tastes. This recipe is light and fluffy, full of great protein from the chia seeds, and are very moist and delicious. They have just enough sweetness, without being too sweet.
Ingredient Options:
You don't have to buy ground oat flour. You can make your own by grinding regular rolled oats in a blender or food processor. I use the same oats that I use in my homemade granola and chocolate chip no bake granola bars. Grind 1-1/2 cups of rolled oats to make 1 cup.
Substitute sun butter for peanut butter if you are making muffins for those with a peanut allergy.
Turn these into mini muffins! Use a mini muffin tin and check them after 15 minutes instead of the 25 minutes.
Vegan Option:
Use 1/2 cup unsweetened apple sauce to replace the 2 eggs. Replace honey with sugar in a one to one ratio. Reduce the sugar to 1/4 cup due to the sugar added from the apples.
Gluten Free Chocolate Chip Peanut Butter Muffins
A gluten free Pumpkin Chocolate Chip muffin recipe that is light and fluffy and full of great protein from chia seeds.
Instructions
Preheat oven to 375 degrees F. and line muffin tin with muffin liners.

Combine peanut butter, pumpkin, eggs, vanilla extract and honey.

Blend oats in blender until it is flour consistency.

In a separate bowl combine oats, chia seeds, pumpkin spice, baking soda and chocolate chips.

Stir in dry ingredients into your wet ingredients.

Fill muffin cups 3/4 full.

Bake for 25 minutes, or until fork inserted comes out clean.
Enjoy! Let us know how you like them.
These chocolate chip peanut butter muffins are great for large groups (we like to make mini muffins for a crowd) or as a great breakfast addition. It's also wonderful as a snack when you have a lot of kids around. They are filling and an easy grab and go snack and double very well.
Save