A lot of the name brand marshmallows out there have a lot of ingredients that I don't care, like gmo-corn in 500 different forms and food coloring.  We were getting ready to go camping so of course we needed marshmallows to cook at the fire.  I had the time and we went ahead and made some at home.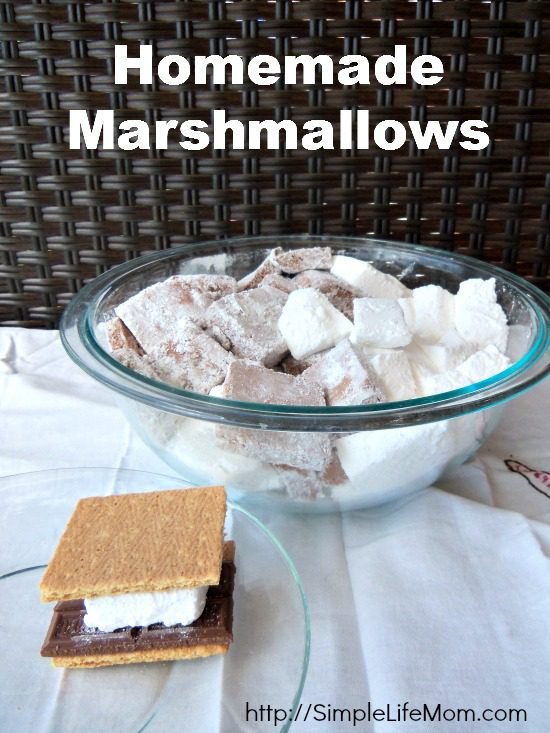 This wasn't the first time that we've made homemade marshmallows, but it was the first time that we made homemade chocolate marshmallows.  Logically (in my head), if you're going to make smores, the more chocolate the better.
Chocolate Homemade Marshmallows
To Make chocolate homemade marshmallows, add 1/2 cup of cocoa powder to this recipe.  I made this same recipe, but before using the mixer I divided the batch in half.  I kept half white, and put 1/4 cup cocoa powder in the other half.
**Note:  These marshmallows do not seem to brown well when held over a flame.  They will melt and taste wonderful, but they do not become golden like store bought marshmallows (they will melt and fall off your stick
before they brown).

Homemade Marshmallows
Author:
Prep time:
Cook time:
Total time:
Homemade Marshmallows with sugar (instead of corn syrup) and gelatin are a healthy alternative to store bought marshmallows.
Ingredients
1 cup cold water
4 Tbsp gelatin
4 cups unbleached cane sugar
1 cup cold water
1/2 tsp salt
4 tsp homemade vanilla extract
Instructions
Dust a 9in x 12in pan with confectioner's sugar
In a small bowl, combine gelatin and 1 cup cold water. Set aside.
I a saucepan, combine sugar and 1 cup water.
Cook and stir over medium heat until all of the sugar is dissolved.
Add gelatin and bring to a boil.
When mixture begins to boil, turn off the burner and remove from heat.
Pour into a large bowl and let cool.
Add salt and vanilla extract.
Mix with a hand mixer or stick mixer until mixture becomes frothy like beaten egg whites (usually around 10 minutes).
Scrape into dusted dish and dust with additional confectioner's sugar.
Cover and place in the refrigerator until it's no longer sticky.
When ready, slice into size of your choice.
Notes
Also: Just mix a little and eat right away. Marshmallow Cream!!!! (It's crazy good)
Marshmallow Cream
You can also make marshmallow cream by only beating until fluffy, then eating right away.
You can buy some Homemade Vanilla Extract in my Etsy shop.
Save