Here's another way to simplify breakfast and make it quick, easy, and homemade.  It's too easy to skip breakfast all together, or eat junk for breakfast. Instead, have a quick fix ready by making this homemade pancake mix recipe ahead of time.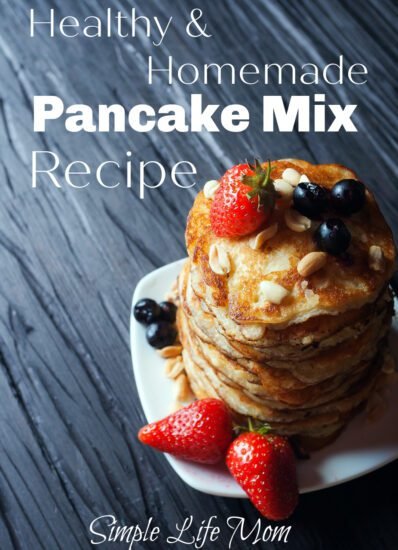 Yes, I'm talking about not eating junk for breakfast and then give you a homemade pancake mix recipe. Well, here's the difference and some perks:
Kids can make breakfast themselves.
No preservatives or dyes
Pancakes can/should be combined with fruit and protein.
Frugal
Liquids can be of your choice. Add protein powder, yogurt, etc. instead of water.
You can make this pancake mix ahead of time and be ready on those mornings when you need to make breakfast quickly, without the hassle of starting from scratch or compromising health by buying boxed pancake mix with unwanted ingredients like dyes, artificial sugars, conditioners, and preservatives.
How to Make Homemade Pancake Mix
When you create a pancake mix, you are making a dry mix that just needs water to prepare.
You can definitely add a liquid other than water. Add yogurt, milk, half milk and half fruit puree.
I keep mine in a large sealed container with a flip top, and keep it where the older kids can get to it and make pancakes for everyone or for themselves. It teaches them how to follow instructions and some basic cooking skills, not to mention that they are serving the family. One of my boys especially loves to do this and will ask often if he can make pancakes for the family for breakfast.
Instructions are written on a piece of paper and taped to the side of the container so that anyone can use it without looking up how much milk or butter to add.
A Homemade pancake Mix with all the right ingredients and speed.
Ingredients
To make:
2

cups

pancake mix

2

cups

milk or water

5

Tablespoons

soft or melted butter
Instructions
Combine mix, milk, and butter. I like to melt the butter in the skillet and then pour into mix and stir until blended. This prepares the skillet and melts the butter all in one go.

Add any yummy extras like choc. chips, blueberries, bananas.

Cook pancakes on a griddle or in a large skillet over medium heat until golden brown on each side.
 Variations:
Try substituting 3 cups of organic corn flour for some of the whole wheat flour. It adds an extra yummy flavor and texture.
Add fruit like blueberries, raspberries,  or mashed bananas.
Add chia seeds for extra protein and fiber. If you want to add chia seeds to the mix, try adding 1/2 cup to start. Add more to taste.
No syrup? You can make your own with brown sugar or even demarara sugar. Get the Recipe here.
Last, but not least, add chocolate chips. I'll admit, it's one of my favorite desserts.