This is called a Kale Chip Recipe, but there's really not much recipe to it. It's so easy that kids can put it together. Mine felt very much in charge as they washed, ripped, and tossed the kale in olive oil. Initially, it is understandable as a kid to not want to try something like this, especially as we know not every child or even adults don't like eating vegetables. But once you give this a go, I'm sure this will change your mind completely about the many ways you can consume one of your five a day. It's all about thinking outside of the box.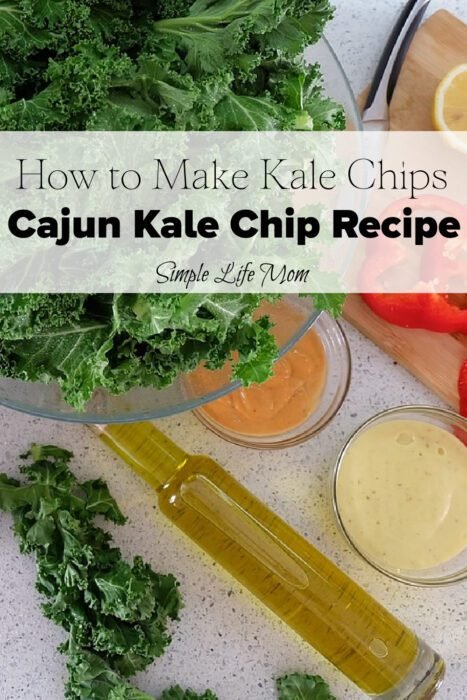 I never would have guessed that my kids would be begging me for kale, but I made 4 tray-fulls of kale chips today that were completely eaten within minutes.
Our harvest was very good.
The children helped me cut off all but the tops of each plant. If you leave a few leaves and the stalk, the kale plant will continue to grow and produce.
We washed, picked out any caterpillars, drained, de-ribbed, and tore all the kale into bite sized pieces.
Most of the kale went into zip-close bags so I could freeze it for sausage kale tortellini soup and other great recipes, but a large portion is kept for kale chips. FYI: Frozen kale thaws out very well to be used for kale chips as well.
Just in case you've had some kale chips and didn't like them, let me encourage you to try and make some for yourself. Our batches are eaten only after a few minutes after taking them out of the oven. My kids love them! I like kale chips with only coconut oil and Himalayan pink salt, but I also like them with cumin or paprika powder.
Garlic Kale Chips
Ingredients
kale

olive oil

, or coconut oil

himalayan pink salt
Flavor Options
chipotle pepper powder

cayenne powder
Instructions
Pull the leaves off the ribs (middle stem) and tear into bite sized pieces.

Drizzle olive oil over kale and toss.

Spread kale evenly and sprinkle with salt and any additional spices.

himalayan pink salt,

chipotle pepper powder,

cayenne powder,

cumin powder,

paprika powder,

garlic powder

Place on lower rack with broiler on. Watch closely, they go from green to black quickly. When it starts to brown, take out and turn kale over. Return to oven for a minute or two longer until desired crispiness
Kale chips are best warm, but you can keep them for a day or two in a sealed container. You can't really taste the kale, just the salt, which is probably why they like it so much.Save