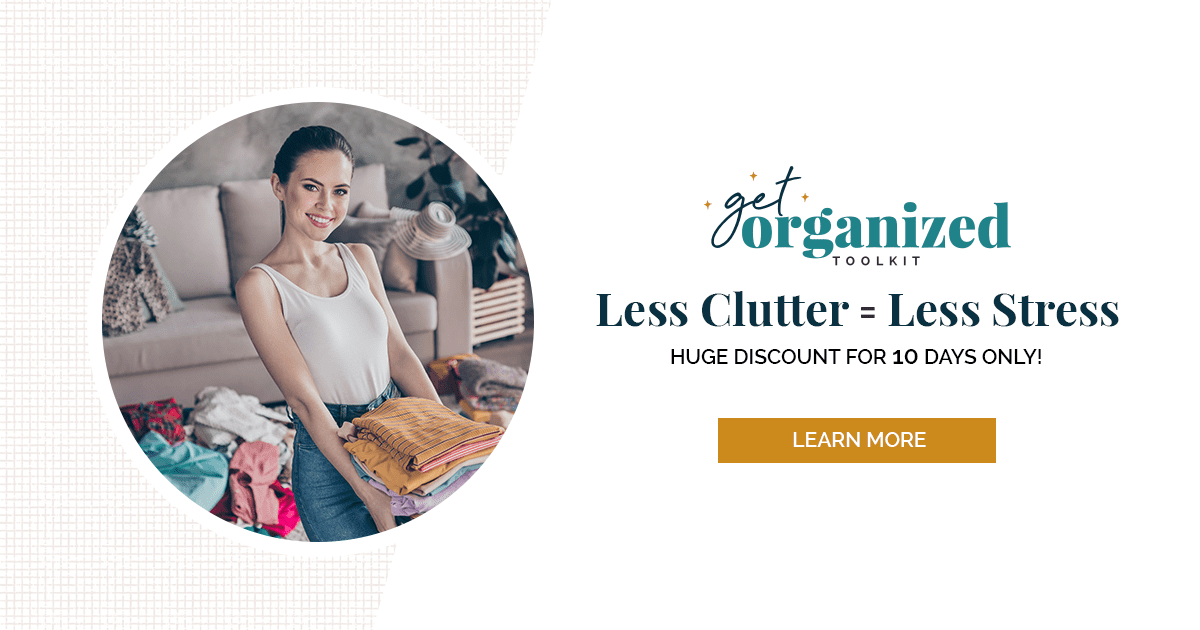 A lot of people around where I live eat stuffed peppers. There's a Polish American version that doesn't use marinara sauce, but instead uses cabbage and rice mixed into the beef. We have a lot of relatives who make this type of stuffed peppers at family gathering. I did not grow up eating stuffed peppers at all, but my husband did. He loves the Italian version, so it's this stuffed peppers recipe that we eat the most in my household.
Now it's a family favorite. After all, what are you going to do with all of those peppers from the garden?
You can use any large pepper variety that you like: mild to super hot. My favorite pepper to use is poblano, but we stuff bell peppers, large banana peppers, and many others.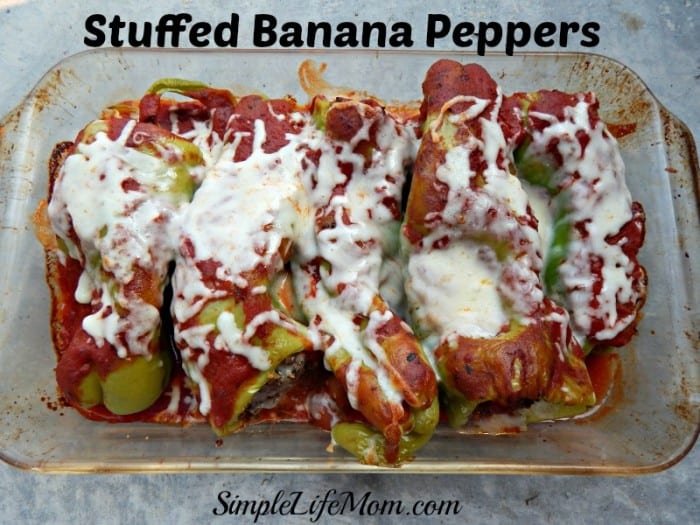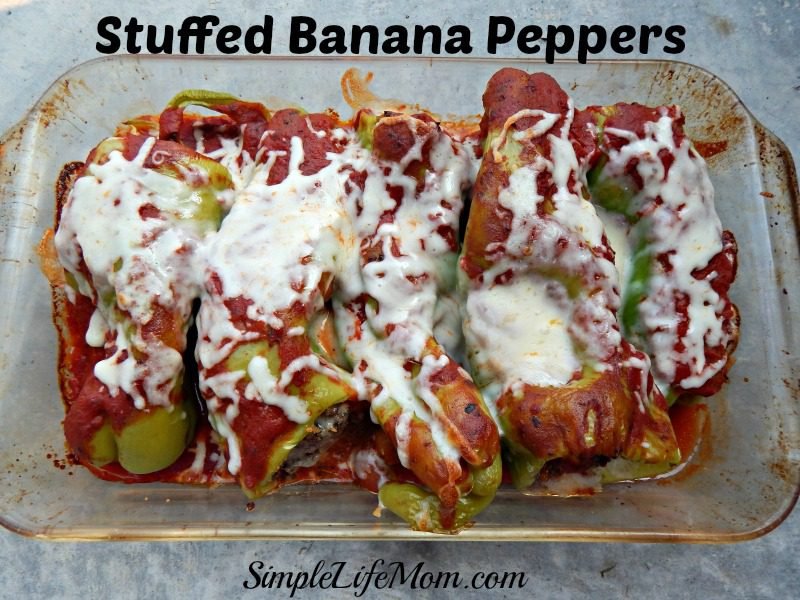 My refridgerator is overflowing with tomatoes and peppers at the moment. We've been eating peppers in a variety of dishes since July. Now, in October I've harvested the last peppers before the frost coming up and need to use the oldest ones in the refridgeraotr soon.
I can banana peppers. My husband likes to put them on pizzas and sandwiches and in wraps for lunch.   They go fast, so I mainly have poblano and bell peppers at hand at the moment. As I said above, you can use any pepper that you want for this recipe. If they're smaller, that's fine. You'll just need more of them to finish off the meat you've prepared.
Picky Eater Tip: If you have children who don't like peppers, stuff the amount of peppers that you'll eat and make the rest into meatballs and brown them in a skillet.   Both ways are delicious!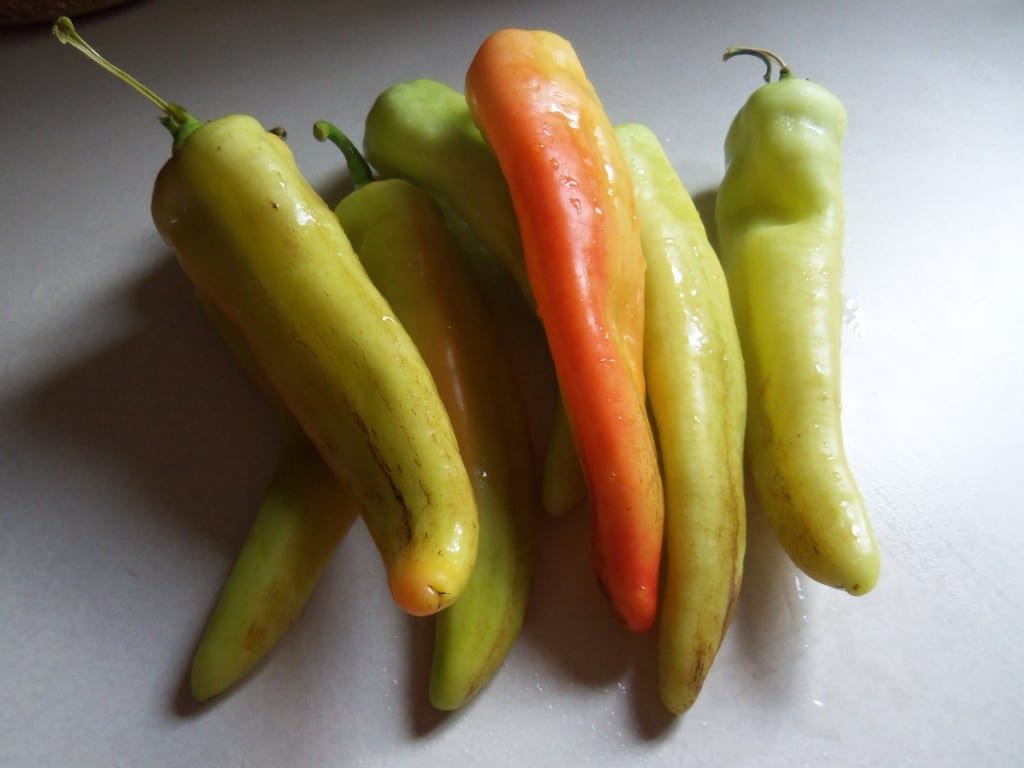 Stuffed Peppers Recipe
Stuffed Peppers Recipe
Stuffed Peppers from scratch with marinara sauce
Servings:
7
large peppers
Ingredients
Instructions
Preheat the oven to 400 degrees Fahrenheit.

Add the meat, parmesan cheese, bread crumbs, garlic, oregano, basil, salt, and pepper in a large glass bowl and mix will with clean hands. Use a small food processor if using fresh bread. 2 slices usually make the correct amount.

1 pound ground beef,

1/2 cup shredded parmesan cheese,

1/2 cup breadcrumbs,

1-2 cloves garlic,

1 tablespoon dried oregano,

1 teaspoon dried basil,

1 teaspoon salt,

1/2 teaspoon pepper

Cut off the tops of the banana peppers and deseed them. Gently push the meat mixture into the peppers..

Place the peppers into the greased skillet over medium high heat and brown on all sides.

Move the peppers to the 13x9in baking dish and cover with about 2 cups of marinara sauce. Sprinkle mozzarella cheese over the top. Place in a 400 degree Fahrenheit oven and bake for 30 minutes or until meat is no longer pink inside.

1 cup shredded mozzarella cheese,

2 cups marinara sauce
Stuffed Peppers Recipe Step by Step with Pictures:
Mix everything but the peppers and marinara sauce in a large bowl. I put a couple of slices of homemade bread into a food processor to make the bread crumbs.
Cut off the tops of the banana peppers, cut out seeds (you should be able to pull them out in one big chunk), and gently push the meat mixture into the peppers.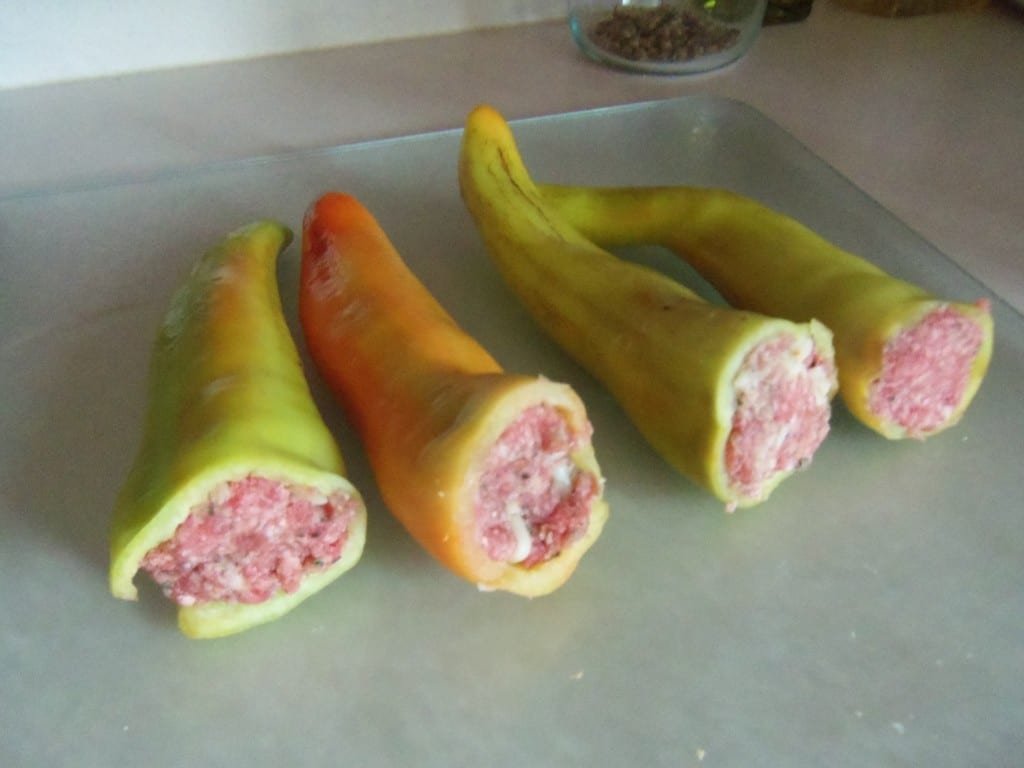 I like to brown them in a skillet slightly before putting them into the oven.  I think it brings out the flavor, but you can skip this part if you just want to throw them into the oven.
Place them in a glass dish and pour 1-2 cups of marinara sauce over them. Grate some more mozzarella over the top and place the entire dish into a 400 degree Fahrenheit oven for 30 minutes. 
The meat at the front of each pepper is at its thickest, but it is also closest to direct heat. You may need to use a fork to look inside a pepper a little bit to see that the meat is fully done. If you look inside and no meat is pink then it is done.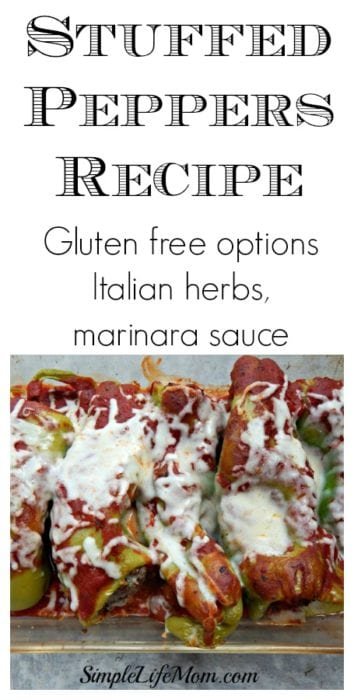 I served this with rotini pasta and extra sauce, but you could serve it with a salad, rice, or whatever sounds good to your family.
I know this is a big tradition in some families.  How do you make it differently?  I'd love to know.Save