Summer Berries and Cream means mouthwatering berry de-light!
I really love blueberries.  We just recently planted a few blueberry bushes that are starting to produce.  They take many years to really get to a nice size (about 5 ft tall) where they produce thousands of berries.
Until then, we will continue to get excited over each ripe berry that we eat immediately.
My strawberries are also doing well.  Growing up I never knew that strawberries are a perennial type of plant, putting down roots and regrowing.  If we can get the bunnies to leave them alone long enough, we'll have another good year for strawberries.
Summer Berries and Cream is a popular recipe to make around Independence Day, Memorial Day, or Labor Day picnics because of it's red white and blue colors, but it is just beautiful whether it's relates to those celebrations or not.  The light cream cheese flavor within the cream combined with the berries just screams summer to me.
You can also make this with lots of variety.  If you don't care for cream cheese, only add 8oz instead of 16oz, or don't add any at all and just make it literally berries and cream.  You can also add different fruits like fresh sliced peaches.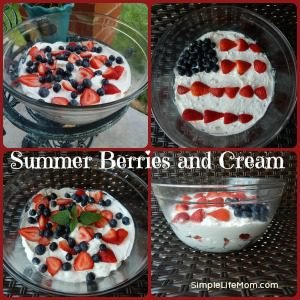 Summer Berries and Cream
Author:
Prep time:
Total time:
Ingredients
16 oz cream cheese, softened
4 cups whipping cream
1/2 cup sugar
1 pint strawberries
1 pint blueberries
Instructions
Place the cream cheese in a large bowl and use a mixer to whip. Make sure it is softened or you will end up with clumps.
In a separate bowl, use a hand mixer to whip the cream, slowly adding sugar. Whip until soft peaks form.
Gently fold whipped cream into cream cheese.
Slice strawberries into quarters.
Layer in a glass bowl: whipped cream, strawberries and blueberries, and repeat.
Notes
If you're short on time, you can use store bought whipped cream and omit the 1/2 cup sugar. Just watch the ingredients.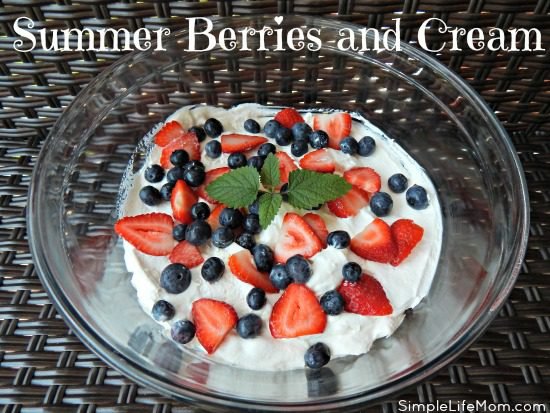 Save