Talk about amazing!  This recipe is adapted from Chocolate Covered Katie.  I was looking for another way to make homemade chocolate chips.  I'm not satisfied with my current recipe, because the butter or coconut oil separates from the chips too much for my liking.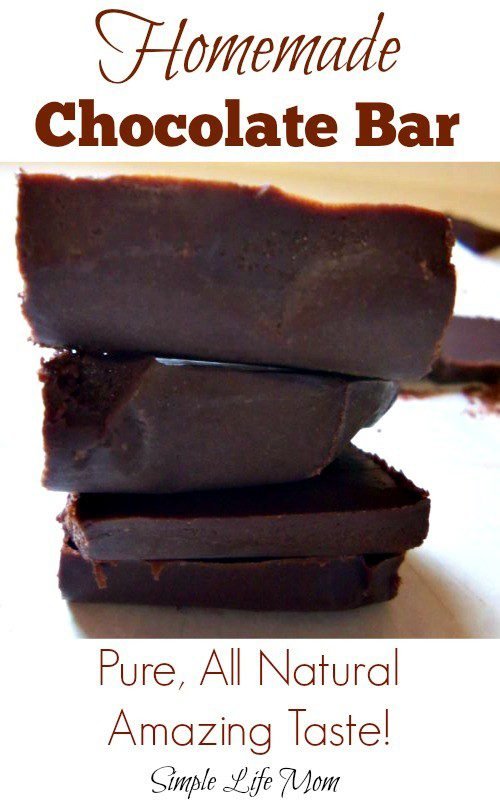 This recipe, though, is so yummy that it will never last to make chocolate chips!
Instead, it makes amazing dark chocolate bars,Yes, the best homemade chocolate bars.  And, it can be used in hot milk to make hot chocolate!! (so excited!)
I love it….did I say that already?!!  Gotta love chocolate!  So, I continue to search for something more frugal for a mass making of chocolate chips for a healthy alternative to store bought chocolate chips with all the artificial ingredients.  But in them meantime, I will be snacking on this occasionally….just for that little sugar fix.
Best Homemade Chocolate Bars
Author:
Prep time:
Cook time:
Total time:
Homemade Chocolate bars that compete with the best. Only 4 ingredients!
Ingredients
1/2 cup plus 1 tablespoon cocoa powder
4 tablespoons unrefined coconut oil (melted)
1/4 cup agave
optional: extracts, cocoa nibs, or other add-ins.
Instructions
Melt coconut oil
Combine all ingredients
Line a small dish (4inx4in) with waxed paper
Scrape chocolate into dish
Refrigerate until hard (10 minutes)
Notes
I've tried this recipe with less cocoa and the agave flavor comes through strong, making it seem too sweet (yes, I said it). The amount of cocoa in this recipe really balances the sweetness.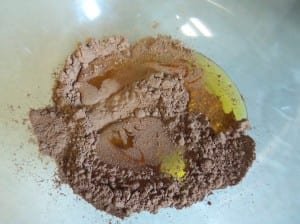 1. Combine coconut oil with agave.  Now I am looking into an agave alternative.  There is a lot more information coming out these days as to the processing of agave nectar.  It is not the healthy alternative that people were led to believe in.  As soon as I discover a good alternative in this recipe I will let you know (perhaps honey).
2. Stir, then add cocoa powder.  Don't skimp on the cocoa powder or it will just taste like sugar. This amount is perfect for a delicious chocolate candy bar. Stir until it gets thick.
3. Pour into any flat container lined with waxed paper.
4. Put in the fridge or freezer until solid.  I keep mine in the fridge for the few minutes that it remains uneaten.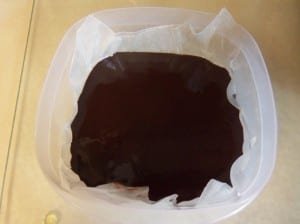 Save