We really like bread, garlic bread, and yes, we really like cheese. So what better recipe than one that puts them all together and gives you a delicious treat to eat with any homemade pasta or pizza meal? This cheesy pull apart garlic bread is easy and quick, and a great snack or side.
This recipe came from trying to think of another way to use my sourdough bread. I made a number of loaves that were eaten, and this one was a day old – which is definitely not bad, but is not fresh out of the oven. I could have sliced the loaf and made normal garlic bread, but I wanted to make a soft, cheesy center.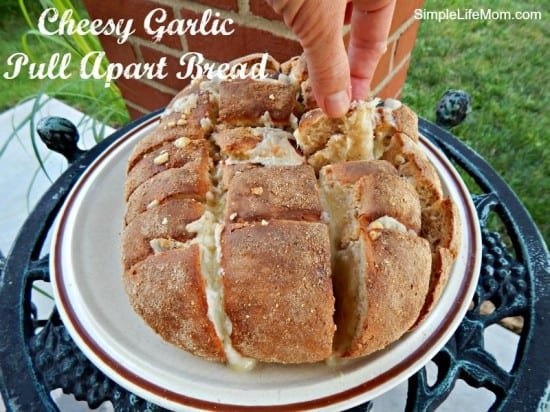 If you do not have Sourdough bread, any of your artisan loaves will do.
You can even get an artisan loaf on discount by buying one that is a day or so old. It will be perfect once you add the cheese and bake it again.
If you want to make your own sourdough bread, check out my How to Make a Sourdough Starter page and Sourdough Bread Recipes. There, you can get into making your own sourdough and reap all the health benefits from doing so.
Pull Apart Garlic Bread
Once you have your bread, place it on a cookie sheet and slice the bread vertically and horizontally from top to bottom without slicing all the way through. Make your cuts only about 1 inch apart so that you get enough of the garlic and cheese in each bite. The photo shows the cuts further apart, but since I took the picture we've found that we like more slices.
Carefully open up each sliced area and sprinkle with garlic powder and salt to taste.
Grate 8 ounces of cheese. I like a combination of Mozzarella and Munster, but choose your favorite blend. Place the cheese in between each slice of bread.
Preheat the oven to 350 degrees Fahrenheit and bake the bread for 15 minutes.
The bread will become hot and soft and the cheese will melt, making it a delicious treat.
Easy Cheesy Pull Apart Garlic Bread Recipe
A yummy cheesy dish for an appetizer or to go along with any homemade pasta or pizza recipe.
Instructions
Place bread loaf onto a cookie sheet. With a sharp bread knife, slice the bread in 1 inch strips horizontally and then vertically, careful not to cut all the way through.

1 loaf Sourdough (click for recipe) or Italian Bread

Sprinkle garlic powder and salt into each slice of the bread.

1 tsp Garlic Powder – or to taste,

1 tsp Salt – or to taste

Slice the cheese and carefully put the slices into the crevices of the bread.

8 oz Mozzarella cheese or combination of your choice

Bake at 350 degrees Farhenheit for 15 minutes.
Notes
OPTIONS: you can also add chopped chives, grilled onions, grilled mushrooms, pepperoni slices, or whatever else sounds good to you.