There are lots of reasons to know which essential oils are great at healing the skin and helping scars to disappear.  When one of my kids gets a gash that is healing with a scar, it would be nice to know what can painlessly help (though my boys are no doubt proud of that scar). This homemade scar oil is nourishing and keeps the area moist so that it's a lot harder for scars to form.
That spot from chicken pox, a burn, or some other injury; the deep burns take time and even then some cannot be healed perfectly, but there's definitely some help that we can give ourselves and our children through essential oils used wisely and carefully.
Helichrysum, also known as the Everlasting Oil, is the most talked about essential oil when it comes to reducing scar damage. It is crazy expensive, so you may want to try other oils first.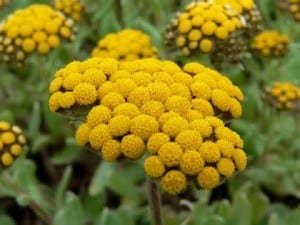 But some may see it as worth it when it comes to those difficult scars on the face. Here's a link to some good quality Helichrysum. There are less expensive brands, but most are not as potent. This must be diluted in a carrier oil.
Carrot Seed  and Frankincense essential oils are by far my favorites.  I use them in my anti- wrinkle serum and they are extremely effective.  They must be diluted in a carrier oil such as apricot kernel oil, jojoba, sweet almond, or even olive oil.
Lavender is a very gentle essential oil that you can use on your children's skin without diluting if careful.  It is soothing and great for acne, scars, and most skin conditions.
Rosemary is a very cleansing oil.  It helps the skin cells to detoxify, cleanse, and regenerate.
Calendula oil is used in my Homemade Antibiotic Ointment due to its great healing properties.  It is anti-inflammatory, an antiseptic, and an antioxidant.
All of these oils should be used with care and all (the exception being lavender if used carefully) should be diluted before use as they are powerful oils. Here is an Anti-Scar Recipe if you are wondering about quantities for dilution. I am not a doctor, just a mom, but have been using essential oils for years and LOVE the effects that I have seen with my own astounded eyes. They are a great alternative to more harmful medicines. Some great books are:
The Healing Intelligence of Essential Oils: The Science of Advanced Aromatherapy by Kurt Schnaubelt Ph.D
Homemade Scar Oil Formula
Use rosehip and apricot kernel as carrier oils (or some other combination) and as many of the following essential oils as you desire.
Essential Oils for Scars
An essential oil blend to nourish and speed healing
Instructions
Apply to scar at least twice daily. 
Notes
Always consult your doctor. Add 2 more ounces of carrier oil to this recipe if using with children. Test first for any sensitivities. 
A number of you have used this recipe over the years and have told me personally of the results. I'd love for you to add your testimony in the comments below. Also, I've just started offering this Blend in my Shop. I know Helichrysum is very expensive. Since I've taken the plunge to purchasing some, I'm able to put it together for you in a blend at a cheaper price so make sure you check that out too.