I had the wonderful, unique opportunity of growing up in Africa.
Beginnings
When I was only a few years old, my parents began making plans to move to Zimbabwe, Africa to serve as Christian Missionaries to the Shona people.  I don't have any memories of our preparation and move.  I just remember the days right after we arrived.  Instead of ending up in the more remote bush area as planned, a change of plans occurred soon before arrival.  We were asked to stay for a term in Harare, the capital city
My first memories are of playing with other small children whose parents worked at the church building and property of where we lived.  We ran and ran.  My mother asked me, "What are you saying?" and I said, "I don't know, but when I say it, we run really fast!"  I learned the first day how to say "run", "hurry", "stop", "come", "look", "thank you", "please", and more.  It's amazing how quickly children can pick up a language that they are immersed in.
I went to a public school for most of one year.  My two biggest memories are because they were traumatic to me. First, I was sitting in assembly when I asked the girl in front of me if I could plat (braid) her hair.  After all, that's what other girls did with this girl's long hair.  I was dragged to stand with the teachers without a word.  As soon as assembly was over I was taken to the headmaster's office where he sat with cricket bat in hand and warned me to listen in assembly….I cried.  The other memory is standing in assembly outside and being thrown up on…not a pleasant memory.  What's up with Assemblies!!??
We returned to America for a few months when I was 9.  I remember stopping in Europe.  There was something going on with our plane or weather where we ended up staying on the runway for some time.  The stewardesses let us kids run out of the plane and touch the snow.  We were so excited to see it (though I did have a few memories of it from earlier). Imagine, now people are kept with no food or drink on stalled planes, where we were allowed to run down some steps and play on the side of the runway for a few minutes!!
When we returned to Zimbabwe, we went to the Karoi area.  This is where I spent my elementary years.  We lived on someone's farm, in a house that was on the far side of his property.  Apparently, it was run down and we could live in it if we fixed it up.  We only found out later that this area is also where he sent workers to live who were trouble makers….Yeah, I could go on for days about cursed chickens being put on our property, daring my sister to touch the witch doctor's house, thieves killing our dog, etc.
The funniest memory of all that craziness is when someone broke into our storage shed and was trying to steal some tools, along with our wheel barrow.   The funny part is that my parents were sitting in the house when they heard this squeaking sound.  I heard my dad shouting and woke up.  Well, the unknowing thief had stolen a very squeaky wheelbarrow. As he was running with it, it made a horrible racket! My dad got the gun out and fired a few shots into the air.  The man was running along the outskirts of our mowed area.  He froze, then, slowly, we heard a slow squeeeeak, then it picked up speed – squeak, squeak squeak.  My dad fired a shot and yelled again. The same thing. Silence, then a slow sqeeeeeak as he started to turn the wheels again.  I was probably around 10 years old and I thought it was hilarious.  I don't even remember if he left the wheel barrow or not.
Grocery Shopping
We grew a lot of our own foods.  My mom always had a garden and chickens. Fruit trees were already on our property. We had leechies, and on a later property mangoes and wild pomegranates.  Here in America, we pretty much go to large shopping stores and buy all of our food in one place.  There, we would get a few things at the local grocery store (called TM), but the rest would be at the butcher, the street vendor, our friends on the farm, etc.  Going to town with my mom was almost a daily occurrence because of all the other things that were involved in their work.  We always wanted to come too because we had a good chance of getting some fresh bread; the kind that is crunchy on the outside and super soft on the inside.  She'd have to buy two loaves.  One for home, and one for us to eat in the back of the truck on the drive home.
Animals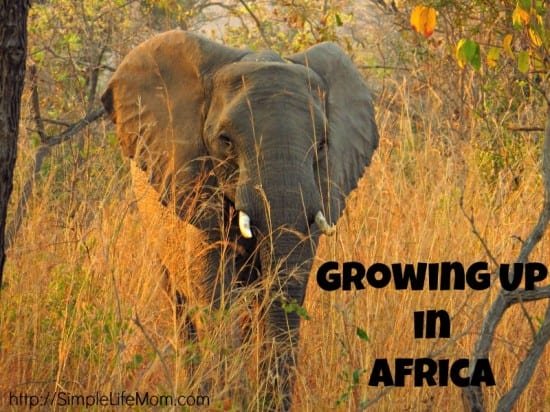 I can't talk about Africa without talking about animals.  I truly wish my kids had the same experiences as me when it comes to the animals.  Just like in America where you will have small animals (skunks, racoon, coyote, deer) come in or near your property, we also had the smaller game live near by (though snakes were everywhere!).  We had to drive out to more remote or protected areas to see the giraffe, elephants, rhinos, etc., though we did have hyenas and occasional larger game near our home.  My parents tried to give us the experience of searching out animals often.  We always knew when someone came to visit us that we'd get to go stay in a national park area!  So exciting!
When we first started going out, we camped in a tent in an area known for having a lot of elephants.  Did you know that elephants love acacia tree seed pods?  Well, we didn't either until an elephant started leaning on our tent to reach a pod above us!  We had a few things lean on our tent.  At another time I remember waking to my dad snoring and someone half laying on my head.  I remember pushing and thumping on whatever was on my head.  The next morning my dad asked me if I heard that animal snoring by the tent.  We went out and saw leopard tracks right around our tent and a place where it had lain down…right by my head!!
I have many many crazy storied about animals, like elephants charging us while we were in an open jeep flying backward as fast as the jeep would go until we hit a tree.  Yes, we hit a TREE! Thank the Lord the elephant stopped, shook its head at as and turned away.  One time we went to the protected game park and at almost every turn we took we were chased by elephants (Us kids decided we needed an opening window between the back of the covered truck to the front cab because our fits got sore from beating it screaming "Go! Go! Go!").  Come to find out, the game park people were culling elephants (shooting certain ones to make room, because the population was overtaking the ability for the land to sustain them).  At the time we were driving a diesel, tan Isuzu pickup truck…and Yes, they were going out in a diesel, tan Isuzu pickup truck to cull the elephants.  These elephants would see us and not hesitate to charge!
Transitioning
I spent my teenage years in Gweru, a small city where I had many friends and normal young adult experiences (movies, parties, sleepovers, etc.). I went to a great boarding school in Kenya my senior year, Rift Valley Academy, came back to America for college, got married, and began having children.  Of course, that sums up over 20 years. 🙂
It was a huge adjustment for me.  I often dreamed of returning to Africa.  But I quickly began to call America my home.  After all, your home is where your family is.
DIY and Natural, Healthy Living
It wasn't a big step for me to question how doctors diagnose, to examine how we eat, or to try to do things myself.  I grew up doing things differently, and watching my parents make do with what we had or be ultra creative with what we could find.  This was obviously ingrained in me.  I think my African upbringing has given me the bravery to try to make things myself – thus you'll find my Homemade Makeup, Lotions, Shampoos, Essential oil serums, Soap, and on and on.  It's fun!  Plus, it's healthier.
Even so, moving toward a natural way of living still took steps.  It didn't happen over night.  I knew nothing about essential oils, what herbs heal, or how to make my own soap or beauty products.  It took a lot of trial and error, great friends, and great books (like those below).  Of course, I'm still learning.
A great catalyst was our allergies. My allergist told me that myself and two of my children needed to be on allergy medication the rest of our lives.  I remember thinking, this can't be right.  Why are our bodies responding this way? What's the underlying issue? One step, two step and here we are 🙂
What got you interested in Healthy Natural Living?
Being Frugal?
Health?
Religion?
Upbringing?
Please leave a comment below
Save