My daughter decided she was going to paint some of my empty mason jars.  Of course her brothers had a great time joining in.  The wonderful thing is, they ended up being beautiful homemade light up jars that they were very proud of and that I could put out for holidays. They felt so special that I thought I'd share this simple idea.
I gave them 2 jars each and gave them paints and brushes.  We started out with Fall colors since this was done in the Fall, but as you know with children, they quickly decide to use whatever colors they see as beautiful and whatever designs they decide are best.  I love this about them, because then we end up with creations that are unique and more creative than we would have had if I would have stepped in and insisted they use only Autumn colors or draw only leaves.
We ended up with some wonderful light up jars.  So the next choice was where to put them.
We ended up putting them outside and stringing white Christmas lights in and out of them. They really lit up the outside and got us in the mood for carved pumpkins and Thanksgiving decorations.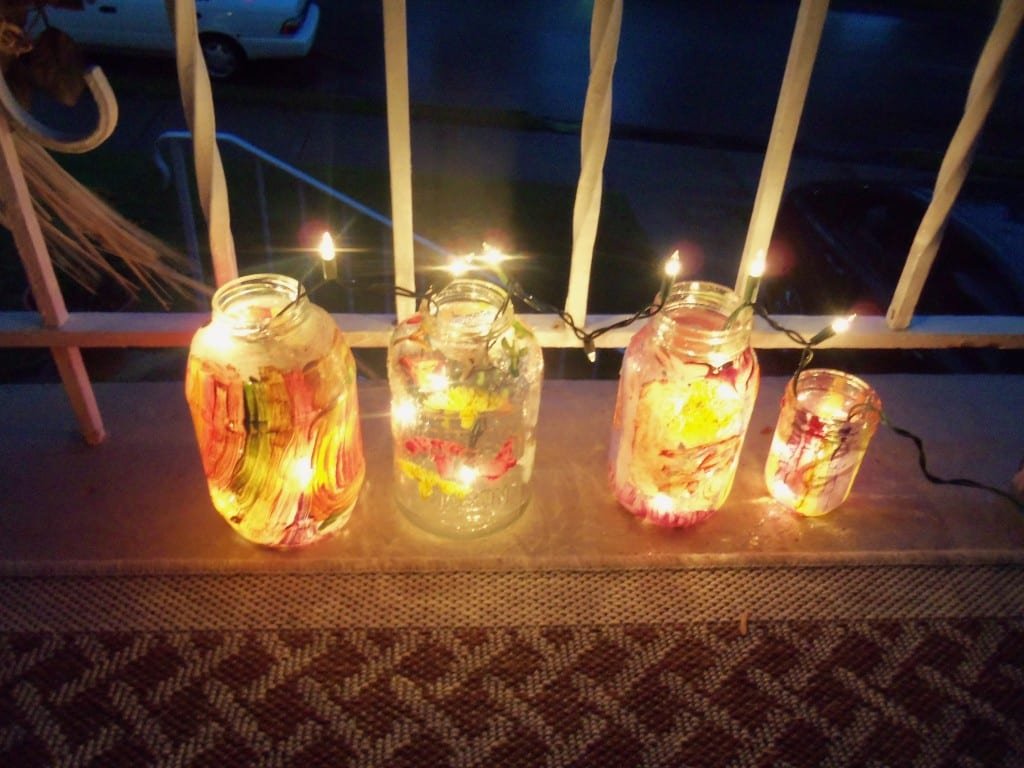 The great thing is, you can make these mason jars and use them in many different seasons.  The choices are endless; you can choose Autumn, Halloween, Christmas colors, or even Valentine's day.
Any paint will work, though some may wash off if they are out in the rain.  I would put a strip of duct tape over the top of the jars to keep the rain out if you place them out in the yard.
For other simple kids crafts try making