This oatmeal and honey soap recipe has become a special favorite of mine. The oats and cinnamon give it a natural, fresh scent that I really like. The oats make it lightly exfoliating, and the cinnamon drip look is just beautiful.
I tried to wait until Spring to make any more soap, because my last batch was too cold and didn't saponify properly so I had to hand mill it. It's hard to get the temperatures right when it's freezing outside and pretty cold inside too.  It turned out great in the end, but I enjoy cold-process soap more than hot process or hand milled soap, because I like the smooth texture and hardness of the bar.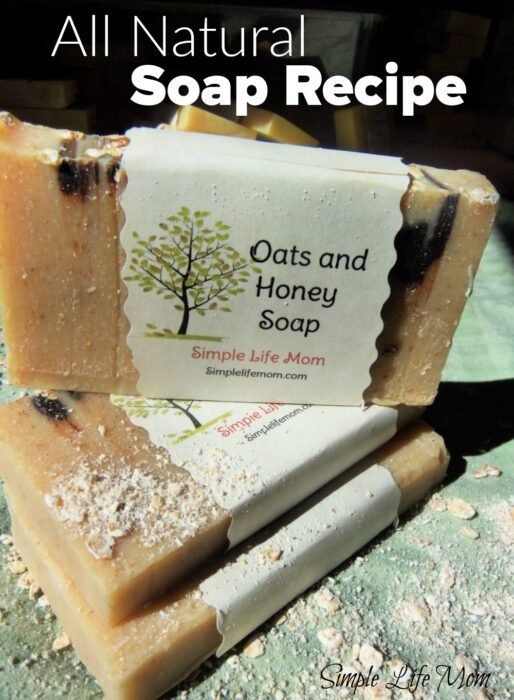 I couldn't wait to make this oatmeal and honey soap recipe again, because it makes a wonderful Christmas gift or soap to have around the home for that cinnamon holiday scent.
I have a lot more Christmas soap recipes. Get them hereL
Soap Ingredients
Let's talk about the drip effect of the cinnamon!
The thickness of the soap has everything to do with the end result. If the soap is very thin, the swirl will blend too much into the soap. Too thick, and the swirl will stay on top, which makes for a beautiful swirl, but it doesn't create a drip effect. For a drip effect, you want the soap to be thin, but not watery thin. Have fun with it. It will turn out beautiful any way it ends up.
Adding honey to soap adds extra bubbles for the lather. It can make your batch heat up, so if you add cinnamon essential oil for scent, don't insulate the batch too much (or at least keep an eye on it) becuase the hot essential oil plus the sugar in the honey can cause overheating and therefore buckling of the soap.
Oats added to this recipe gently exfoliate.  You can grind them or leave them whole. Your preference.
I did not add any essential oils because I like the natural oats scent that this soap has on its own, but feel free to add cinnamon leaf essential oil.
Cinnamon and Honey Soap Recipe
This recipe has 10% superfat and makes 3 pounds or 12 four ounce soap bars.
The oats are added to the entire batch, but you can also sprinkle oats on the top.
Cinnamon and Honey Soap Recipe
A natural cold process soap with cinnamon, honey, and oats.
Equipment
Instructions
Weigh and then add the lard, coconut oil, olive oil, cocoa butter to a large stainless steel pot. Melt and then cool to around 90 degrees Fahrenheit.

16 ounces lard,

8 ounces coconut oil,

6 ounces olive oil,

4 ounces cocoa butter

Weigh the water and set aside. Wearing protective gloves, weigh lye into a zip close bag. Put on long sleeves, charcoal mask, and goggles and take lye and water outside. Pour the lye into the water and stir until dissolved. Let that cool until it's around 90 degrees Fahrenheit.

10.9 ounces water,

4.6 ounces lye

When both lye water and oils are around 90 degrees, pour the lye water into the oils and blend on and off until light trace. Add cinnamon leaf essential oil and blended oats and blend.

0.75 ounce cinnamon leaf essential oil,

1/2 cup ground oats

Remove 1 cup of soap and set aside. Pour main batch of soap into prepared mold.

Add cinnamon to the 1 cup of soap and whisk until well blended. Pour back and forth over the soap in the mold. Insert a chopstick or skewer in one end and pull it back and forth in the soap. Don't over mix.

1 tablespoon ground cinnamon

Sprinkle additional oats over the top if desired. Cover soap to insulate for 24 hours. Watch for overheating if your home is warm.

After 24 hours, remove from the mold and cut. Let cure for 3-6 weeks.