This is a golden recipe that I shared a few years ago. It was worth updating and sharing with you again. Enjoy one skillet meals with this meat and potatoes recipe.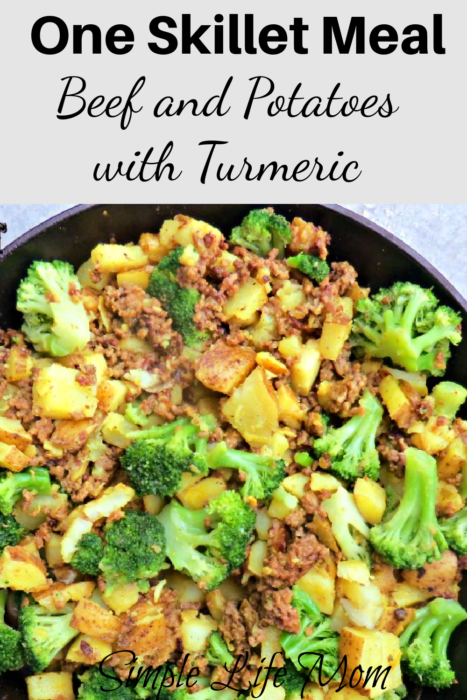 It's important for me to keep dinner simple most nights. I like to cook, but I'd rather be with my family doing other things if at all possible. I often don't have a lot of time because of whatever the day holds.
For those busy days, I like to have a list of recipes on hand of quick meals that I can throw together within 30 minutes. This One Skillet Meat and Potatoes recipe is one of those yummy and fast recipes.
Homemade Onion Soup Mix
This recipe is made all the better with my Homemade Onion Soup mix.  I make my own mix in bulk and I keep it in a jar ready to go for just such a recipe as this. It adds that extra punch of flavor and makes this dish delicious.
The Homemade Onion Soup Mix has dehydrated onion, onion powder, parsley, turmeric, pepper, and celery salt. It's a great mix to have on hand to put in soups, stir-fry's, or one skillet dishes like this beef and potatoes meal.
And besides being fast and easy, this recipe contains turmeric!
Meat and Potatoes Recipe with Turmeric
Turmeric is believed to be extremely anti-inflammatory, as well as a liver detoxifier, so I love to cook with it.  Plus, I grew up with Indian and middle eastern dishes with lots of curries and spices. This recipe has no spice heat to it, but the turmeric adds health and flavor.
You can add a small amount of turmeric to many dishes and reap the benefits without even tasting it, though I love the subtle taste- one reason why I like the Indian curries.
One Skillet Meat and Potatoes Recipe
This is a quick, easy weeknight meal and feeds 5 people.
Ingredients:
1 pound ground beef
1/4 cup homemade onion soup mix
6 potatoes, cubed
1 cup milk
3 cups broccoli florets (or green beans)
additional salt and pepper to taste
Directions
Brown the ground beef in a large skillet. I like to use an iron skillet for these one skillet meals.
Add potatoes, cover, turn meat to medium=low until the potatoes are fully cooked.
Uncover and stir in milk and vegetables. Add salt and pepper to taste.
Cover for 5 minutes to help vegetables cook. Uncover and stir until sauce thickens and vegetables are ready.
The entire meal usually takes about 30 minutes to make from start to finish. Having the onion mix on hand is a great addition, but if you don't have it pre-made, don't worry. It takes less than 5 minutes to make.
If you'd like a printable version of the recipe, use the recipe below.
One Skillet Meat and Potatoes Recipe
This is a great 30 minutes one skillet meat and potatoes recipe for a quick weeknight meal.
Ingredients
1

pound

ground beef

¼

cup

homemade onion soup mix

6

large

potatoes

cubed

1

cup

milk

3

cups

broccoli florets

salt and pepper to taste
Instructions
Brown beef with onion soup mix on medium heat.

Add potatoes, cover, and turn heat to medium-low until potatoes are cooked through.

Uncover and stir in remaining ingredients.

Cook until cream thickens and serve.
Save