My husband's favorite time of year is Autumn. I think he loves the changing of the colors, the reds, oranges, and yellows, the crisp morning air, and even pulling out some long sleeve clothes to wear. I love those things and would adore Fall if I wasn't so scared about winter coming on its heals. Yet, these apple recipes are another special thing about this time of year.
Our fruit trees are still very small and don't produce very much, but my grandparents have mature apple trees that produce so much each year. I've made apple sauce for years from their delicious harvests. I can't want to use apple recipes to preserve my own harvest one day.
Whether you have your own apple trees, have relatives with apple trees, or have a pick your own farm that you can visit, if you have a lot of apples, then you will want to know what to do with them.
At the very least, if you are not blessed with a healthy apple tree (or a friend with too many apples) then there are a lot of great sales on apples during this time of year as well.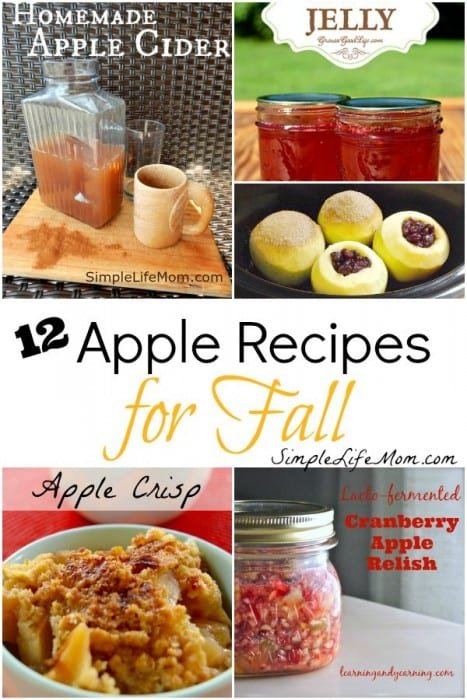 When it comes to apple recipes, we all have our favorites. The kids see the season changing and have those memories that cause them to ask me to make things like homemade apple cider, apple crisp, and other goodies.
We always have our special recipes that we put together for Thanksgiving as well. This doesn't change the fact that I'm always looking for new recipes and ways to preserve the harvest.
It's also a great opportunity to help friends learn a new skill if they haven't done much preserving before. Making apple sauce, cider, and preserving apples is also a family event that creates great memories. Don't miss out on those teachable moments.
12 Fall Apple Recipes
The first recipe is one of mine. I love making apple cider. It's delicious and puts you in control of ingredients so that you can control the sugar content, as well as eliminate preservatives.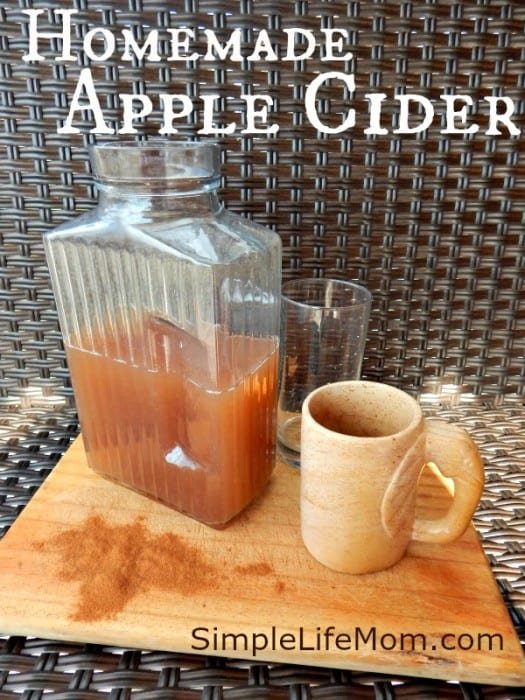 If you have a lot of apples that you are wanting to put to good use, then you'll need a good apple sauce recipe. This also puts you in control of preservatives and sugars. It also gives you a great way to preserve apples through canning. Apple sauce is great as a snack or side for a meal, but it's also a great butter substitute in baking.
I love apple pie. It's one of my favorite kinds of pie. I don't make it often, but when I do it's usually for a crowd. Instead of making an individual pie, I like to make a sheet pan or 9″x13″ dish of apple pie. It's not soft like a cobbler. It's still a pie with a bottom and top crust, but it's a nice big size to feed a number of people.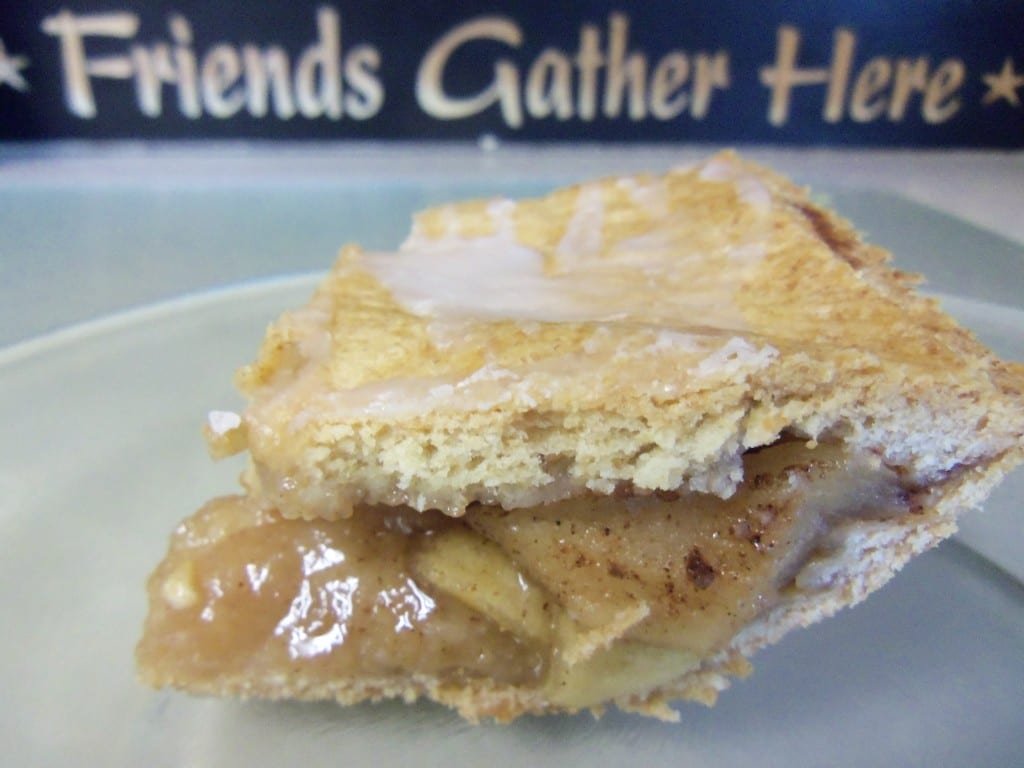 My kids love for me to make apple muffins. They are a little more work than throwing strawberries or blueberries in some batter. But the little extra effort is worth it!
These apple streusel muffins can be made with or without the topping, depending on the amount of sugar you'd like to have. They are delicious both ways.
Another way to preserve your apple harvest is to ferment them as a relish. This cranberry apple relish is totally delicious! I make this to go with our Thanksgiving meal to add a tart flavor to balance all the rich and heavier sides that tend to go with Thanksgiving day.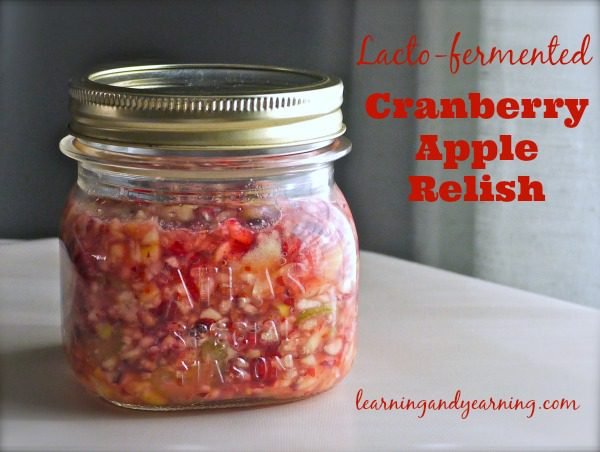 Apple Butter is another homestead staple. It's a delicious and easy way to can apples to last for years! Melissa K Norris has a number of great preservation recipes. This is one of my favorites.
If you've ever dehydrated fruit, then you know that they last a very long time and can be rehydrated to go along with many dishes (they bake wonderfully) or can be eaten as a snack. As you probably know, apples can be dehydrated easily. I've used the oven before, so that is definitely doable if you don't have a dehydrator, but a dehydrator makes everything a low easier. I was given one like this that works great, but if you're going to do a lot of dehydrating of vegetables, meat, or fruit, then you may want to get a really good one that has settings and sensors like this one.
Enjoy this apple dehydrating tutorial: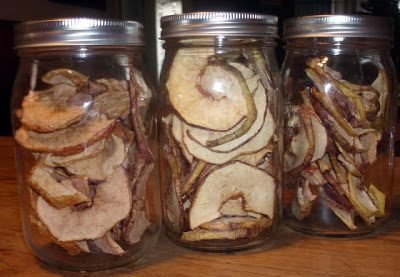 Another fermentation recipe is to ferment apples with cabbage to make an apple sauerkraut. Sauerkraut is extremely good for you! Not only are you getting raw cabbage that is known to be great for the body, but you are also adding good bacteria (probiotics) from the fermentation process. This sauerkraut recipe is all that much better by adding radishes and apples.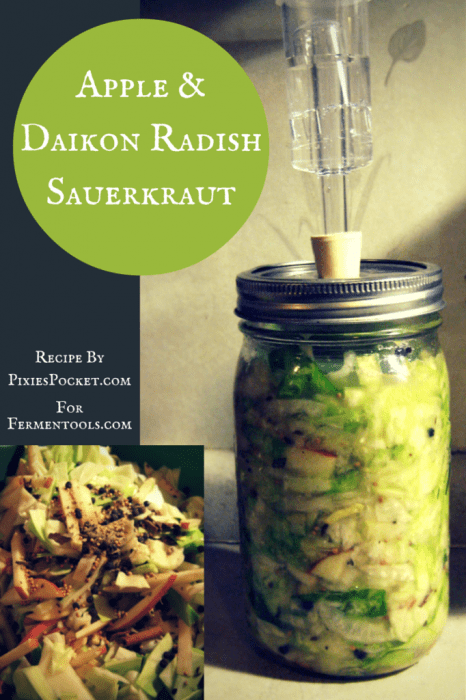 While we're using various methods of apple preservation, then why not the crockpot? These crockpot baked apples are so easy to make and are very delicious. They're great to throw together on a day where you want to make something special but don't have much time.
And what about crabapples? We used to have crabapple trees that grew in the park across the street from our house. I always thought it a waste to see all of those little apples goes to waste, as many people see them as inedible. The deer definitely loved them. Each year they came in droves to eat in front of our house. This crabapple jelly gives you something delicious to make with those apples.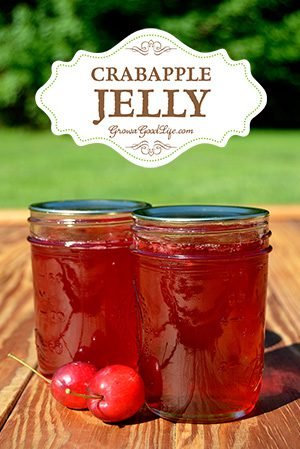 Though I have a dehydrated apple recipe above, this method and recipe is different enough that I didn't want to leave it out. Janet shows you how to make the apple rings, dry them, as well as make delicious toppings. I think it's the simple pure flavors that bring such great memories. This is a wonderful treat to make with friends. Your kids can make this as well. Provide different toppings to make with their friends.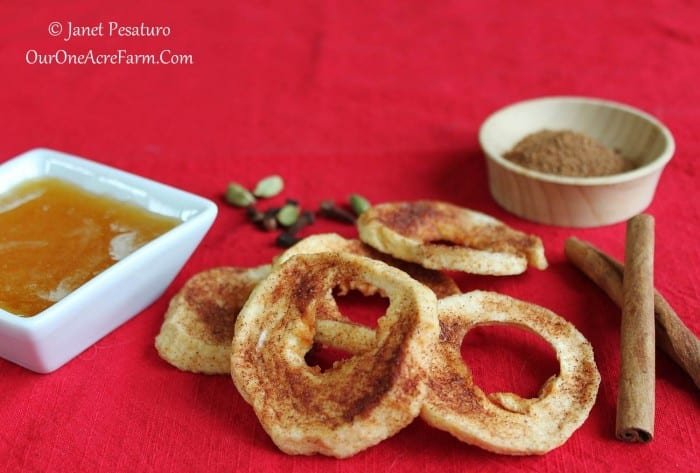 And the list could not be complete without a Traditional Apple Crisp. My sister-in-law makes an apple crisp for us every Thanksgiving or Christmas and it's one of everyone's favorite desserts! We have college students who request the apple crisp all the time. Don't forget the ice cream! Enjoy!
There you go! 12 Apple Recipes for Fall, Thanksgiving, or just any time you get a yearning for that apple taste!
Thanks for stopping by and don't forget to share this list with others.
Save