We love apple cider!!  My one son always asks for it once he starts seeing it in the store.
I actually wanted to buy some the other day for a class I was teaching.  We were having a "Redwall Feast" and needed some good apple cider (Redwall is a great book to read with your kids if you haven't heard about it). I couldn't find any at the store and if my brain was actually turned on I could have realized I could have made my own by throwing some ingredients in our slow cooker! Luckily, someone else brought a drink and it was delicious.
Afterward though, I thought, "This has got to be easy." So, you guessed it.  I made my own.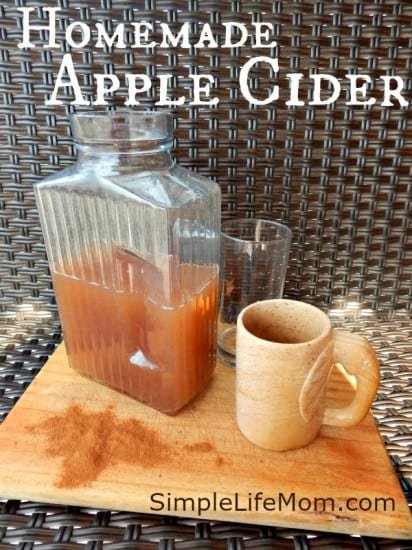 Benefits of Making Homemade Apple Cider:
So much better tasting when it's made fresh.
The scent permeates your whole house, making it a great idea to make during the holidays when friends or family are coming over.
Remember, scent means you are ingesting a minute amount of those particles.  Adding cloves to your cider is enough for you to reap some of the anti-viral, anti-bacterial benefits of cloves. Making this with a house full of sickies will help kill the germs in the air as well.
It's frugal! You can make a lot with a relatively small amount of apples.  This time of year usually leads to good sales on apples.
With all those benefits, who can resist?
This is the real deal.  No taking apple juice, adding a few things, and calling it apple cider.  Maybe I'm an apple cider snob, but this tastes so much better.
Pair apple cider with homemade marshmallows or take it easy and make some kettle corn. All recipes are great for the season.
Which Apples to Use?
This is a very important step. Why? Because if you choose sweet apples, you don't have to add any sugar.  Apples are sweet as it is, so using a fresh fuji, rome, or gala apple will create a sweet apple cider.  Make sure you taste as you go.  If you think it needs a touch of sugar, then add a little honey.

You can make this two ways: in a slow cooker or over the stove.
Both are explained below so you can choose what suits your day.
Homemade Apple Cider Recipe
A fresh apple cider recipe made from scratch.
Ingredients
40

Apples

quartered with core removed

1

gallon

filtered water

4

sticks

cinnamon

or 1 tsp cinnamon

¼

teaspoon

clove

ground

¼

teaspoon

nutmeg

ground

¼

teaspoon

ginger

ground
Optional
¾

cup

raw honey

or unbleached cane sugar

1

orange

sliced
Instructions
Quarter the apples (leave skins on) and place them in a slow cooker or large soup pot.

Add water. If the water does not cover the apples, add more until it does (push the apples down).

Add cinnamon, clove, nutmeg, ginger, and honey. This is when you'd also add the honey and orange slices if desired.

If you are making this in a slow cooker, let it simmer for 4-6 hours. If you are making this in a stock pot, bring water to a simmer, reduce heat to low, cover and let set for 2 hours (watch that you have enough water, and stir occasionally).

4 sticks cinnamon,

1/4 teaspoon clove,

1/4 teaspoon nutmeg,

1/4 teaspoon ginger,

3/4 cup raw honey,

1 orange

After two hours in stock pot or 4-6 hours in the slow cooker, use a potato masher to mash apples within the pot or slow cooker and let it simmer for another 30 min to an hour.

Strain through a fine mesh strainer (I strain twice). Or if you would rather less pulp, strain through a cheese cloth.

Store in a gallon jug in the refrigerator.
Brave enough to make Hard Apple Cider?
Here's a great recipe for Hard Cider.  I'm going to have to try to make my own one of these days.