Since we're talking about simplifying our lives, we have to talk about simplifying our cooking, specifically, introducing simple and healthy breakfast ideas into our lives. Today, I'm going to give you a number of ideas, including recipes that may help you simplify breakfast time, while keeping it healthy.
Real food is a must. The less processed the better.
What is a Healthy Breakfast?
I am one who believes that the food pyramid is upside down for our present lifestyle.
Vegetables should be #1, followed by proteins and fruits. Good fats are third, which leaves starches as the smallest amount in volume for a our daily allowances.
Anyone who studies anatomy and nutrition will tell you that we need all the nutrients we can get! We get these primarily from a variety of vegetables and fruits. At the same time, there are also 9 proteins and 2 fats (Omega 6 and Omega 3) that we do not make, but must have to create proper cell production and hormone delivery. If you're going to be walking miles at work, or your child is going to be running around and playing outside, then an uptake in complex carbohydrates is very healthy.
How Should You Start Your Morning?
The morning meal is called breakfast because you are doing just that: breaking a fast. This is very healthy for your body. Fasting gives your body time to regulate your systems and get rid of waste that is stored in your cellular tissues. You fast every night, which is one reason doctors suggest that you do not eat after 2 hours before going to bed. This allows you to get a good fast in each night.
So how should you break a fast? That's our #1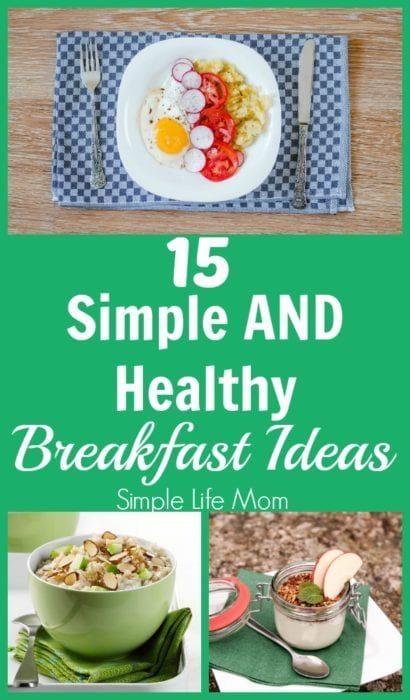 15 Simple and Healthy Breakfast Ideas
#1 Break Your Fast With Water and Lemon
16 oz of water with fresh lemon squeezed into it is a wonderful way to break your fast and begin your day. Get your kids started with this habit as well. I mention fresh lemon, because those little lemon shaped bottles or larger bottles of lemon juice usually have multiple preservatives to keep them fresh. This is not what you want to use to start your day.
Drinking water first thing in the morning helps to flush the toxins that were released during your sleeping fast. Lemon helps to wake up the senses, as well as boost your digestion juices and kill bacteria in your gastrointestinal tract. If you want to kick it up a notch, try this Easy Morning Detox Drink for more ideas.
#2 Oatmeal
Oats are high in those wonderful Omega 3 fatty acids, folate, and potassium! It takes almost the same amount of time to make fresh rolled oats as it does to make those flavored oats from a packet. Except that fresh rolled oats do not have preservatives, colorings, and other questionable ingredients. Want to step up the fiber? Use steel cut oats.
Ideas to Flavor your Oats:
Use Honey instead of sugar
Raisins
Cinnamon
Blueberries, strawberries, or bananas
Mango and coconut (non sweet for best ingredients)
Seeds like Chia or sunflower
Bacon
Peanut butter
Yogurt
#3 Yogurt
Ideally, you should make your own yogurt from raw milk. Here's My Recipe with step by step instructions.
Yogurt is great to have for breakfast, because it will help regulate your digestive system. Raw milk yogurt will add to your healthy gut bacteria and boost your immune system. So this is another healthy, simple, yet great choice.
#4 Eggs
Eggs are fabulous! When my health was worse I had a very bad allergy to eggs. It was horrible! Now that my immune system is up and running better, I can add them back to our menu. They are simple to fix and provide a wonderful source of nutrients that help your brain and liver (choline), add protein, and even help regulate cholesterol by increasing HDL (your good cholesterol!).
5# Fruit
Breakfast is the time to eat fruit! Fruits tend to be high in sugar, yet full of great nutrients. Eating them in the morning with yogurt or oatmeal is a great way to get those nutrients at a time that you will use those sugars in a healthy way. Blueberries are one of the fruits that do not raise blood sugar levels like other fruits do. They are always a great option if you are watching your sugar levels.
Try keeping frozen fruits in the freezer, then they are always ready to use (and are a great addition to smoothies).
#6 Smoothies
Once the weather gets warm, I love to start the day with a smoothie. Once you find a recipe that you really like, they are a wonderful way to sneak in extra vitamins. They are also processed in a way that your fasting body can absorb vitamins quickly in order to get those nutrients where they are needed right away.
BEWARE of sugary smoothies! A healthy smoothy can be a little sweet, but you defeat the purpose entirely if you are giving yourself and your family super sweet smoothies. The sugar will go into their systems rapidly, spiking blood sugar levels and causing inflammation, which in turn causes a lot of internal damage. Instead, try a moderately sweet smoothy and pair it with an egg.
Blueberry Smoothie Recipe
Ingredients
1

cup

frozen blueberries

½

cup

greek yogurt or milk kefir

¼

grape juice

1

cup

baby spinach leaves

1

Tbs

wheat germ
Instructions
Combine in a blender. Add a little honey if you'd like it a bit sweeter.

You can also try adding chia seeds (they change texture, but don't change taste).

Even better, add a Tbsp of coconut oil as well.

#7 Nuts and Seeds
Nuts and seeds give you nutrients that you jut can't find easily anywhere else. They are a great source of good fats that your body desperately needs, as well as selenium (Brazilian nuts), magnesium, and potassium.
Set them out on your table for people to choose from, or add them to your other foods (like oatmeal, granola, and yogurt).
#8 Milk Kefir
You can get kefir grains from a number of places. My sister-in-law gave me my first grains years ago, which I neglected after years of use and they died. I'm not sure if I could have revived them, but I got some more at Cultures For Health. They have easy instructions on how to get them going. I crave it in the mornings! It is something I highly recommend you looking into if you haven't already.
What are kefir grains? They are a combination of bacteria and yeast that grow to look like little squishy cauliflowers. You don't eat them (though you can), but leave them in the kefir milk to create more. They create a yogurt type consistency that is tangier than regular yogurt. It is higher in probiotics than regular yogurt and is highly anti-bacterial. It is also said to inhibit the growth of cancerous tumors.1 One study showed that it reduced breast cancer cells by 56%!!!2
#9 Non Traditional Breakfast foods
It's time to think outside the box! I'm sure you have your own quirks. Hopefully they are healthy.
What's wrong with a great cup of soup in the morning?
What about a salad with sunflower seeds and berries?
How about taking those meat and potatoes you had for super last night, or that chicken and rice and fry it up with some eggs, onions, and a tomato? Growing up in Zimbabwe we were influenced by the wonderful South African tradition of "Bubble and Squeak". This was often taking the gravy and sausage from the night before and adding other items to make a breakfast hash. Some of the best breakfasts I've ever had!
#10 Homemade Granola
Homemade granola is great because you can add what you like to eat. It's also very frugal. You can make a huge amount of granola that is very good for you and extremely tasty for a lot cheaper than you would be able to buy it. It's also SO much better for you and your family than cereals full of artificial colors, sugars, preservatives, GMO grains and beet sugars, and chemicals on the packaging. Today's boxed cereal really is a toxic mess! So make your own. We love these Homemade Chocolate Chip Granola Bars with Chia seeds.

#11 Use a Master Baking Mix
When my kids were younger, I loved having a master baking mix. This is a mix of dry ingredients that just needs a few wet ingredients to make various recipes like biscuits, pancakes, and pan bread. One of my sons, especially, loved using this mix to make pancakes. I taped the instructions to the container so that anyone could throw together a quick batch without much help from me. It came in very handy on many hectic days. Just make sure they are getting enough good proteins to balance the carbs.
Master Baking Mix
A master baking recipe that can be used for muffins, pancakes, biscuits and more.
Ingredients
10

cups

non-bleached flour (whole wheat and white mix of your choice)

6

tablespoons

baking powder

1

tablespoon

salt

¼

cup

sugar

2

cups

dry milk powder

optional

2

cups

coconut oil
Instructions
Combine all ingredients, cutting in oil until mixture is crumbly. Store in a sealed container at room temperature.

10 cups non-bleached flour (whole wheat and white mix of your choice),

6 tablespoons baking powder,

1 tablespoon salt,

1/4 cup sugar,

2 cups dry milk powder,

2 cups coconut oil
Recipes
Pancakes: 1-1/2 cups master mix, 1 egg, 1 cup water (or milk if you omitted the dry milk in the mix)

Biscuits: 3 cups master mix, 2/3 cup milk – bake for 10 minutes at 450 F

Muffins: 3 cups master mix, 1 egg, 1 cup water (or milk if you omitted the dry milk in the mix), 2 Tbsp sugar – Bake for 20 minutes at 375 F
#12 Green Tea
Green tea is low in caffeine, but has a small enough amount to help boost your metabolism.
It is also high in the antioxidant ECGC, a cancer fighting polyphenol that is said to stop cancer cells from growing, kill them, and reduce blood flow to cancerous tumors.3 Well, that just sold me! Make sure to buy a brand like this one that you know is pure, strong, and contains no chemicals on the bags.
#13 Breakfast Wraps
I keep a salad in the refrigerator at all times now. We try to eat it for lunches. It also comes in very handy when someone is hungry for a snack. It is ideal when making a quick breakfast wrap!
Here are some yummy ideas:
salad with scrambled eggs and grated cheese
spinach, egg, and feta
salad that you have on hand, plus avocado slices and bacon
peanut butter and fruit
fry up some onions, peppers, and mushrooms (yum!)
cottage cheese, fruit, sunflower seeds
#14 Muffins for those growing boys!
I will often make a batch of muffins that can (hopefully) last for two days. My kids will eat some the morning I make them, then snack on them until they are gone. My husband comes through the kitchen and does the same thing. Everyone seems to grab one as they go by.
Here is our most FAVORITE recipe that is gluten free, but full of amazing ingredients (Yes, they do have chocolate chips, but they really make these over the top good!).

#15 Fried Potatoes and Spinach
Fried potatoes are an easy way to make a healthy and filling breakfast. Use coconut oil to give your body the good fats that it needs. Remember, good fats don't make you fat. It's all of those bad fats, but more than anything it's the simple carbs and sugars! Fry up those potatoes and add some nutrient goodness like:
eggs
spinach
onions
mushrooms
fish, steak, or natural bacon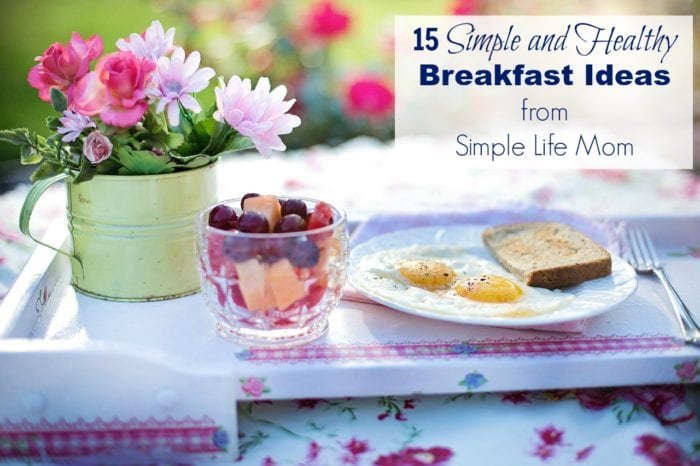 I hope this list helps to give you some great ideas to liven your breakfasts and make sure they are stress free and healthy. Overall, make a plan, stay away from boxed and packaged foods, and enjoy those bountiful flavors that will help you stay strong.
Thanks for sharing!
We already discussed taking the stress out of daily meals by:
Save