This is the 4 C Salad: Cucumber, Cilantro, Chickpeas, and Cumin!
We try to eat salads often in our house, because there are many benefit to eating raw vegetables.  This Cucumber Cilantro Salad is definitely one of our favorites.  I love this salad because it is so light tasting and refreshing, and the cilantro and cumin add such a wonderful combination.  It's like an explosion of flavor. There are a number of different versions on the internet, including one with couscous, which is great to add if you  have the desire.  I  took a number of ideas that I liked, put them together, and came up with this combination.  I Hope you enjoy! 🙂
Cucumber Cilantro Salad
Author:
Prep time:
Total time:
Ingredients
2 large cucumbers, diced (peeled or unpeeled, your choice)
1 cup chopped cilantro
1/2 cup tomatoes, diced
1 small onion, diced
2 cups chick peas (If using canned, rinse well)
1/2 tsp cumin
1-1/2 Tbsp lemon juice
salt to taste
Instructions
I like to use a potato peeler to peel stripes into the cucumber. Then slice into small pieces.
Rinse and chop cilantro. This will help bring out the cilantro flavor.
Dice one small tomato and add to cucumber bowl.
Add diced onion, chick peas, cumin, and lemon juice.
Salt to taste.
Keep chilled.
Notes
It's that easy[br]For alternative, add red pepper and/or 1 cup of cooked couscous or quinoa.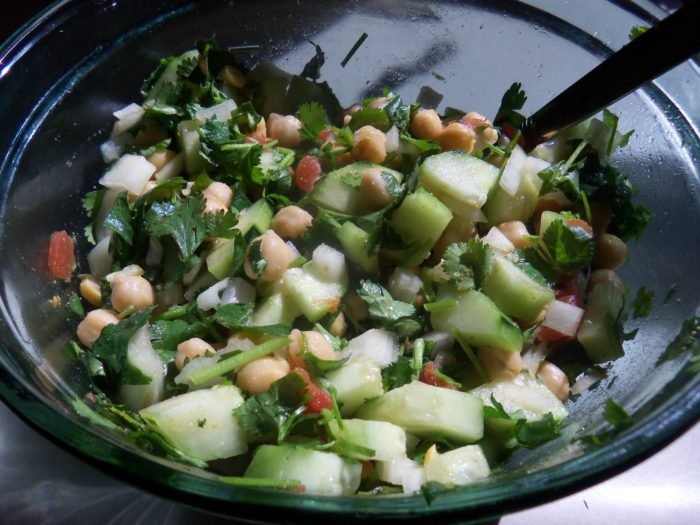 Traditional Salad Dressing Recipes
For a traditional garden salad, try adding Homemade Greek Salad, Homemade French Dressing, Homemade Ranch Dressing, or Homemade Italian Dressing. These are great to be made ahead of time. I keep the mix in mason jars and add the wet ingredients when we're ready to use it. Just another way to keep things simple and healthy. The more I have prepared in this way, the more we make sure that we don't make quick runs to fast food. 🙂
Save
Save