We will often get Kettle Corn at fairs and parks in the Summer, or at get-togethers during the winter.  There's no way I would buy the microwavable bags of popcorn after it came out that not only were some of the ingredients bad, but that the actual lining of the bags were causing factory workers to have cancer (that stuff goes into the air in your house as well). Instead, I wanted to make stovetop kettle corn at home.
To make it myself, I always assumed I needed a giant kettle and open fire. 
Though those things do make for some amazing kettle corn, it is possible for you to make some pretty amazing stovetop kettle corn in your own home.
I tried a few different recipes.  The ones that I found do not vary much in terms of ingredients; the most variety occurred in the area of technique.  This is very important when trying to make stovetop kettle corn, because it's very easy to burn the sugar.
Stovetop Kettle Corn Techniques
Trick #1
You want to make sure your pot is hot enough, but not too hot that it scorches the sugar the second you put it in.  In other words, don't put your pot over high heat, just medium.
Trick #2
After you get your oil heating in the pot, put just 2 or 3 kernels in it.  When those pop you are ready to add the rest of the kernels.  If they don't pop, you know your heat is too low.  Adding kernels before  your oil is at the right temperature changes the moisture level in the kernels and can cause them to open, but not really pop where they are nice and fluffy.
Trick #3
If you really want to make perfect kettle corn, you will add the sugar when the popcorn is already popping. But even if you have a giant pot, those popped pieces are going to be flying all over your entire kitchen if you try that.  So, instead, add the sugar only after the first three kernels have popped and after you've added the other kernels.  Get in there with a spoon and stir it all up quickly so you don't have a clump of sugar that's going to sit on the bottom, not move when you shake the pot, and burn into a nice black clump.  We don't want that, so timing and stirring is important.
With just a few ingredients, and a little technique you can make amazing, mouth watering Kettle Corn for the whole family to enjoy.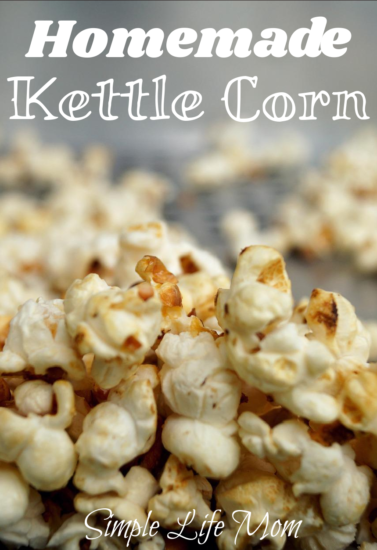 A Side Tidbit: Popcorn is not GMO yet. So, pesticides aside, if you can't afford organic, at least it is not GMO.
Stovetop Kettle Corn Recipe
Save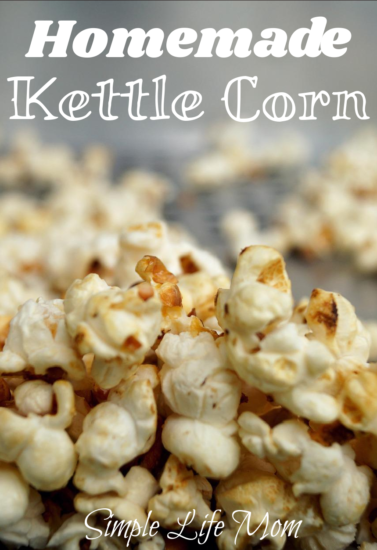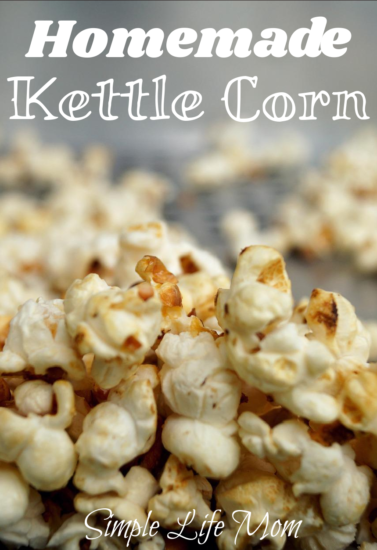 For other great snacks and treats, try: