Those dads are vital to our families. The most special gifts we could give are those that the kids can make themselves. Get these last minute Father's Day gifts and make it a fun family activity to celebrate dad.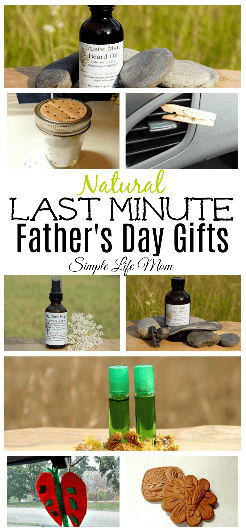 6 DIY Last Minute Father's Day Gifts
Every guy is different, so I've put together 15 DIY gifts that don't take long to make. And with 2 -3 day shipping these days you can pick up ingredients online or stop by a local shop (they need our support too ) and make any of these gifts last minute.
Car Air Fresheners
Car air fresheners are fun and easy last minute father's day gifts. Even little bitty kids can make these for daddy by helping to design and cut out felt for these air fresheners. All you need is some essential oils and something to put them on that will help the scent to last for a week or two in the car.
My husband still uses his air freshener gift from years ago and just brings it in every once in a while to get the scent refreshed. Just find out dad's favorite scent!
Find out how to make them HERE.
Beard Oil
Beard oils are always a fun gift for dad. You can combine oils that help to condition beard hair and add a gentle scent at the same time. Just use a few drops of essential oils for this recipe, no more. That scent is going to be right by his nose so it needs to be light.
Get the recipe by clicking HERE.
After Shave
If the dad in your life shaves, then a natural after shave is a wonderful gift. An after shave is something that will calm shaved facial skin and close pores. With a little bit of scent it can also uplift and be an enjoyable part of the morning or evening routine.
Get the recipe HERE.
OR buy it in my my shop.
Natural Cologne
Natural cologne can be made in a 2oz glass dropper bottle or in a roller bottle for ease of use. Kids love to pick out scents that they think dad will enjoy. They can take him some essential oils to smell without telling him what they are doing. I'm sure they'll find that exciting to tease him a little bit.
Find the Recipe by clicking HERE.
Aromatherapy Roller Bottle
Does dad have allergies, stressful days, or have trouble sleeping? Here are a few roller bottle blends that can be made to help him out. These are quick and easy last minute Father's Day gifts that show that you were thinking about his needs and care about him.
I also have a number of these blends, plus others in my shop.
Camping Set
If you have a dad who loves to go hiking and camping, putting together a camping gift set is fun and easy.
All this, or even some of it, put together makes a super great camping gift set for dad.