Cole slaw is made with one of the strongest cancer fighting vegetables you can eat: cabbage! Just another reason to add this tangy, light greek yogurt coleslaw recipe to your summer BBQ and family get togethers.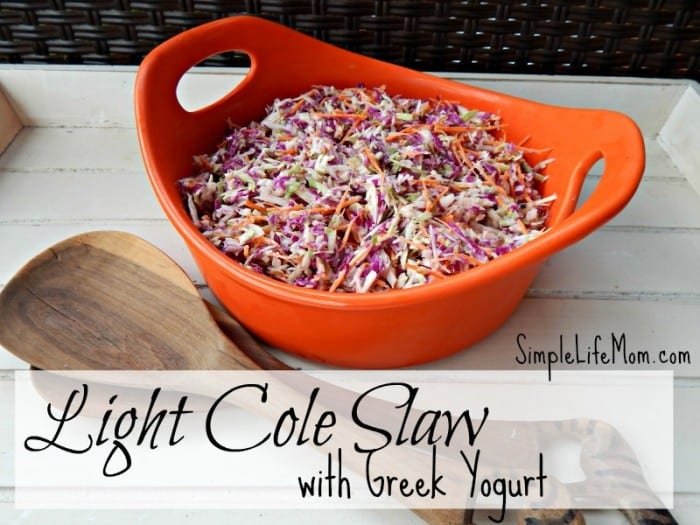 I admit it. I always avoided coleslaw because it just seemed too soupy for me. That and the mysterious potato salads and macaroni salads that people always bring to family gatherings and picnics.
I know. Forgive me. But they just seemed way too heavy.
Over the past few years I have started giving these dishes a second chance and, wow, have I got some amazing cooks amongst my friends. Their creative ability to remake potato or broccoli salad into a light dish with a punch of flavor astounds me.
So I started playing around with cole slaw recipes. Why?
First, like I said above, the cabbage family – cruciferous – (broccoli, cauliflower, cabbages) are great cancer preventers.  They have anti oxidant phytonutrients. They also contain isothiocyanates and indole-3-carbinol (technical words for kick butt cancer fighters). So, how could I NOT give Coleslaw a try? (I also make Homemade Sauerkraut and a Sauerkraut and Kielbasa Dish).
My second reason is because my husband likes Coleslaw a lot, especially with BBQ anything. He's been my taste tester and polite critic. We've tweaked a few of my recipes and I think I've found a winner!
Tell me what you think.
Greek Yogurt Coleslaw Recipe
A light Coleslaw made with Greek Yogurt. It's tangy, very low fat, and a light dish full of antioxidants.
Ingredients
Instructions
Shred Red Cabbage, Green Cabbage, and Carrots into a large bowl.

2 cups Shredded Red Cabbage,

1 cup Shredded Carrots,

2 cups Shredded Green Cabbage

Mix in Greek Yogurt, salt, pepper, honey, lemon juice, and apple cider vinegar.

1/2 cup Greek Yogurt,

1 teaspoon Salt,

1/2 teaspoon pepper,

1 teaspoon Honey,

1/2 Lemon, squeezed for juice,

1 Tablespoon Apple Cider Vinegar

Chill until ready to serve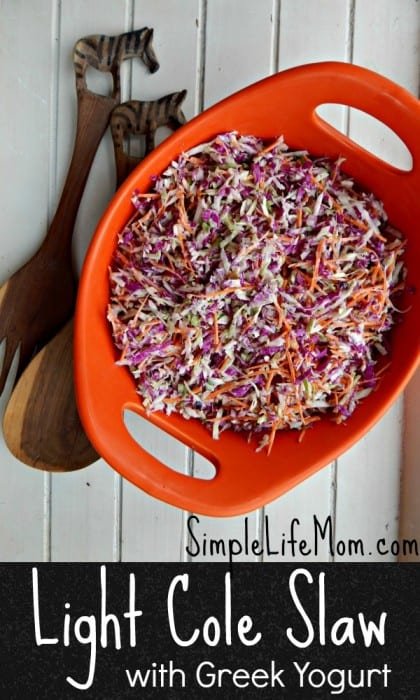 What to serve with this Light Cole Slaw Recipe with Greek Yogurt?
Fried Chicken
Grilled Chicken
BBQ Pulled Pork Sandwiches
BBQ Ribs
Hamburgers
Here's My Homemade BBQ Sauce Recipe
or Check out this one from A Farmish Kind of Life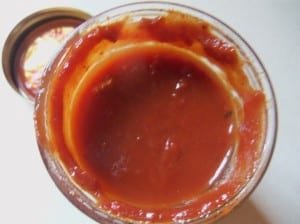 Check out some of these FABULOUS Recipes to go with your BBQ.
I can't wait to hear what you think. If you are a Coleslaw connoisseur then please tell me how you like it, what you might do differently.
Save