Does Natural Nail Polish really exist? A natural nail polish that is not harmful, but even healthy?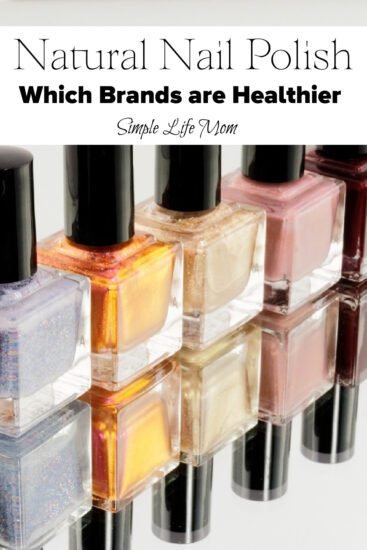 Many Nail Polishes in the Past Have Contained:
Toluene– Developmental/reproductive toxicity, Ecotoxicology, Allergies/immunotoxicity, Contamination concerns, Irritation (skin, eyes, or lungs), Organ system toxicity (non-reproductive), Persistence and bioaccumulation
Formaldehyde– Cancer, Ecotoxicology, Allergies/immunotoxicity, Irritation (skin, eyes, or lungs), Organ system toxicity (non-reproductive)
Dibutyl Phthalate (DBP)– Known to cause infertility, uterine cancer, testicular cancer & fetal defects just to name a few!
Camphor – Chemically manufactured from turpentine oil (not the tree bark), is poisonous & can cause liver damage. Women who are pregnant and children are warned not to use it. What? The rest of us can just take it?
(Sources: EWG and WebMD) That is NOT ok to be putting on our nails! If you put this on your nails then you can absorb toxins into your body and even cause nail fungus. If you've got nail fungus from toxic polish then you can use supplements to help get rid of it. Check out this clear nails plus – txhealthpool.org review to see if it can help you. Many companies still use these ingredients.
The most toxic on Skin Deep's website were: Sally Hansen, the balm, The New Black, Rimmel, NCLA, Anna Sui, Nutra Nail Gel, and Orly. I do not agree with many assessments made by EWG (I think they do not take many things into account), but these products have many very toxic ingredients.
Most Nail Polishes Contain Xenoestrogen Ingredients
Xenoestrogens are chemicals that act as estrogen in your system. It gets in the way of real estrogen reaching its receptors and in general throws a person's body (male as well) into an imbalance. The build up of xenoestrogens is believed to have an effect in the cause of breast, prostate and testicular cancer, obesity, infertility, endometriosis, early onset puberty, miscarriages and diabetes. I, personally, had blinding migraines, fatigue, even heart issues related to an imbalance. It was only when I began removing all xenoestrogens (among other things) from my life that I began to get relief. I am now healthier than I was even at 18! There are many sources for finding a list of known xenoestrogens. One is the Women in Balance Institute. Some xenoestrogens are:
4-Methylbenzylidene camphor, Parabens (commonly used as a preservative), Benzophenone (sunscreen lotions), Bisphenol A (monomer for polycarbonate plastic and epoxy resin; antioxidant in plasticizers), Phthalates (plasticizers), DEHP (plasticizer for PVC), Polybrominated biphenyl ethers (PBDEs) (flame retardants used in plactics, foams, building materials, electronics, furnishings, motor vehicles), Polychlorinated biphenyls (PCBs), Erythrosine / FD&C Red No. 3, Phenosulfothiazine (a red dye),Butylated hydroxyanisole / BHA (food preservative),Pentachlorophenol (general biocide and wood preservative),Polychlorinated biphenyls / PCBs (in electrical oils, lubricants, adhesives, paints).
Basically, glues and plastics are the biggies. If I don't let my kids wear flame-retardant pjs, and I don't use store bought feminine products because of the toxins and xenoestrogens, it doesn't make sense to go and where nail polish, which has the same dangers.
So, Are There Alternatives?
Some nail polish companies advertise on their sites that they are the Big Three Free (Toluene, Formaldehyde, and DBP). This is great, and the companies and beauty sites are making a big deal about it. But no one is asking, "What about everything else?"
N.Y.C. in a New York Color Minute is a very affordable polish that many people like. Their site states that their key ingredients are: calcium, magnesium and iron. What are their other ingredients? Don't be fooled. They may be on the bottle, but they are not on the web that I could find (let us know if you have one with a list).
Even Scotch Naturals, which seem great, have the ingredients: water, acrylic polymer emulsion, +/- CI15850, CI77492, CI77499, CI77289, CI77891, and/or mica.
Again, the xenoestrogen problem because of the acrylic. The long and short of it is: read the label. Look up the ingredients that you are not familiar with, and look them up in more than one location. Many web sites will tell you that the FDA has approved it, end of story. Others may tell you that there has been little to no research, or that the ingredient is toxic. You will absorb most chemicals. You may think that it's not a big deal because it's in small doses, but the problem is that you are not just getting toxic chemicals from one place. When you add up our exposure to nail polish, hair and skin products, makeup, chemicals on and in clothing, fire-retardants on your computer and hand held devices, toxins sprayed on your foods in the air, and in the water…..it overwhelms our bodies.
Sorry I can't give you better alternatives at this point. I've tried stains, but they end up looking like poo, or like I was playing in kool-aid. Besides, natural nails are very pretty! But what do you think? Any ideas?
Save