This end of the garden vegetable beef soup recipe is a lot like what my mom used to call "Left-Over Soup", because you basically take what you have in the refrigerator, add a few things from the cupboard, and there you go: an amazing, healthy, and delicious soup filled with delicious food that might have gone to waste otherwise.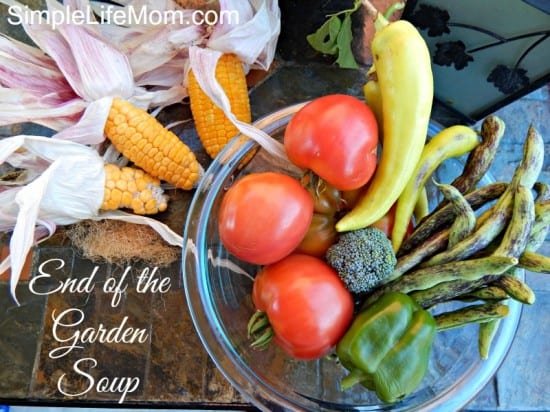 Actually, my mom is the best person I know to be able to pull something together for surprise guests.  When we lived in Zimbabwe, there were those surprises almost daily.  At least, it seemed that way to me growing up.  And those surprise guests …there could be 10 or even 20 of them at a time.  Imagine having to deal with that on a regular basis.  Well, God prepared her for it.  She wouldn't even sweat it.  She'd go put on some tea and get a giant pot out and start throwing things in.  You have to admit, as long as you have a great loaf of bread and good soup, you have a great meal!
This year, I sadly noticed that my garden was about done with most of the crops. Well, I shouldn't say sadly.  Harvest time is a time of rejoicing.  I just wish everything didn't have to start dying, but such is life.  Anything that hadn't already been processed into jars and the freezer was left out to make this amazing soup.
What you Need
Most of all you need the base: an AWESOME Homemade Beef Broth!  Learn How to make your own Here.  This is super important to have canned or in your freezer so you can grab some out for a quick meal option throughout the year. Plus, the health benefits of bone broth is amazing.  It's also good in Homemade Pasta e Fagioli.
What's left? Tomatoes? Peppers? Onions? Carrots? Celery? Potatoes?  Throw it in!
End of the Garden Vegetable Beef Soup Recipe
Be creative with what you have left from your garden and what you have in your fridge, whether that be rice, noodles, etc. Grab those leftovers and make a soup!
I'll show you what I did down below.  It ended up being fabulous!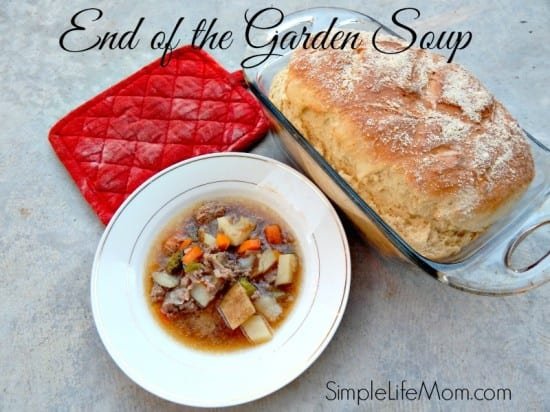 The recipe for the bread in this picture can be found HERE.
End of the Garden Soup Recipe
A Super Healthy bone broth soup full of great vitamins and minerals.
Ingredients
6

cups

beef broth

see link above for how to make your own

1

lb

ground beef

1

small

onion

chopped fine

1

cup

chopped green beans

chopped into 1 inch pieces

1

large carrot

chopped

2

potatoes

diced

2

tomatoes

diced

2

banana peppers

diced

1

green pepper

diced

1

cup

broccoli

chopped

1

tablespoon

Basil

dried

Salt and pepper to taste
Instructions
Brown beef and onion in a large soup pot over medium to high heat. Add salt and pepper to taste.

1 lb ground beef,

1 small onion,

Salt and pepper to taste

Add beef broth and vegetables.

1 cup chopped green beans,

1 large carrot,

2 potatoes,

2 tomatoes,

2 banana peppers,

1 green pepper,

1 cup broccoli,

6 cups beef broth

Add basil and simmer until vegetables are tender and flavors suffuse the broth - approximately 1 hour.
Save