Do you want to learn how to make your own chili powder for your chili recipes at home?
Chili powder is an essential ingredient in many chili recipes, adding flavor, heat and spice. Making your own chili powder at home is surprisingly easy and fast, and allows you to control the amount of heat in your chili recipes. In this article, you will get all the tips and ingredients to learn how to make chili powder at home.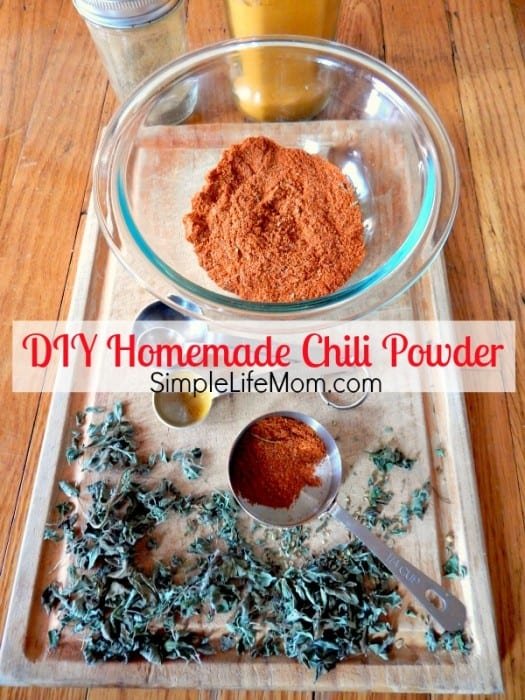 Over the years, I've been learning how to make a lot of things that I would normally have bought in the store at home at home instead. This helps me to learn a new skill and become more familiar with the ingredients I'm putting in and on my body. Chili powder that you buy in the store is not usually straight, crushed chili peppers. The ingredients have been one of those things I've been curious about.
Learning how to make a mixed chili powder is a frugal skill. You can add the ingredients that you really like and add more or less heat to your taste. Also, the freshness makes all the difference in taste. It's frugal, because you can add the ingredients together when you're ready for them, while buying in bulk to use those ingredients in other recipes as well. It's a win-win.
We use chili powder a lot, so developing my own recipe is something I came up with very early on.
I have some in the house that love a kick to their meals, while others have a hard time with any heat at all. So, I make mine pretty mild. I keep spicier ingredients on hand so that those who want to add that heat can do so easily, but it won't effect those who can't handle it. All the flavor is still there.
We use this recipe often. It goes perfectly in my Homemade Taco Seasoning (which is similar, but designed to be a ready mix like that in the stores). We also use it in meals such as:
Beef Quesadillas
Chili
I needed to tweak the proportions until I was happy with the final combination. Obviously you can play around with it and add more cayenne, for example, if you prefer a hotter powder. You can add more or less smoked paprika, or even add turmeric. I like the turmeric, because it does not add too much in flavor, but adds a great amount for health.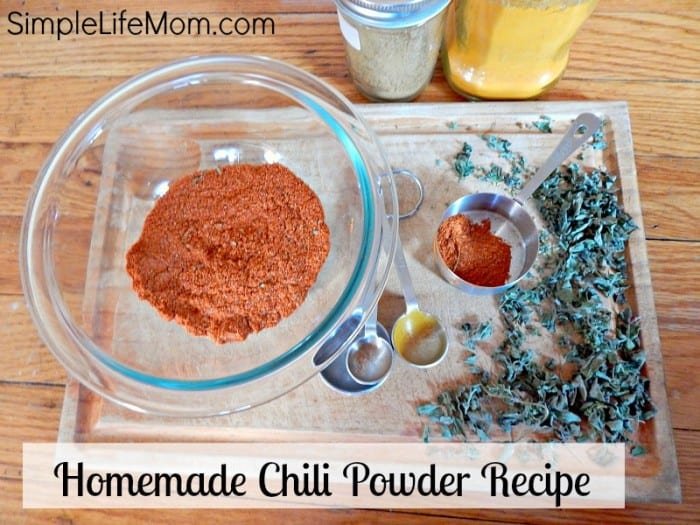 How to Make Chili Powder
I like to use a canning jar for my herbs and made ahead spices or salad dressings. The wide lid makes it easy to insert teaspoons in and out to add those make ahead mixes to any recipe.
DIY Homemade Chili Powder Recipe
An easy way to know what's in your chili powder: Make it yourself!
Instructions
Combine all ingredients and store in an airtight container such as a canning jar.

1/2 cup paprika powder,

2 teaspoons cumin powder,

2 teaspoons oregano crushed,

1 teaspoon cayenne pepper,

2 teaspoons garlic powder,

2 teaspoons onion powder,

1 teaspoon smoked paprika,

2 teaspoons turmeric powder
Nutrition
Serving:
1
tablespoon
|
Calories:
24
kcal
Add all of the ingredients to a sealable jar, such as a canning jar. This recipe makes about 3/4 cup, so an 8 ounce mason jar works wonderfully. You can double or triple the recipe if needed and use a larger jar for storage. Simply use when needed in any recipe that calls for chili powder, or when you're making quesadillas, chili, or tacos. It's also great to have on the table for an extra spice to use on chicken or any evening meal where someone wants to add some extra flavor.
 Thanks for sharing!
Save