So, what do you do when you only have a week or two until a holiday or birthday and you don't have a gift?
For those who don't know, I have a shop where I sell my soaps, shampoos, essential oil blends and other items. Right now, everything that usually takes 3 days to arrive to people's doorsteps is taking 8-10 days instead. This throws off plans of ordering online last minute gifts that you need within a day or two.
There are a lot of things you can do to create DIY gifts, homemade gifts, handmade with goodness and beauty and that special bit of love.
What Makes it REALLY Last Minute?
Last minute DIYs entirely depend on if you have the ingredients or parts.
With that in mind, I've put together ideas that assume you have these things in your kitchen, or that you already make essential oils and other ingredients for homemade soaps and lotions and lip balms and so have these ingredients on hand.
If you don't have all the stuff you need for one of the projects, then keep looking down the list to see if you can find something that really hits you as the perfect thing to make AND you have everything you need.
These are all items that you can make and have ready in one day. No 3 week curing times or projects that take 10 hours to finish. Just a few minutes or an hour to throw something beautiful together as a gift.
Don't forget those teachers who have been helping kids adjust to changes, mail men, friends, relatives, and coworkers.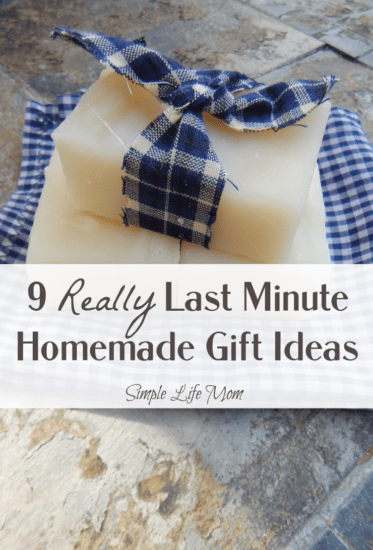 9 Really Last Minute Gift Ideas
Bake Cookies
Everyone loves some yummy cookies as a special gift. Just package them in a pretty bag with a ribbon, box, or even a cloth tied with a ribbon.
Here are some great cookie recipes to get you going: 7 Christmas Cookie Recipes
Hot Process Soap
Hot process soap is something that's ready to package the very next day. If you've made cold process, but haven't made hot process then check out this Hot Process Soap Step by Step Instructions.
You can use any cold process soap recipe on this website. Just change the process by following the hot process instead.
Just like cookies, you can wrap these in a nice gift bag, ribbons, place in a pretty box, or even wrap in a nice cloth with a ribbon.
You can also find handmade Herbal Soap in my shop, or get more recipes in my book: Natural Soap Making Book for Beginners.
Lip Balm
Everyone likes a good lip balm. Make a set of them, even try a few different colors or scents like mint or vanilla. Wrap five with a ribbon and you have an adorable little gift. Great for stocking stuffers as well, especially for that daughter who always seems to take every lip balm in the house.
Here are lip balm recipes, and ideas for colors and scents.
Essential Oil Air Fresheners
These air fresheners are great for anyone to make, including small children. They're also great to give anyone. Dads love the car air freheners, but sprays are great as well.
Get ideas for objects to infuse, as well as some essential oil blend ideas: Air Fresheners Blends and Methods
Here are a few more blend ideas: Morning Energizing Blends, Holiday Blends, Back to School Blends.
Lotions and Hand Salves
You can make a great winter kit against dry skin with lotion and hand salve. I sell hands salves and lotions in my shop and they always go fast during the winter season.
These make great gifts and are always appreciated.
Get my favorite lotion recipe by clicking here and get my herbal hand salve recipe here. Or use this Chamomile Body Butter recipe.
Pair them with a lip balm and you've got the full deal.
Beauty Box
Beauty boxes are a fun way to spoil someone. Try some of the items below. They are easy to make and a nice addition to any gift.
Scrubs
There's a nice list of scrubs that can be made for the body.
Check them out and have fun. It makes a great theme to share with someone. Use small mason jars if you don't have small containers on hand.
You can also find body scrubs in my shop.
Bath Bombs
You don't have to have to have citric acid to make pretty bath bombs. They don't fizz, but they still add essential oils and goodness to your bath.
Get 6 great recipes here.
Homemade Hot Cocoa and Marshmallows
Hot chocolate and homemade marshmallows make such a fun and heart (and toe) warming gift.
I love this hot chocolate recipe. You can control the ingredients and sugar amounts.
Learn how to make your own marshmallows here. This is also fund to make with family and kids. If you don't want to make marshmallows, then pair the hot chocolate with cookies.